Jump to Footer
SUNY Plattsburgh Adopts General Education Program 5
---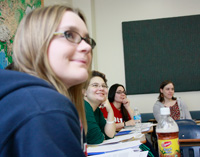 SUNY Plattsburgh has made modest changes to its General Education requirements – changes that will give students more choice.
The new GE5 program went into effect for all students in January, replacing the old GE4 program. Under the new requirements, students need fewer General Education credits – although they will still need a minimum of 120 total credits to graduate.
The college is asking all students to review their CAPP report on Banner Web to see how GE5 offers more flexibility, allowing them to study in preferred areas of academic interest within their General Education requirements.
GE5 Requirements
To view the requirements under GE5 visit https://web.plattsburgh.edu/academics/gened/.
Making Changes to Your Schedule
If you have questions, consult with your academic advisor or your department chair, or you can e-mail the Academic Advising Office or Registrar's Office at: [email protected] or [email protected].