Jump to Footer
'Game On For Giving' Campaign Raises Support, Funds for Cardinal Sports Teams
---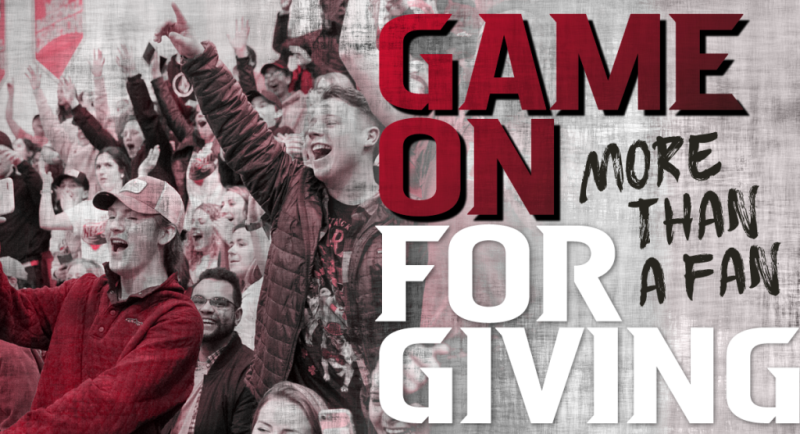 The Plattsburgh College Foundation's annual "Game On For Giving" campaign to benefit Cardinal athletics asks supporters to become "more than fans" by helping fund their favorite teams.
Now in its sixth year, "Game On For Giving" has helped Cardinal athletic programs continue to provide the best student-athlete experience possible, even during the challenges brought about during the pandemic.
Beginning Feb. 14, Valentine's Day, Cardinal athletic teams will vie for your loyalty as they compete against one another for donor support and the chance to win the 2022 Cardinal Cup and up to $5,000.
As in previous years, the campaign will run for a total of two weeks, ending at midnight Feb. 28, and the team with the most overall donors will walk away with the trophy and $1,000 of the challenge money.
The team that garners the most alumni donors will be awarded $2,000, and the remaining $2,000 will go to the team that achieves the highest percentage increase in alumni donors over last year.
In 2021, women's soccer garnered both the most alumni and overall donor support, while women's basketball captured the highest percentage increase in alumni participation.
Cardinal fans and alumni are encouraged to get in the game by making a donation to the Plattsburgh College Foundation and designating their gift to their favorite Cardinal team(s).
As a direct result of donor support during last year's competition, student-athletes benefitted from locker room improvements, new team equipment for strength and conditioning, uniforms and training attire, and team travel for growth and development opportunities.
"Donor support provides resources that allow our teams to remain competitive and provide our athletes with well-rounded experiences," said Mike Howard, director of intercollegiate athletics and recreation. "We are so thankful to the Rattray family for their generous support of this campaign and to all our Cardinal fans and alumni who motivate our teams with their participation in Game Day 2022."
In addition to giving to any of the 18 Cardinal varsity teams, donors may designate gifts to the Fitness Center, recreational sports, Athletic Hall of Fame, athletic training, athletic communications or the Cardinal athletics general fund. They may also choose to divide support among multiple recipients.
Fans can learn more about Game On For Giving, make a gift and find out where each team stands in the competition at www.plattsburgh.edu/gameon. Gifts can be made from Monday, Feb. 14 through Friday, Feb. 28.