Jump to Footer
The Mohamed Gaber Excellence in Mentoring Endowment for SUNY Plattsburgh
---
The Mohamed Gaber Excellence in Mentoring Endowment is named in honor of Dr. Mohamed Gaber for his excellence in creating mentoring opportunities for SUNY Plattsburgh students.
The endowment provides resources for career trips, alumni career panels, alumni speakers in the classroom, internship programs and other mentoring opportunities for students in the School of Business and Economics.
When you support the Mohamed Gaber Excellence in Mentoring Endowment you are directly expanding students' experiential learning opportunities in and out of the classroom.
Meet Dr. Mohamed Gaber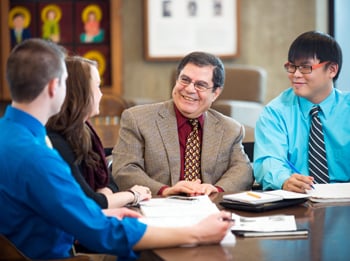 Dr. Mohamed Gaber, professor of accounting and chair of the Department of Accounting, has been mentoring students and graduates of SUNY Plattsburgh for over 30 years. His dedication to students is well known by all who come in contact with him.
Throughout his tenure, Dr. Gaber has personally connected School of Business and Economics students with alumni and corporations in New York and Boston through annual career trips, many of which he personally funds. After graduation, many alumni stay in touch and consult with him regularly about their career decisions.
In 2001, Dr. Gaber earned the Chancellor's Award for Excellence in Teaching, bestowed by the Chancellor of the entire SUNY system, and in October of 2012 he was honored by the Plattsburgh Alumni Association with the Faculty Staff Impact Award in recognition of his tremendous commitment to students and alumni.