Jump to Footer
Accounting Chair Mohamed Gaber Promoted to Distinguished Service Professor | SUNY Plattsburgh
---
Dr. Mohamed Gaber, professor and chair of the SUNY Plattsburgh accounting department, has been promoted to Distinguished Service Professor by the State University Board of Trustees.
Gaber was one of 21 faculty promoted to the Distinguished Faculty rank across SUNY's 64 campuses on Wednesday, May 10. Among his many honors and awards, Gaber has been named Outstanding Adult Student Educator and Outstanding Academic Adviser. He has also been given the Faculty Staff Impact Award by the Plattsburgh Alumni Association for his work as an informal mentor to several faculty members, is the recipient of the SUNY Plattsburgh Leadership Award, and has been recognized by accounting alumni for his commitment with the establishment of the Mohamed Gaber Excellence in Mentoring Endowment.
"I honestly must say I was so humbled and honored for just getting nominated to such a distinguished rank at the State University of New York," Gaber said. "All areas of faculty responsibilities — teaching, research, service — go hand in hand. When I heard about the announcement that the SUNY Board of Trustees had approved my nomination to the distinguished rank, it was such a gratifying moment, and I couldn't help it as my eyes were full of tears."
"I firmly believe that 'service' has been and will always be an integral part of my work at this great institution of which I am so proud to be part of. I consider myself so fortunate to serve for the past 31 years, and I hope to continue serving for many years to come."

Honors Extraordinary Service
In addition to his service to campus, Gaber has served as the coordinator of the Volunteer Income Tax Assistance Program, in conjunction with AARP-TaxAide for the past 20 years. He has established accounting internships with local, regional, national and international businesses and non-profit organizations and has supervised more than 250 internships.
"Dr. Gaber is among the finest professors in the School of Business and Economics at SUNY Plattsburgh," said President John Ettling. "He has received numerous honors and awards from faculty, staff and alumni throughout his career because of his commitment to the college, to the students and to the accounting alumni. His work in securing internships not only locally, but across the state and across the country, has been outstanding, as demonstrated by the hundreds of accounting alumni who owe their first jobs to the internships they participated in that Dr. Gaber was responsible for. This title is given to faculty who have demonstrated extraordinary service. Mohamed Gaber demonstrates that service every day."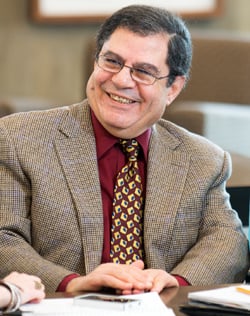 Gaber has served on the board of the Institute of Management Accountants as director of manuscripts and director of student activities. He has also served as an external consultant on the promotion boards of foreign universities and published an accounting book in Egypt and co-edited — with Dr. Greg Gregoriou — a book on "International Accounting: Standards, Regulations and Financial Reporting."
The Distinguished Service Professorship honors and recognizes extraordinary service. According to SUNY, candidates "must have demonstrated substantial distinguished service not only at the campus and the state university level but also at the community, regional and state levels. Further, many candidates for appointment have rendered influential service contributing at the national and international levels. Service must exceed the work generally considered to be a part of a candidate's basic professional work and should include service that exceeds that for which professors are normally compensated. It must also extend over multiple years and, very importantly, must involve the application of intellectual skills drawing from the candidates' scholarly and research interests to issues of public concerns."
Since the program's inception in 1963, 1,083 faculty have been appointed to the distinguished ranks, including the most recent appointments.

'Passionate' About Profession
"Each year it is an honor to review the collective work of SUNY's outstanding faculty and to recognize the sheer academic strength within our walls that inspires our students," said H. Carl McCall, chair, SUNY Board of Trustees. "The standards of our distinguished ranks are rigorous, with high demands set for leadership and innovation."
SUNY faculty achieving the distinguished ranks provide an additional spark that inspires groundbreaking research, innovation and discovery while also setting a higher standard for teaching and learning, said SUNY Chancellor Nancy Zimpher.
"I am so passionate about our profession as teachers and educators at this great institution," Gaber said. "I always welcomed any opportunity to serve in any capacity and take part in advancing the university mission and aspirations. Although it is hard for me to explain how distinguished my service has been, there is one thing I am sure of: getting such a distinction will raise the bar that I am hoping to be able to reach.