Jump to Footer
Flat Rock Fire Workshop to Look at Jack Pine Forest Fire, Management in its Aftermath
---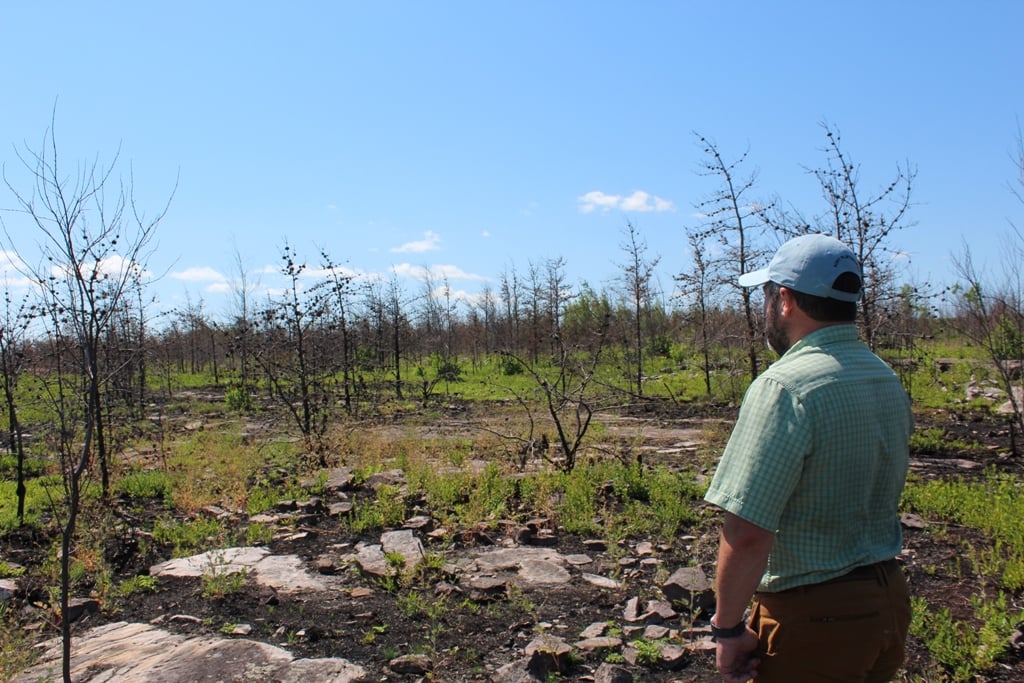 SUNY Plattsburgh environmental science faculty, alumni and current students are joining forces with the North Atlantic Fire Exchange and Miner Institute for a two-day Flat Rock Fire Workshop, Sept. 13-14 at the institute in Chazy.
The workshop is giving participants the opportunity to study the unique ecology of the Altona Flat Rock following a 2018 fire that decimated more than 500 acres of the 3,000-acre jack pine barrens owned by the state Department of Environmental Conservation Division of Lands and Forests and the William H. Miner Agricultural Research Institute.
Optional Tour
Friday's symposium begins with an 11 a.m. optional tour of Miner and a lunch meet-and-greet among presenters and participants. At 1 p.m., presenters will discuss the jack pine regeneration studies, geology and geomorphology of Flat Rock, benefits of pine barren management, and more. A student poster session on fire science and fire ecology will be held simultaneous to the presentations.
Friday evening from 7 to 8:30, a panel discussion, "Fire in Society," will focus on the wildlife, operations and what it means to the community, asking the questions, "What happened? Could it happen again?" and "What if it happened again?"
Speakers include Ellen Adams, historian at the Alice T. Miner Museum, Greg Spinner, chief of the Altona Volunteer Fire Department, Dave Russell and Jared Booth, New York state forest rangers, and Kim Coleman, natural resources planner with SUNY Plattsburgh.
'Outdoor Classroom'
Saturday will begin with a field trip to the Flat Rock that will feature an "outdoor classroom" discussion of fire ecology of the jack pine barrens, resource management, community wildfire protection planning and managing Flat Rock for multiple objectives of ecological integrity and human safety, among other topics throughout the day.
For more information, contact Dr. Mark Lesser, assistant professor, Center for Earth and Environmental Science, 518-564-4139 or email [email protected].