Jump to Footer
EOP to Launch Remote Summer Institute
---
The Educational Opportunity Program Summer Institute for incoming freshmen at SUNY Plattsburgh will go on as it has for decades.
It's just going to look a little different.
Now entering its 41st year, the annual institute brings first-time EOP freshmen together for a three-week pre-college preparatory program. This year, EOP staff members have created a program that will enrich and enhance the student experience but instead of being done on campus, all events and participation will be done remotely.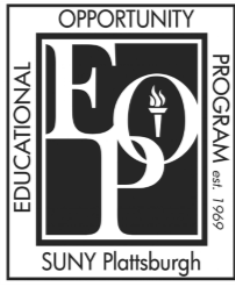 The State University of New York's Educational Opportunity Program provides access, academic support and financial aid to students who show promise for succeeding in college but who may not have otherwise been offered admission. Available primarily to full-time, matriculated students, the program supports students throughout their college careers within the university.

"We are trying to keep as much of the program as we possibly can," said Cassie Joseph, associate director of EOP. "This year, instead of taking non-credit English and math courses in the summer, students will take their freshman seminar class and earn two college credits. This is the first time in our EOP history that I am aware of that an incoming class has had the opportunity to earn college credit at no expense to them."

The freshman seminar courses will be an introduction to campus, community and will assist students with the adjustment to college with a review of common practices, policies, resources and will provide opportunities for students to build or expand upon their academic skills.

Frees up Schedule Space

"Because students will be able to take this during the summer, it will free up space in their fall schedule to then take other general education courses or classes of interest," she said. "We also hope that by offering this during the summer, students will be better acclimated to campus life and general expectations on campus."

Program counselors will have been in contact with all of the 70 incoming students at least once prior to the July 6 start and will meet with them a minimum of three additional times during the following three weeks, through July 24. This allows them to assist students, answer any questions or address any concerns they may have about financial requirements, attending SUNY Plattsburgh in the fall and to review fall academic schedules. All EOP students are pre-registered for a full-time fall schedule.

"Although students will not have the opportunity to live in our residence halls or enjoy a meal plan, we will still be meeting with students one on one, students will earn the two credits for the freshman seminar and they'll have an opportunity to engage in special programming and social programs virtually," Joseph said.

Social, Recreational Opportunities

Those social and recreational opportunities are designed to foster personal growth, provide for an opportunity for fun and enjoyment and expose students to the community and region where they will eventually live as students.

"We have hired a summer institute team to assist the students during the program by providing tutoring, supplemental instruction, wellness programs, social programs and to serve as peer mentors," Joseph said. "All incoming EOP students will be provided laptops free of charge if they need one and will be theirs to keep as long as they graduate from SUNY."

Stipend Provided

Additionally, all EOP students receive a $100 per week to assist with the cost of food and housing and basic needs over the course of the three weeks, Joseph said.

"We're doing this since students will not be able to live on campus and will not be provided food and housing as they usually are during the program," she said.

There is a mandatory two-day summer institute orientation session via the online platform, Zoom, Thursday, July 2 from 9 a.m. to noon and again on Friday, July 3 from 10 a.m. to noon.

For more information, including a typical day's schedule, visit https://www.plattsburgh.edu/plattslife/student-support/educational-opportunity-program/accepted-students.html or email [email protected].

Unable to retrieve file contents for https://www.plattsburgh.edu/news/news-list.php
Warning: count(): Parameter must be an array or an object that implements Countable in phar:///var/www/staging/_resources/scripts/brei.feedmanager.ext/Filtering/FilteredObject.php on line 126