Jump to Footer
College, Chamber Co-sponsor 'Supporting Black Employees' Webinar
---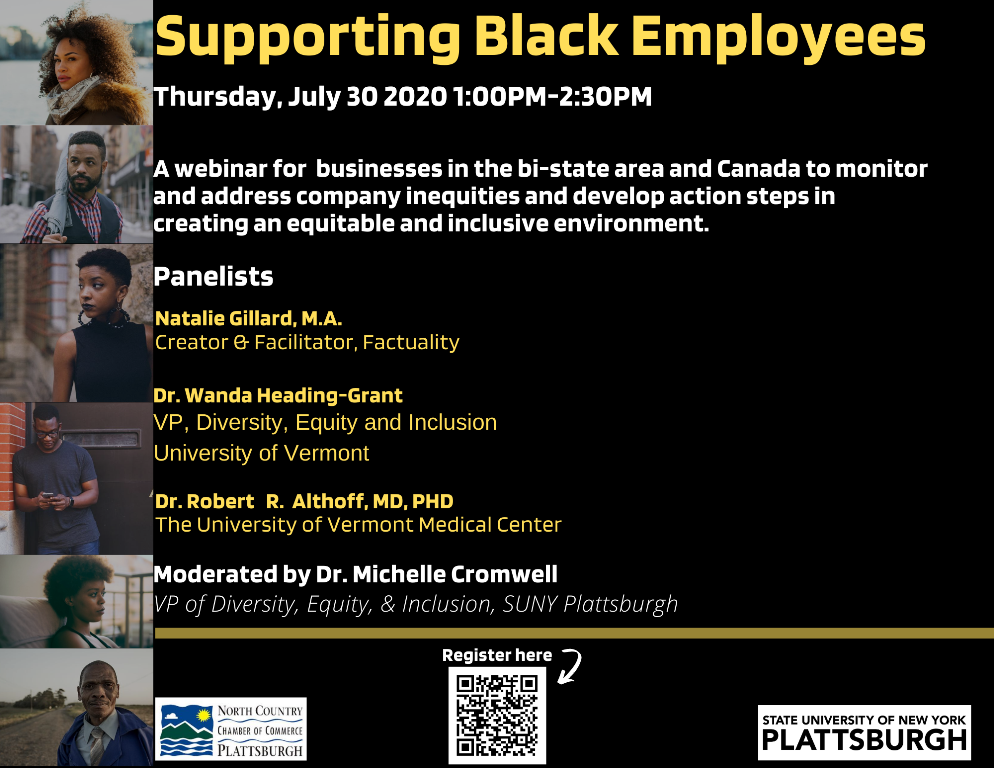 SUNY Plattsburgh is teaming up with the North Country Chamber of Commerce to offer a webinar designed to help businesses create more equitable and inclusive work environments.
"Supporting Black Employees," the webinar being held Thursday, July 30 from 1 to 2:30 p.m., is the result of conversations that arose at the Center for Diversity, Equity and Inclusion's first Black Bodies Affinity Space session held in June following the murder of George Floyd in Minneapolis.
Dr. Michelle Cromwell, vice president for diversity, equity and inclusion and chief diversity officer, said they attended a similar webinar to the one planned for July 30 facilitated by the Dr. Shaun Harper, provost professor and racial equity expert with the University of Southern California.
"I felt that there was a need to catalyze something like this in our region," Cromwell said. "Also, understanding that the college is an independent voice, I wanted to use this moment to invite, call in and generate a conversation and ideas as to how businesses can make their thoughts around racial equity congruent with their actions."
The webinar is geared toward employers in the North Country of New York, Quebec and Vermont.
The goals, Cromwell said, include:
Using this moment in time when people are open to the conversations around racial equity that need to be had but historically have been avoided
Share experiences and stories, specifically for black employees in the workplace, framing it in a way that is palatable, understandable and actionable
Providing and exploring SMART — Specific, Measurable, Attainable, Relevant, Time-based — action steps that businesses can take to support a group of employees that have felt unseen, undervalued and feel very afraid at present, and
Providing educational resources as independent voices and thought leaders
Moderated by Cromwell, webinar panelists include Natalie Gillard, creator and facilitator of FACTUALITY, described as a facilitated dialogue, crash course and board game all in one that simulates real-life experiences in America; Dr. Wanda Heading-Grant, vice president of diversity, equity and inclusion at the University of Vermont; and Dr. Robert Althoff MD and associate professor of psychology, University of Vermont Medical Center.
"This is not just a sit-and-watch webinar," Cromwell said. "It is a listen, learn and do webinar. At the end of the webinar, I will guide participants to create SMART action steps that they can take away and implement at their companies in the short term.
"Inclusive work environments for black employees don't just happen; they are intentionally created," they continued. "Participants will learn how to create inclusive workplace cultures that enable black employees to thrive. They will leave the webinar with concrete activities and action steps to transform their company climates."
In the end, Cromwell hopes participants will be able to "find out how to monitor (their) company's culture and address structural inequalities, develop measurable action steps that can be enacted right away, and learn about creating equitable recruitment, retention and mentoring plans."
To register, visit https://plattsburgh.zoom.us/webinar/register/WN_7Nqd9_O8Q3OUnEFH0fOMwA.
To learn more about the Center for Diversity, Equity and Inclusion, visit https://www.plattsburgh.edu/plattslife/diversity/staff.html.