Jump to Footer
Career Development Center Events on Tap for Fall Semester
---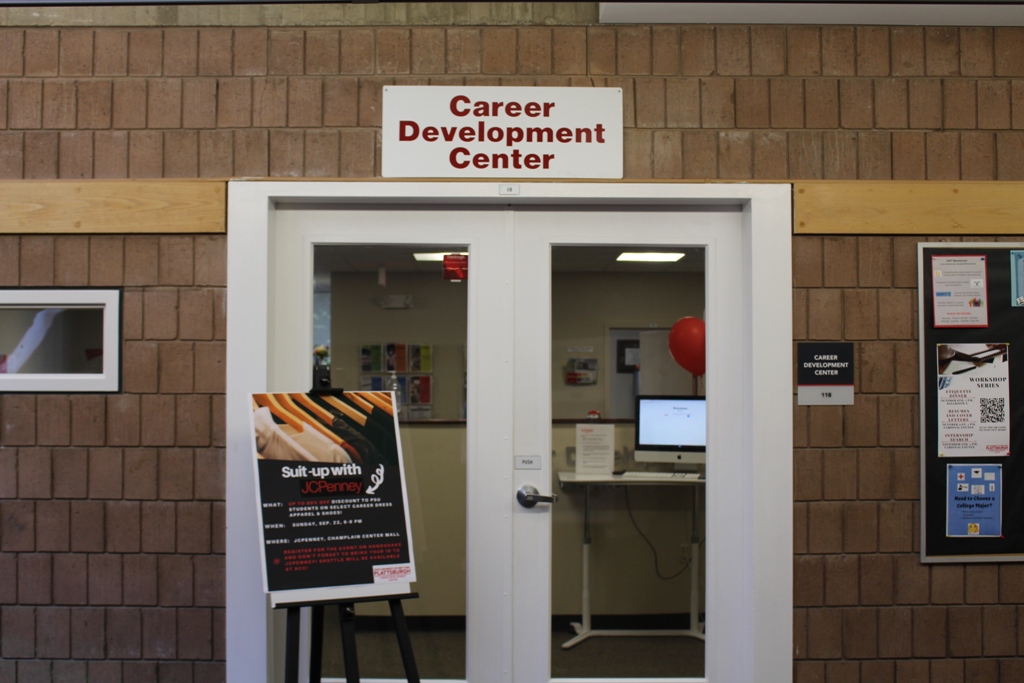 SUNY Plattsburgh's Career Development Center is offering a host of events, both virtual and face to face, throughout the fall semester to help students on their job search, post-graduate plans and more.
Students looking for information from graduate and professional schools can find it from more than 75 colleges and universities at the annual Graduate and Professional Fair Wednesday, Oct. 6 from 3 to 5:30 p.m.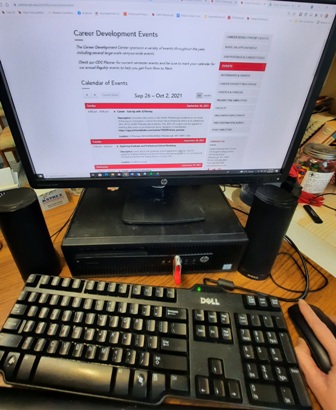 The virtual event, available via Handshake, welcomes students from all majors and class years, who can connect with programs ranging from education to law.
Participants from colleges and universities can answer questions and provide resources beyond what is available on their websites, including information on acceptance and financial aid procedures.
View the list of participating colleges and universities here: https://docs.google.com/spreadsheets/d/142Nx-YplhV-08vEEbAZ3JwZGkQvgOlQFnCvnnyVq9nI/edit#gid=0.
Seniors can obtain information about financial assistance and get last-minute questions answered before submitting their application materials
Juniors can get more detailed information as to the admissions requirements, including standardized tests
Sophomores can find out what experiences are valued in admissions
First year students can gather information to confirm their choice in major and learn about career paths
Students can register for group sessions or individual sessions with the recruiters through Handshake. For more information, contact Sally Urban, senior career counselor, at [email protected] or visit https://www.plattsburgh.edu/plattslife/careers/events.html.
On Wednesday, Oct. 20, is the Internship and Career Fair in the Warren Ballrooms, Angell College Center, from 3 to 5:30 p.m.
Sponsored by the School of Business and Economics with support from the Carerer Development Center, the career fair is an opportunity for students of all class years and majors to talk with employers a bout the kinds of positions are available. Some employers come prepared to hire summer interns; others come to hire full-time employees. This is a chance for students to practice interview techniques, introduce themselves and hand out resumes.
Other virtual events being sponsored by the CDC include:
JP Morgan Chase Virtual Hackathon, Thursday, Sept. 30 from 9 a.m. to noon.
This virtual program gives participants the chance to use their data analysis and coding skills to help a nonprofit organization further its mission. It's also an opportunity to gain insight into how JP Morgan Chase leverages analytics and data science to drive innovation and serve its clients.
On Thursday, Sept. 30, and Friday, Oct. 1, teams will collaborate to analyze large, social good data sets and derive insights for the nonprofit, working side by side with JP Morgan Chase researchers and data scientists, learning from their experience as they creatively solve real-world problems faced by social organizations.
Department of Defense Civilian Careers Info Session, Thursday, Sept. 30 from 10 a.m. to 3 p.m.
The Department of Defense will discuss what civilian careers are currently being recruited for. Positions include accountants, budget analysts, criminal investigators, police officers, special agents, telecommunication specialists and more.
Target Internship and Career Path Information Session, Thursday, Sept. 30 from 6 to 7 p.m.
Target leaders from stores and supply chain will share more about the company as well as its internship and full-time leadership roles in stores and distribution centers around the country. Panelists will take questions from audience members. The session will be followed by an optional break-out session with Target recruiters.
For more information and to register for any of the Career Development Center events, call 518-564-2071, email [email protected] or visit https://www.plattsburgh.edu/plattslife/careers/events.html.