Jump to Footer
Former Student Mathieu Bilodeau Finishes His Olympic Journey in Rio Olympics | SUNY Plattsburgh
---
Former SUNY Plattsburgh exchange student Mathieu Bilodeau finished his Olympic journey in Rio de Janeiro August 19 with the completion of the 50 kilometer men's finals race walk.
A member of the Canadian Olympic team, Bilodeau competed alongside teammate Evan Dunfee, who was awarded the bronze medal after a protest following a collision with Japanese athlete Hirooki Arai, who bumped Dunfee in the final two kilometers of the event, and went on to finish ahead of him.
The 50 kilometer race walk is grueling event, one of the top six longest Olympic competitions, surpassing the marathon in both distance and time.
The son of a nationally ranked Canadian swimmer, Bilodeau, 32, always had his sights set on something greater, beyond what he had been able to accomplish before.
He qualified for the Olympics with a three hour, 53 minute time in the 50 kilometer race walk at France's national championships in March 2016. He won the Canadian national race walking championship in July 2016.
In Rio, Bilodeau finished 56th out of the 80 competitors.
Race walking is an endurance sport that demands technical skill. Competitors must have one foot on the ground at all times and the advancing leg must straighten after it leaves the ground and remain straight until the body passes over it.

'Where Everything Started'
Before coming to Plattsburgh, Bilodeau competed internationally as a triathlete, representing Canada at the Pan American Cup event in 2003.

"Sports was always in my mind," he said. But he knew he had to pursue an education.
As a student at the University of Quebec, Bilodeau applied for a scholarship from SUNY Plattsburgh. A lover of the U.S., he wanted to study there and learn to better speak English.
Since Plattsburgh was just a two hour drive from where he grew up, he had seen the campus many times on family trips to the Plattsburgh area and the Adirondacks. And he knew SUNY Plattsburgh would offer him what he was looking for not only athletically but academically as well.
"I knew the accounting program in Plattsburgh was really good," Bilodeau said.
He studied accounting at Plattsburgh in his junior year beginning in the fall of 2007.
It was as a Cardinal athlete that he broke away from the triathlon completely, replacing it with cross country and track and field running.
"It's kind of where everything started because I wasn't really involved in track and field before and going to Plattsburgh, I started doing more track running," Bilodeau said.
He said he drew much inspiration from his former coach, John Lynch, who was director of the cross country and track and field programs at SUNY Plattsburgh from 2005 to 2011.
"He coached me really well," Bilodeau said, adding that he instilled in him a passion for track and field.
"He always had dreams of being in the Olympics," Lynch said. "It's great that he's been able to put together a career out of it."
Lynch may have not predicted that Bilodeau would make an Olympic team back in 2007 and 2008, though.
"He showed some signs of brilliance in certain areas and certain workouts, but there was definitely an adjustment period during that year" as Bilodeau made running his main sport, Lynch said.
After Bilodeau left SUNY Plattsburgh, he kept in touch with Lynch, emailing him from time to time for coaching advice.
"Personally, it makes me really happy that somebody has been able to reach their dream," Lynch said. "I think no matter what level the athlete gets their goal it's always a great moment. For him to get to that level, it definitely makes me really happy to see."
Lynch is now head coach of men's track and field at Rensselaer Polytechnic Institute in Troy, N.Y.

Accountant and Athlete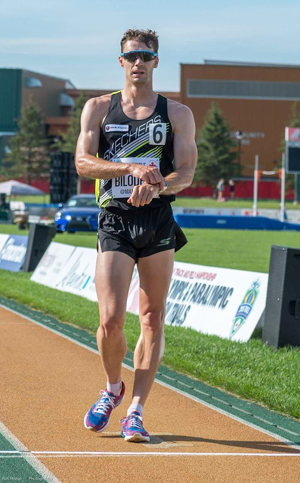 After completing his exchange year at SUNY Plattsburgh, Bilodeau graduated from the University of Quebec in 2009 and worked as an accountant for a few years, moving to Calgary in 2014 to take a job as a financial accountant at MEG Energy, an oil and gas company.

He found solace in his post-work exercise routine.

"It was good to be outside because my day was so long at the office," he said. "Just being on your own … enjoying the time you walk or run, it's just kind of freedom."

He began considering competitive race walking after speaking with Janice McCaffrey, a three-time Olympian he met while running at a track in Calgary.

McCaffrey told him he was a good runner but would likely have a better chance of qualifying for the Olympics if he made the switch to race walking too. His eyes on Rio, he began training as a race walker in March 2014.

"The technique is kind of tough to learn," he said. "It took a month or two to get used to it. It's kind of an unnatural movement."

Bilodeau trains just like a runner would, he said. In his training leading up to the Olympics, he logged 140 or 150 miles a week, race walking twice a day and adding strength training in twice a week along with swimming to relax the muscles.

Even after competing at the OIympic level, Bilodeau looks back fondly on his time as a Cardinal student athlete.

"I'm still a big fan of SUNY Plattsburgh," he said. "We go back almost every year and see the campus and go on the lake. I'm following Cardinal track and field online and it's just fun."

Unable to retrieve file contents for https://www.plattsburgh.edu/news/news-list.php
Warning: count(): Parameter must be an array or an object that implements Countable in phar:///var/www/staging/_resources/scripts/brei.feedmanager.ext/Filtering/FilteredObject.php on line 126