Jump to Footer
Area High School Students Back on Campus for Upward Bound Summer Program
---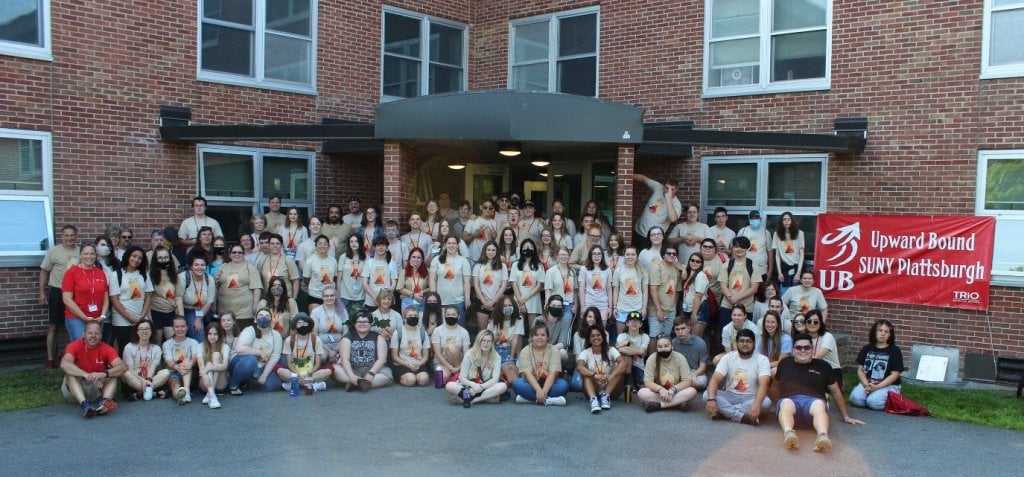 The 2022 Upward Bound six-week summer program launched Monday, June 27 with the arrival of 170 North Country high school students who will be immersed in academic and experiences aimed at preparing them for life at college.
Serving high school students in Clinton, Essex and Franklin counties, Upward Bound is a federal TRIO program, funded by the U.S. Department of Education and free to participating teens. Students must come from families of modest income or those whose parents did not attend four-year colleges.
"The summer program is always the complement to the school-year-based activities and service we provide to our students," said Brian Post, Upward Bound director. "They get a chance to take classes, eat meals and reside on a college campus to experience life as a college student while still in high school."
Students will participate in weekly activities such as social events, sports, field trips, seminars, intramural activities and choose from more than 40 class offerings.
Academic Classes
Classes include calculus, chemistry, financial literacy, geometry, laser craft, government, physics, public speaking, foreign language, history and more. Weeks 1-3 operate as a day-program with students being bused in for the day and being picked up by their districts in the afternoon.
July 5-8 is the program's leadership trip to Washington, D.C., the first in three years, Post said. Students will see the sights and visit colleges in the nation's capital.
To give them the true college experience, students will live on campus in Harrington Hall the last two weeks of the program. And to give them a real-life experience, students will participate in the "Authentic STEM Program, a partnership between the North Country Workforce Development Board, CV-TEC, Schluter Systems, and the University of Siegen in Germany, Post said.
Headquartered in Germany with one of its four plants located in Plattsburgh, Schluter Systems is creates solutions for the tile industry, working closely with its network of distributors, dealers, tile contractors, architects, and other members of the building and construction industry.
German Students to Visit
"A group of our Upward Bond students are collaborating with German students to solve a real-world engineering problem faced by Schluter," Post said. "They will work throughout the summer to find solutions to the problem, visiting the Schluter plant and working with their team."
The project culminates with the German students visiting campus during the week of July 25 to work face to face with our student, Post said.
In addition to the academic and social activities, all students must participate in seminars such as "7 Habits of Highly Effective Teens," "Financial Literacy," and "Senior Writing." "The Importance of Diversity, Equity and Inclusion" will be presented by Dr. Richard Miller, interim director of the diversity, equity and inclusion office.
Other seminars are aimed at each class year: "Rising Sophomores," "Rising Juniors" and "Rising Seniors," designed to address areas of concern for that age group.
Non-academic programs include Dungeons and Dragons, community walks, lawn games like bocce, cornhole, can jam and ladder toss, and other fitness activities like volleyball, tennis, kickball and soccer. Students will also have the opportunity to take classes in ceramics, mural painting and printmaking.
Upward Bound Summer Program comes to an end with an Aug. 3 banquet in the Warren Ballrooms.
For more information on Upward Bound at SUNY Plattsburgh, contact Post at [email protected] or visit https://www.plattsburgh.edu/about/offices-divisions/student-affairs/upward-bound/index.html.