Jump to Footer
Alumni Come From Near and Far to Celebrate Reunion 2019
---

SUNY Plattsburgh welcomed more than 225 alumni and friends back to campus June 6 through 8 to reconnect and reminisce as part of Reunion 2019.
Attendees came from as far as California to take part in the various social gatherings and educational activities held on and around campus throughout the weekend.
"As alumni arrived home to campus, our staff quickly began witnessing ear-to-ear smiles and hugs between old friends," said Director of Alumni Relations Kerry Chapin-Lavigne '98. "The weather was beautiful, spirits were high, and Cardinal Pride was in the air."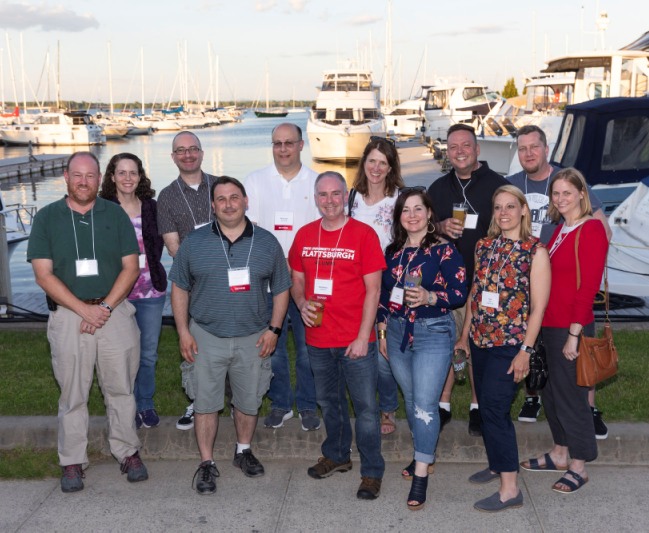 While open to all alumni of the college, Reunion 2019 served to commemorate the anniversaries of class years ending in "4" and "9," with the Class of 1969 celebrating 50 years since graduation.
Golden Anniversary Club Induction
The festivities kicked off Thursday evening with the annual Reunion Wine and Cheese Reception at Samuel D's, followed on Friday by the Class of 1969's induction into the Golden Anniversary Club. Members of prior class years were on hand to welcome the 50th-anniversary class into the distinguished club during a luncheon in the Myers Fine Arts Building.
Additionally, an anniversary dinner exclusively for members of the Class of 1969 was held on Saturday evening at Valcour Inn and Boathouse.
Earlier in the day, Reunion guests gathered for an all-you-care-to-eat lunch in the newly renovated Clinton Dining Hall. There, the Reunion Class Challenge trophy was presented to the
Class of 1969, which comprises the highest percentage of college donors of any of this year's anniversary classes, with 18 percent participation.
Gifts to College Foundation Announced
The college also announced that more than $2.5 million in gifts to the Plattsburgh College Foundation was raised during the 2018-2019 fiscal year from class years celebrating anniversaries.
Among the weekend's other activities were walking tours of campus and local museums; an open house in the college's nursing department, from which several Reunion attendees graduated; and a barbecue at the Naked Turtle on Lake Champlain.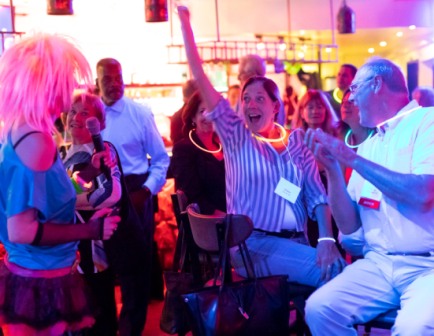 For the second year in a row, Saturday night's "Journey Through the Decades" party at Retro Live in downtown Plattsburgh served as a colorful conclusion to Reunion Weekend. This all-class event, featuring live entertainment, throwback souvenirs, music and trivia, had attendees singing and dancing their way through the '60s, '70s, '80s, '90s, 2000s and 2010s.
"Thank you to all who came to celebrate Reunion 2019 with us," Chapin-Lavigne said. "Everyone played a part in making the weekend special.