Jump to Footer
Class of 2010 begins Its "Plattsburgh Experience"
---
It's Going to be Different
More than 1,000 freshman students will pour onto campus at the end of August to begin their college experience at SUNY Plattsburgh.
Among the new freshman students are two of a family of quintuplets. Jennifer and Ellen Cangialosi, from Suffolk County, Long Island and graduates of Sachem High School, will have a unique transition to college life.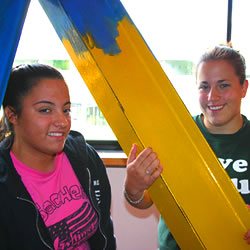 "It's going to be different," said Ellen. "Being around each other is all we've ever known."
On October 15, 1988, Angelo and Alice Cangialosi went into the record books. On that day, Alice gave birth to quintuplets. They were the first to be born in New York State since 1938. Now all five children are heading off to college. Jennifer and Ellen's siblings will be going to three other colleges in the Northeast.
"SUNY Plattsburgh was one of the few colleges that I was interested in," said Ellen while she and her sister Jennifer were in Plattsburgh for orientation earlier this summer. "It worked out for me to come here, and I'm really glad it did. It seems really nice up here."
Jennifer is interested in pursuing a degree in nursing while Ellen is thinking about majoring in communication. They are excited to join the SUNY Plattsburgh Class of 2010 and begin their academic adventure - their "Plattsburgh Experience."
Opening Week Information
Saturday, August 26 is official "Move-In Day." New and returning students can view Opening Week Information for a listing of key events, dates and other information to prepare for returning to campus. Classes for the fall semester begin on Monday, August 28 at 8:00 a.m.
Move-In Day Activities
Fall Academic Matriculation Ceremony and Opening Night Talk by Dr. Elizabeth Bernat
Date: August 26
Time: 7 p.m.
Location: Giltz Auditorium
Comedian Alexandra McHale
Date: August 26
Time: 8 p.m.
Location: Giltz Auditorium
Late Night Outdoor Movie: "Over the Hedge"
Date: August 26
Time: 9:30 p.m.
Location: Angell Center Courtyard
Contact Information
For more information about Opening Week at SUNY Plattsburgh, please contact:
Name: Scott Johnson, Director of College Center and Student Activities
Office: Angell College Center 106
Phone: 518-561-4321
E-mail: [email protected]