Jump to Footer
B.F.A. Senior Exhibition
---
Virtual B.F.A. Exhibition
The Plattsburgh State Art Museum is pleased to present this year's B.F.A. Virtual Thesis Exhibition. This exhibition features work created by graduating Bachelor of Fine Arts students in the SUNY Plattsburgh Department of Art. This represents the culmination of each undergraduate student's experience of developing a body of work. The exhibition features student work from a variety of studio areas: ceramics, drawing, graphic design, painting, photography, printmaking and sculpture.
At this time the museum will not hold a public opening reception in accordance with the New York state regulation concerning the COVID-19 pandemic. However, should circumstances change, we will make an announcement for a closing reception.
B.F.A. Presentation
---
Join us in celebrating the academic and artistic achievements of the B.F.A. graduating class of 2021.
Messages of Congratulations
---
Tonya M. Cribb, Director, Plattsburgh State Art Museum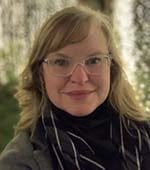 As the director of the Plattsburgh State Art Museum, it is my pleasure to congratulate our graduating seniors participating in the annual B.F.A. senior show. This exhibit is the capstone and culmination of the creative efforts of graduating B.F.A. students from the SUNY Plattsburgh Department of Art.
Art is a dynamic and creative portal for students to gain an understanding of the world around them. Over the course of the year, students are expected to write a proposal and produce a body of work that investigates an idea or set of concerns that is meaningful to them. In spite of the many challenges imposed by the COVID-19 pandemic, these students have excelled in their respective concentrations to share the work you see here. Each project represents a personal experience that translates what the artist sees and feels into a tangible form.
This year's exhibition features an impressive array of works, including paintings, drawings, printmaking, sculpture, photography, graphic design and ceramics. With varying media and content, each young artist gives visual life to their very different ideas of what art and the world look like. In addition to student artworks on display, this catalogue, exhibit and promotional materials are completely student designed and executed, representing a mastery of conceptual and applied skills.
The Plattsburgh State Art Museum welcomes you to join us in celebrating the academic and artistic achievements of the graduating class of 2021. It is my hope that the college and North Country communities will join me in applauding their remarkable achievements.
Sue Lezon, Associate Professor & Chairperson, Art Department
"Creativity takes courage." – Henri Matisse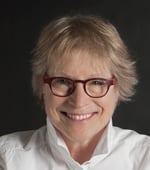 The 2020–2021 academic year will be remembered for many reasons, not the least of which will be COVID-19, the virus that so dramatically changed our lives.
I, however, will remember this year, first and foremost, as the time when our B.F.A. students rose to the challenges they faced with strength, flexibility, and the passion to produce artwork of tremendous complexity and power.
Navigating the "new normal" in their classes and studios became a collaboration that was born from the respect that our students, faculty, and staff have for one another. A culture of safety and creativity allowed us to stay connected in powerful ways. Joseph Campbell said, "A need to tell and hear stories is essential to the species homo sapiens…". These young and exceptionally talented artists are storytellers in the truest sense of the word. Their unique perspectives offer us the gift of their personal vision. How fortunate we are!
The art department faculty is grateful to the museum staff for their support and assistance in the preparation of the exhibition.
We congratulate and salute the courage of our 2021 B.F.A. students, their families, and their family of friends.
Bravo!