Jump to Footer
B.F.A. Senior Exhibition
---
Virtual B.F.A. Exhibition
The Plattsburgh State Art Museum is pleased to present this year's B.F.A. Virtual Thesis Exhibition. This exhibition features work created by graduating Bachelor of Fine Arts students in the SUNY Plattsburgh Department of Art. This represents the culmination of each undergraduate student's experience of developing a body of work. The exhibition features student work from a variety of studio areas: ceramics, drawing, graphic design, painting, photography, printmaking and sculpture.
SUNY Plattsburgh Senior Exhibition Spring 2022
April 9 – May 21, 2022
Reception April 9 at 3 p.m.
Myers Lobby Gallery and Joseph C. and Joan T. Burke Gallery
Presentations in Hartman Theater followed by opening reception. Featuring:
Jocelyn Acosta
Morin Bisonette
Sareem Jabbar
Brian Keach
Kailey Maher
Elara Martin
Kelsey Rambach
Nghi To
Mollie Ward
Messages of Congratulations
---
Tonya M. Cribb, Director, Plattsburgh State Art Museum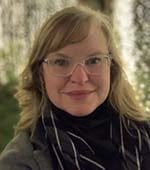 As the director of the Plattsburgh State Art museum, it is my pleasure to congratulate our graduating seniors participating in the annual B.F.A. Senior Thesis Show. This exhibit is the capstone, and culmination of the creative efforts of graduating students from the SUNY Plattsburgh art department. Each of these young artists have faced the most unique and harrowing challenges posed by the pandemic for the last two years, yet they have persevered and overcome each obstacle to present the dynamic work you see in this exhibit.
Art is a dynamic and creative gateway for students to gain an understanding of the world around them. Over the course of the year, students are expected to write a proposal and produce a body of work that investigates an idea or set of concerns that are meaningful to them. These students have excelled in their respective concentrations to share the work you see here. Each project represents a personal experience that translates what the artist sees and feels into a concrete form.
This year's exhibition features an inspiring array of works, including sculpture, drawings, printmaking, painting, photography, and graphic design. Despite the differences in media and content, each artist gives visual life to their ideas of what art and the world look like. In addition to student artworks on display, this catalogue, other exhibit and promotional materials are completely student designed and executed, representing a mastery of conceptual and applied skills.
The Plattsburgh State Art Museum welcomes you to join us in celebrating the academic and artistic achievements of the graduating class of 2022. It is my hope that the college and North Country communities will join me in applauding their remarkable achievements. We are delighted to present this body of work to you in person this year.
Sue Lezon, Associate Professor & Chairperson, Art Department
"Art is not what you see, but what you make others see." – Edgar Degas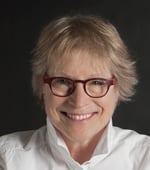 Look no further than the work of the senior B.F.A. students in this year's exhibition to see the world with new eyes. After several years of working within the constraints and hard realities of the Covid-19 pandemic, isn't that what we are all seeking? These young artists have honed their skills during two of the most difficult years of their academic career. Somehow, they have thrived. Their work is a testament to their diligence, as well as their passion for making art. They are offering us a precious gift.
In the exhibition catalogue, as you read their artist statements, you'll see them reference family, inspiration, passion, consciousness, time, storytelling, memory, and home, just to name a few. When you view their work, you will understand something beyond words. I invite you to linger a bit, and ponder.
The art department faculty members are grateful to museum director Tonya Cribb, and the entire staff of the museum, for their support and assistance in the preparation of the exhibition. This yearly collaboration between the museum and the art department is rooted in mutual respect for our students, and for one another.
The faculty and staff of the art department congratulate our B.F.A. artists. We are so proud of you. And we wish you joy and success in all of your future endeavors.
Bravo!
Dr. Genie Babb, Interim Dean, School of Arts & Sciences

The Spring 2022 B.F.A. Exhibition at SUNY Plattsburgh offers our community a stimulating opportunity to see imagination, ingenuity, and industry on display. For our graduating seniors, the exhibit showcases the fruits of four years of intense technical study and creative development, two of them in the midst of a pandemic! For beginning art students, it exemplifiesthe excellence to which they can aspire. For the Plattsburgh community, itpresents another exciting instance of the breadth and vitality of the college's art program. For all of us, it offers a rich experience as we immerse ourselves in the wonderful selection of new art in a wide range of media, styles, and techniques. In years to come, the larger world will get to know some of these artists very well, and it's gratifying to get the chance to encounter their early creations.
To the artists, congratulations on this superb collection of work! To the art faculty and the director and staff of the museum, thanks for the critical role you have played in their development. To their families, we acknowledge the myriad ways you've supported and nurtured these talented young artists. We thank you and share your pride in them. And to the Plattsburgh and North Country communities, welcome to what I know you will find to be an enriching and thought-provoking aesthetic experience.