Jump to Footer
SUNY Plattsburgh Literary Journal Showcases Students' Exceptional Work
---
SUNY Plattsburgh's literary journal, Zplatt, offers students a chance to learn first-hand what it takes to get published.
"The best part is watching the staff morph from students to professionals," said Zplatt Faculty Advisor Laura Ward of the annual journal, which displays students' writings, poetry, plays, artwork and photography in a colorful and professionally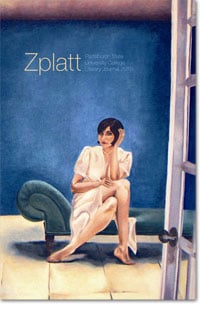 bound book.
"When readers flip through the issue or read it cover to cover, I hope they are struck by how much talent we have at this college," said Ward. "Zplatt provides a look at the college's best writers and artists. Their voices might someday be prominent on a national level."
Student Staff is the Key
The staff of Zplatt consists of a small number of students with a love of art and literature. Throughout the semester, the team reviews, critiques and votes on which student submissions will appear in the journal. They, then, dedicate their time to putting together a professional publication.
Gaining Professional Experience
"It provides a very good simulation of being on staff at a professional literary magazine," said Ward. "The students grapple with the exact same issues as professional editors: funding, branding, content selection, deadlines. The classroom functions as a staff room where the highest standards of professional behavior and performance are expected.
"Everyone contributes meaningfully, and all take pride in the final product," continued Ward. "When the journals come back from the printer, it feels like the birth of a new member our Zplatt family."
The next issue will be distributed this fall, via delivery to campus buildings and tabling in the Angell College Center.