Jump to Footer
SUNY Plattsburgh Grads Play Role in 2010 Olympic Winter Games
---
If you've seen NBC's coverage of the alpine Olympic skiing events this winter, you've seen the handiwork of a SUNY Plattsburgh communications graduate.
Four-time Emmy Winner Behind the Camera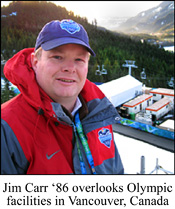 Jim Carr '86 of Carr-Hughes Productions got his start in the studios of SUNY Plattsburgh's own PSTV, working both behind and in front of the camera. He even took the college's equipment on the road, following the hockey team and working with other students and TV stations to get a signal back to campus from places like Bemidji, Minn.
Now, 10 Olympics and four Emmys later, Carr has his own media company and travels the world filming shows that air on networks like NBC, ESPN and the Animal Planet.
"I'm doing what I want to do. It's what I went to school for. You know, people often say, 'How did you learn this?' I say, 'Well, I went to school for it.' I think producing some of the major events I have, like the Tour de France and 10 Olympics and various series and shows over the years, is very exciting. But it's also working with great professionals, like I have over the years. It's a great group of people."
And in that great group of people, said Carr, are a number of other SUNY Plattsburgh graduates.
Grad One of Fastest Skeleton Pushers in World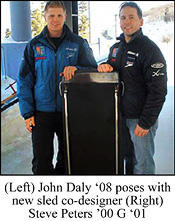 But Carr is not SUNY Plattsburgh's only representative at the winter games. Another communication studies major, John Daly '08 is now a member of the U.S. skeleton squad. And Daly has been on a roll, winning six races before his journey to Vancouver for the games.
The one-time Cardinal track-and-field star cannot believe his good fortune.
"It feels like I'm still in a dream, and I'm waiting for it to end, but I hope it doesn't," Daly told reporter Josh Colligan of SUNY Plattsburgh's student-run newspaper, Cardinal Points. "... You look back on what you accomplished, and it just astounds."
According to fellow alumnus, Steve Peters '00 G'01, "John had a very good team trial, which was the result of summer training that was just unbelievable. He put in a lot of time and effort. It's really paid off. He's one of the fastest pushers in the world right now."
Experimental Sled Makes Olympic Run
Peters knows what he's talking about. The superintendent of recreation for the City of Plattsburgh, who was a skeleton athlete himself and who has worked for the U.S. Bobsled and Skeleton Federation in Lake Placid, N.Y., and Park City, Utah, and, in that role, Peters became acquainted with many of the individuals who are now hitting the slopes at the games.
But more than that, Peters was an impetus behind the creation of the federation's new technology program, through which Peters helped design an experimental sled – the sled Daly will be taking down the Olympic track.
"He tried it. He liked it, and he was faster on it immediately, which is rare in this sport," said Peters. "We only had it tested two and a half weeks ago. So it's brand new. It's quite a leap for him to actually even use it, which shows how good it really is."
College Experience Helped Make It All Possible
According to Peters, who graduated with a bachelor's in communications and a master's in administration and leadership, his school experience really set him up for his current success.
"A lot of what I've had to do is to sell the technology program to the CEO of the Bobsled and Skeleton Federation, to the U.S. Olympic Committee and to our athletes, and I've really relied on my communication experience to be able do that," said Peters. " ... My experiences at the college helped to put it together. I'm a proud grad of Plattsburgh. That's for sure."
Contact Information
For more information about the communication studies program at SUNY Plattsburgh, please contact:

Richard Higgins, Director of Admissions
Phone: 518-564-2040
Toll-Free: (888) 673-0012
Fax: 518-564-2045
E-mail: [email protected]