Jump to Footer
Winter Solstice Celebrated At Holiday Planetarium Show
---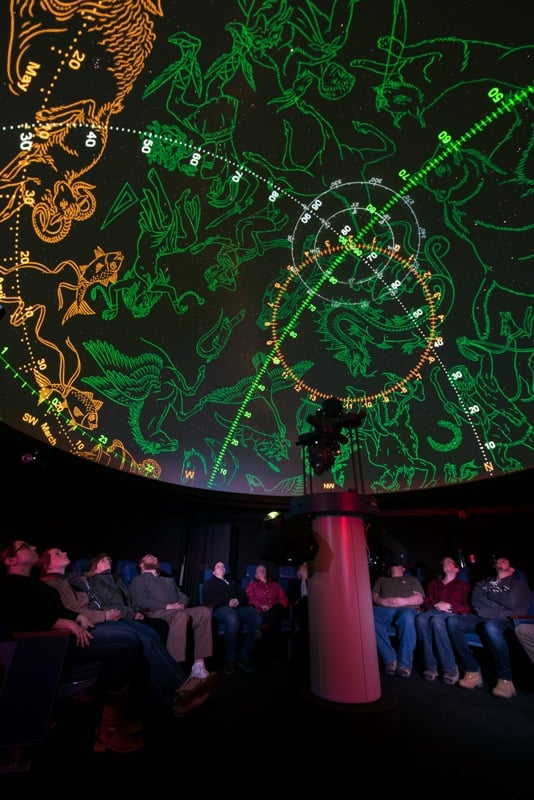 Gazing at the night sky may have you seeing stars, but you don't get to experience Tchaikovsky's "Nutcracker Suite" the way you will during Northcountry Planetarium's salute to the winter solstice Friday, Dec. 9 and Saturday, Dec. 17.
Visitors will be treated to a celestial ephemeris and "Season of Light" followed by an intermission with light refreshments. The event concludes with a full-dome kaleidoscopic version of the "Nutcracker," Tchaikovsky's perennial holiday favorite that tells the story of Clara, a young girl who receives the gift of a nutcracker for Christmas.
The Northcountry Planetarium, located in the northern corner of Hudson Hall, offers a 360-degree multimedia sky theater that allows visitors to experience live, interactive programs as well as automated productions that feature realistic night skies and virtual journeys through the solar system and distant deep-space phenomena.
The ZKP3/C Skymaster projects more than 7,000 individual stars and 25 deep-space objects such as nebulae, star clusters and galaxies. The Zeiss projector can simulate the sky as seen from any point on Earth at any time within a few thousand years of the present. Not an observatory, which feature telescopes that allow observation of the actual sky, the Northcountry Planetarium features a dome-shaped ceiling that acts as a screen that the Zeiss then projects onto, simulating the night sky.
"A Winter Solstice Celebration" begins at 7 p.m. Dec. 9 and at 2 and 6 p.m. Dec. 17. Tickets are 5 for children and SUNY Plattsburgh students with ID, $7 seniors and college personnel with ID, and $9 to the general public and are available in person in advance at the Angell College Center desk, 518-564-2121 or at tickets.plattsburgh.edu. Day-of-event tickets are available at the planetarium office in Hudson 104 one hour prior to showtime by cash or check only.
For more information, contact the planetarium at [email protected] or call 518-564-3168.
— Story by Associated Director of Communications Gerianne Downs