Jump to Footer
Residence Hall Upgrades Continue with New Wilson Hall Opening | SUNY Plattsburgh
---
Wilson Hall reopened its doors for the new academic year at SUNY Plattsburgh, sporting the benefits of a $15 million renovation and remodeling.
Wilson is the seventh residence hall upgraded in recent years. Macomb Hall, closed for 2017-18, is next in line. It is slated to see new student rooms, installation of an elevator and office space for the Educational Opportunity Program and Student Support Services. It will also include kitchenettes on each floor, energy efficiency with design, new sprinkler systems and bathroom upgrades.
The renovated Wilson Hall was celebrated at a special ribbon-cutting event on Thursday, Sept. 7.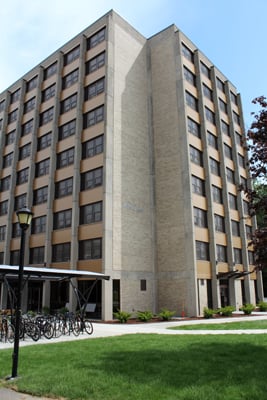 Renovations on SUNY Plattsburgh residence halls is part of a $47 million SUNY-wide capital improvement project financed through bonds made available through the Dormitory Authority of the State of New York. Residence hall projects are paid through revenue earned by the halls on each campus. DASNY helps secure the low-cost, tax-exempt bonds that are in turn paid off by that revenue.
Founded in 1944, DASNY is New York state's capital project development authority. It finances and constructs sustainable and resilient science, health and education institutions across the state. It is one of the largest issuers of tax-exempt bonds in the nation with a bond portfolio of some $47.9 billion as of March 31.
"The partnership with DASNY is critical, enabling us to update our facilities on a cyclical basis," said Dr. John Ettling, SUNY Plattsburgh president. "The completion of Wilson Hall allows us to bring one of the largest such buildings on campus back into the fold and to bring our students an amazing new residence hall they can call home."

Among Largest Residence Halls
Wilson, with nine floors and 309 residents, is among the largest residence halls on campus. In addition to the current work being done on Macomb, the college decided to upgrade the bathrooms in the halls that were already renovated and incorporate such upgrades in the rest of the projects ahead.
Interior work on Wilson was extensive, said Stephen Matthews, director of housing and residence life.
"The entire first floor was re-designed to offer a more open concept in terms of space and sight lines," he said. Included in the rehab is a "larger multi-use main lounge and a new smaller mini-use lounge that adjoins the main lounge that can be closed off with a moveable partition wall. A stairwell was added between off the main lounge and a new basement recreation lounge, which features recreational games like ping pong, foosball and a pinball machine."
The main floor lounge offers floor-to-ceiling windows that allows for natural light upstairs and down. A new resident assistant office on the first floor heightens security, Matthews said.
"This investment helps ensure SUNY Plattsburgh remains competitive and continues to attract the best and the brightest students from around the world," said Gov. Andrew Cuomo. "By making necessary improvements to New York's world-leading university system, we are establishing a stronger environment at campuses across the state to help foster the next generation of Empire State leaders."

Decrease Energy Usage
Work on the residence halls' insulation, lighting, mechanical and ventilation systems will result in decreases in energy use, supporting Cuomo's mandate to reduce energy use in state buildings 20 percent by 2020. It also complements Cuomo's Reforming the Energy Vision strategy to build clean, resilient and affordable energy systems for all New Yorkers.
The energy vision's goal is to ensure the state reduces greenhouse gas emissions 40 percent by 2030 and achieves the internationally recognized target of reducing emissions 80 percent by 2050.
"DASNY is proud to deliver a sustainable, best-in-class residence hall that will enhance students' learning experience and help SUNY Plattsburgh win the competition for the world's best minds," said DASNY President and CEO Gerrard Bushell. "In delivering modern student residences through our partnerships with SUNY campuses, DASNY is playing an essential role in strengthening New York state's economic foundation."