Jump to Footer
'War of the Worlds' to be Broadcast by College Community Living, Theater Association
---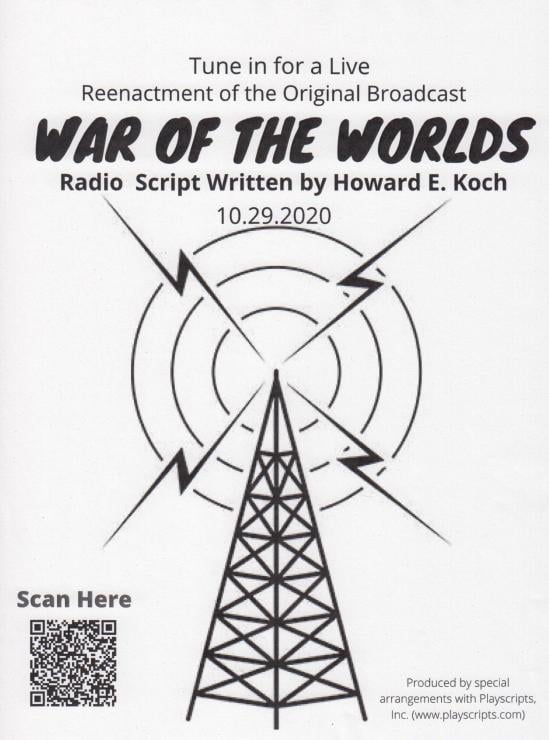 The SUNY Plattsburgh Community Living Office and College Theatre Association will present an adaptation of H.G. Wells' "War of the World" Thursday, Oct 29 at 7 p.m.
According to James Sherman, assistant director, community living, the live reenactment will feature students performing the classic 1938 Orson Welles' version, which tells the story of a world thrown unexpectedly into a war with an alien race that invades New Jersey. Many of those listening, especially on the East Coast where it would have been heard prior to those living further west, believed the invasion to be happening and ran from their homes in a panic.
Sherman said having events like "War of the Worlds" "create a shared experience that really helps bridge the divide we all feel today."
"It is nice that we can offer a program for students, faculty, staff and community members alike," he said. "We are also thrilled to be partnering with CTA to make this happen. Radio plays were the TV and streaming of yesterday where you and your friends and family used to gather and listen."
"War of the Worlds" was one of those programs, Sherman said.
"But it's not only a great story to listen to but also something that could really spark a good conversation, especially the history behind it," he said. "I would encourage people to listen with their close family and/or friends — safely of course."
No spoilers here; however, the ending may sound eerily familiar, he said. But ultimately, "this is Campus Housing and Community Living attempting to help our Plattsburgh community feel a little closer while keeping safe."
The production is free and open to the public, but tickets must be ordered at tickets.plattsburgh.edu.
The "War of the Worlds" broadcast couples with a Zoom student costume party Wednesday, Oct. 28 called "The Spookies," presented and hosted by the staff of Adirondack Hall with prizes to be awarded to winners in categories such as Best Individual Costume, Best Duo or Couples Costume, Best Room Decoration, keeping fire codes in mind, and Best Quarantine Costume. Sherman said that those students in quarantine who don't have access to a true Halloween costume can put one together using items they brought with them. The costume fun begins at 7 p.m.
Prizes include smart TVs, gift cards and a grand prize of a Nintendo Switch. Entries must be received by Oct. 25 to be considered. For information or to register for "The Spookies," email [email protected].
For more information on the production of "War of the Worlds," contact Sherman at [email protected].