Jump to Footer
Volunteerism at Heart of SUNY Plattsburgh Senior's Extracurriculars
---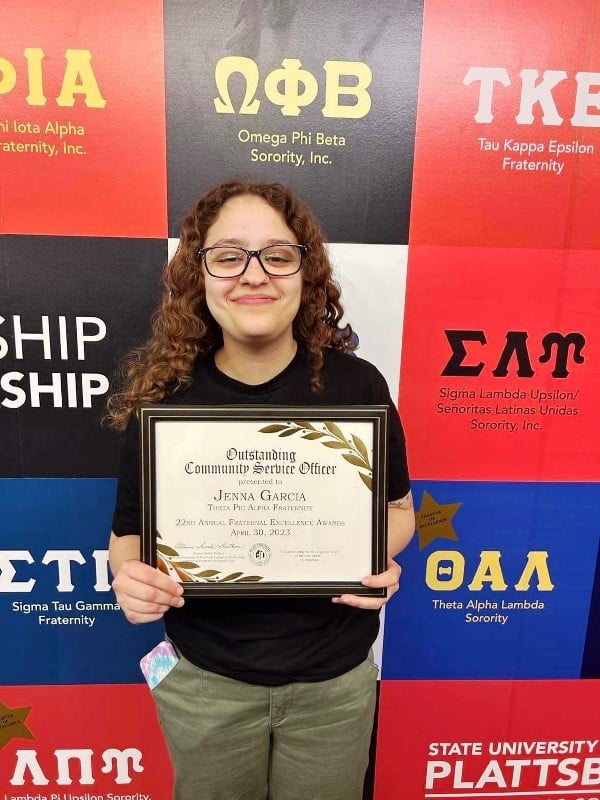 Volunteering her time is important to SUNY Plattsburgh senior Jenna Garcia.
In her first three years at SUNY Plattsburgh, the double law-and-justice and criminal-justice major from East Northport, N.Y., completed more than 100 hours of service. This summer, she spent a week serving underprivileged children at a camp in Mississippi.
'Developed Relationships to Foster Local Volunteerism'
At the spring 2023 annual Fraternal Excellence Initiative Awards, Garcia was named community service officer of excellence, said Allison Swick-Duttine, director of fraternity and sorority life.
Beginning this fall, Garcia will serve as the community outreach coordinator for Project HELP, the campus organization coordinating student volunteer efforts.
"Jenna also took the initiative to develop relationships with local organizations that Project HELP does not currently support, including the Ted K Center (in the City of Plattsburgh) where the members volunteered with the after-school program of Glasgow Elementary School."
Camp Affiliated with Sorority
Located in the small town of Aberdeen, Miss., Camp Friendship is one of the national philanthropies of Garcia's sorority, Theta Phi Alpha.
"The children all, unfortunately, came from very difficult backgrounds, but being able to give them a camp experience was something that I'll never forget," Garcia said. At camp, Garcia facilitated arts and crafts like making stained glass, potholders and magnets and helped the campers will teambuilding skills like communication.
Her campers, the Scooby Sponges, played capture the flag and tug of war, swam at a nearby lake, had bonfires, made tie-dye and had a dance party to cap off the experience.
Social Work Aspirations
Garcia's work as a camp counselor aligns with her post-graduate plans.
"I've always loved working with kids whether as a babysitter, a camp counselor or eventually a social worker," Garcia said.
She plans to attend Rutgers University to obtain dual master's degrees in social work and criminal justice. From there, she said she wants a job working with youth who have had contact with the criminal justice and foster care systems.
"Throughout my time in the criminal justice and political science programs, I've learned a lot about how different backgrounds can play a major negative and positive role in people's experiences in the system," Garcia said. "I want to be able to create a safe space for kids to be kids and to not need to worry about all of the struggles that they face. I want to help them find a sense of comfort and know that it's ok to be a kid."
Garcia's professors attest to her intellectual abilities.
"One of Jenna's greatest academic skills is her ability to connect political ideas and theories to concrete problems and issues, and she does so through a commitment to advocacy and justice. This is difficult to do, but Jenna has been an exemplar of this kind of applied political thinking since the moment she stepped into my classroom," said Dr. John McMahon, assistant professor of political science.
"She is bright, inquisitive, kind and compassionate," said Dr. Ray Carman, associate professor of political science.
Plans to Return Next Summer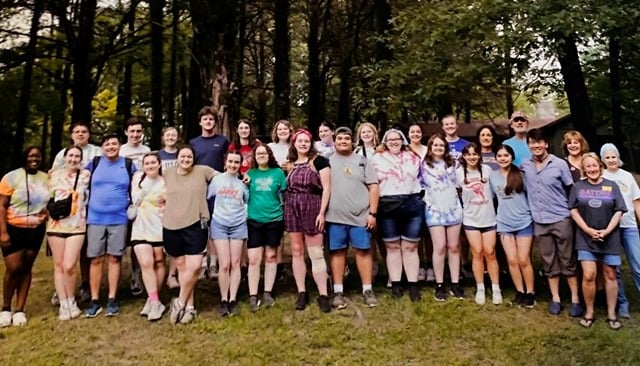 Garcia said she will volunteer at Camp Friendship again next summer.
"I left camp knowing that I made great connections with so many of the campers, and I cannot wait to see them next summer."
Garcia is far from the only student involved in fraternity and sorority life who plans to work in a helping profession.
"A large number of students in fraternities and sororities (particularly sororities) are majoring in the helping professions, from human development and family services to education, nursing/pre-med and communication sciences and disorders," Swick-Duttine said. "I think the fact that service is one of the four core pillars of all fraternal organizations is attractive to students who are in those fields."
— By Assistant Director of Communications Felicia Krieg