Jump to Footer
University Police Officer Honored for Role in Saranac River Rescue
---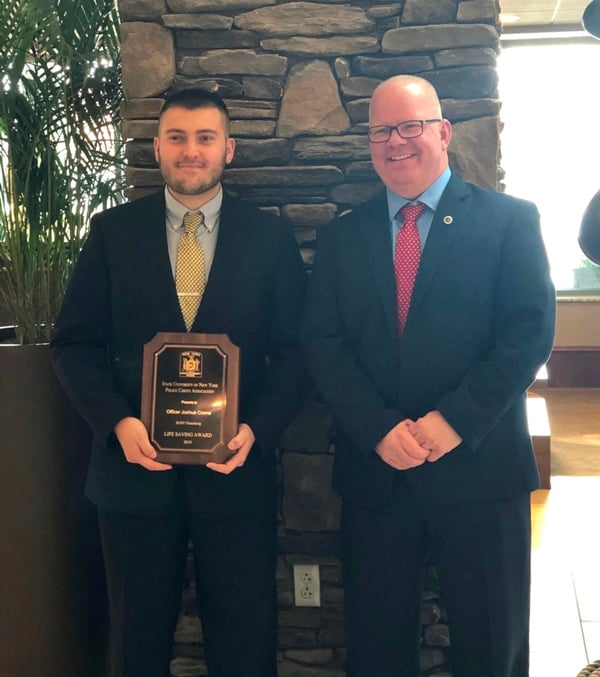 University Police Officer Josh Coons was recognized with a 2019 Police Life Saving Award by the SUNY Police Chiefs Association for having helped save the life of a 26-year-old man who was submerged in the Saranac River last November.
Coons received the award Nov. 12 at a ceremony in Saratoga Springs. The annual awards honors lieutenants, officers and staff who played a key role in life-saving events in the past year as well as others on the New York University Police force for their outstanding professional service.
The SUNY Plattsburgh UP officer pulled the man out of the 43-degree river behind Memorial Hall after a call came into the station the morning of Nov. 7, 2018, that a student had seen a man in the river near the Saranac River Trail. According to University Police Chief Patrick Rascoe, Coons and he ran down to the shore of the Saranac, which is in close proximity to the station.
"When we arrived at the river, we could see the man's face. The rest of his body was submerged. It was deep at that spot. He was holding onto the limb of a tree that was in the water," Rascoe said at the time. "The man had entered the river upstream and the rushing current brought him downstream."
'He Didn't Hesitate'
The man was able to catch onto the tree limb and hung on. That's when the student saw him and called UP.
"When Officer Coons and I arrived, we could see he was starting to go under," Rascoe said. "Josh went right in; he didn't even take off his belt or gun. He didn't hesitate."
Rascoe and maintenance and operations employee Gary Barnaby, who had been working on the river trail and saw Coons jump into the river, assisted.
"When we got to him, Josh was under water as well. It was so deep," Rascoe said. "We wrangled the gentleman into waist-deep water, and with the help of other officers and people who had gathered on the shore, we were able to pull him back up onto the bank."
SUNY Chancellor Kristina Johnson congratulated Coons and his fellow recipients, saying, "I commend the men and women of our university police department for their tireless commitment and vigilance in keeping our students and campuses safe.
"While these awards recognize several outstanding officers, today and every day we thank and appreciate all of our officers across our campuses for their hard work that allow us to deliver the highest quality education for our students."
"I was honored to find out that I would be receiving the Life Saving Award," Coons said. "I am grateful to the members of the SUNY Police Chiefs Association, especially Chief Rascoe, for the opportunity to attend the award ceremony."