Jump to Footer
TRHT Racial Healing Circles Aim to Disrupt Narrative of Racism
---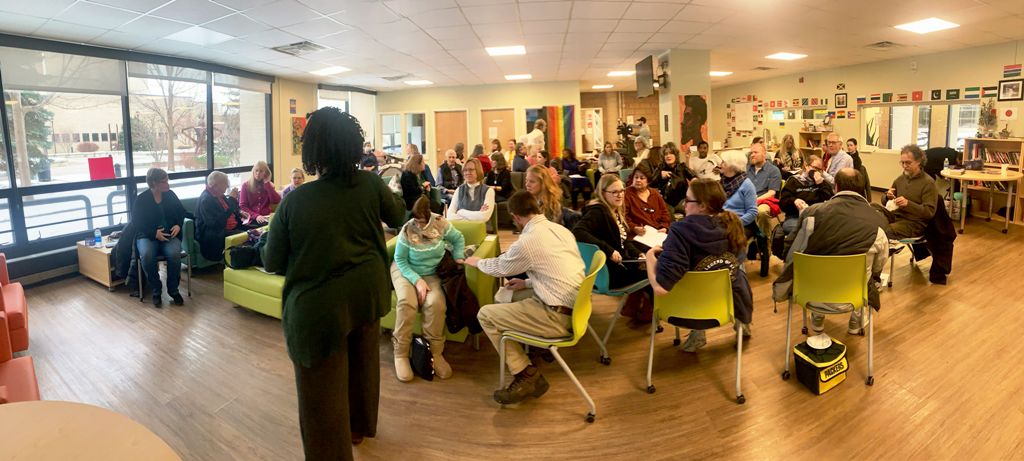 Photos Provided
When SUNY Plattsburgh was named one of the few campuses in the nation to host a Truth, Racial Healing and Transformation center, not much was known about the its purpose and what it does.
Two years later, the TRHT Center leaders here on campus are looking at moving farther afield to promote the work done there to heal wounds caused and exacerbated by racism.
According to Bridget Haina, associate professor in communication studies, the TRHT Center space is "designed to help us understand our shared lived experiences and have conversations while working toward disrupting the narratives of white supremacy."
One of the ways they do that is through regularly held racial healing circles, in which participants "come together in community to talk through different topics," said Haina, who in addition to her role in communication studies serves as a healing circle facilitator and a member of the TRHT Center Advisory Board.
Participants sit together in a circle, which allows people within the circle to be in the same position of hierarchy, Haina said.
A Level Field
"It's a level field," she said. "If we sit at a table, someone's always at the head. The circles are run by two facilitators who help to move the conversation along and keep within topics. Conversation develops certain questions and prompts.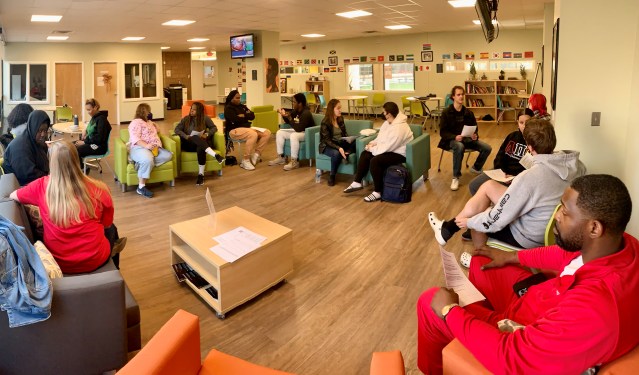 At a recent circle this semester, the group looked at police violence "and our experiences with authority figures," Haina said. To begin, Haina said the facilitators set up the room and begin with introductions of participants and that circle's topic for discussion.
For people who have never been, they explain how the healing circles pull from the "indigenous practices of creating communal space that allows for deep listening to others' experiences, which helps to rewrite the narratives of those shared experiences," she said. "It's a way to disrupt harmful understandings many of us may not even be aware we carry. Our experiences, the media, our education shape who we are. The center is a pathway to those conversations and a tool to use to create better communication."
Participants then break off into small groups of two or three to discuss the prompts.
Prompts for Conversation
"Prompts are designed to be open: Describe a time with an authority figure and how did that make you feel? These dyads, or small groups, give people the time to share. The first prompt is two minutes; the second prompt is three to four minutes," she said.
Participants are not there to fix or solve things, although they may feel uplifted, Haina said.
"It's not a therapy session. We're so quick to be solution-oriented. This space is set up not to solve or fix racism in Plattsburgh. It is through a process of sharing lived experiences that we expand our understanding; encounter conscious and unconscious bias," she said. "It's about individual growth and to develop new perspectives."
The circles are open to students, faculty, staff and community members who wish to come together in dialogue.
"I'm excited about moving forward helping others in the community know how to use circles in their organizations, classrooms and offices," Haina said. "We're de-centralizing. Last academic yeaer alone we had more than 200 unique attendees. We have held circles for all the community advocates and community directors in the residence halls. They've been using them in community centers, and some students are going out into the schools."
Hope to Host More Participants
At the February circle, Haina said they had just under 100 attendees online and in person. They hope to host even more.
"This isn't just another conversation about race," she said. "All parts of our identity are discussed. It's an expansion and understanding of our human experience. For myself, I've gotten to form relationships with faculty I never interact with. We're looking to go beyond the transactional relationships.
"If I had one minute to talk to a group of students about this, I'd go back to the idea that we all have experiences we hold inside of us that fester if we don't understand how they effect us day to day. They can impose upon our happiness.
"But when we begin to understand others' experiences, we're freer to move on to our next step and get the most out of our future."
Truth, Racial Healing and Transformation circles are held the first Friday of the month during the academic year in the HUB in the Angell College Center. For more information, contact Haina at 518-564-2338 or email [email protected], or Dr. Michelle Bonati, TRHT campus lead and assistant professor, in teacher education, at 518-564-5123 or email [email protected].
— By Associate Director of Communications Gerianne Downs