Jump to Footer
SUNY Plattsburgh, UVM Aphasia Choirs to Join for June 2 Concert in South Burlington
---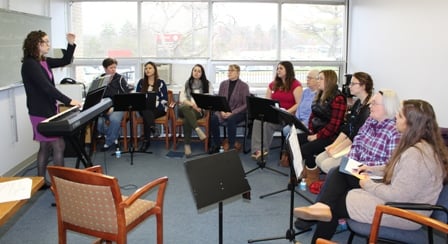 The SUNY Plattsburgh Aphasia Choir, directed by speech and hearing graduate student, Rebecca Stewart, before its December 2017 holiday concert

The Center for Neurobehavioral Health Aphasia Choir will perform with the University of Vermont Medical Center Aphasia Choir 2 p.m. Saturday, June 2 at South Burlington High School, 550 Dorset St., South Burlington.
Aphasia is a communication disorder, often caused by a stroke, which can impair an individual's ability to speak, read, write and comprehend language. It can also be caused by a traumatic brain injury, tumors or infections.
However, for most people, their ability to sing remains intact, said Rebecca Stewart, a graduate student in the Department of Communication Disorders and Sciences who directs the choir.
The SUNY Plattsburgh choir was formed at the beginning of the fall 2017 semester to help clients and members of the public who have a language impairment. A $1,200 CVPH Foundation grant allowed Stewart and Deborah Orlofsky, clinical director of the speech and hearing center, to purchase materials.
400 in Attendance Expected
The SUNY Plattsburgh choir of five and some of their student clinicians will join the UVM choir of 23 stroke and traumatic brain injury survivors before an estimated 400 people.
The concert is free and open to the public. A reception will follow the performance.
The Aphasia Choir is open to anyone with aphasia, Stewart said. Sessions are held Fridays during the academic year in Sibley Hall. No previous musical experience is necessary.
For more information on the June 2 concert, the SUNY Plattsburgh Aphasia Choir, or the SUNY Plattsburgh Department of Communication Disorders and Sciences, contact Orlofsky at 518-564-5174 or email [email protected].