Jump to Footer
SUNY Plattsburgh Selected for AAC&U Racial Healing Institute
---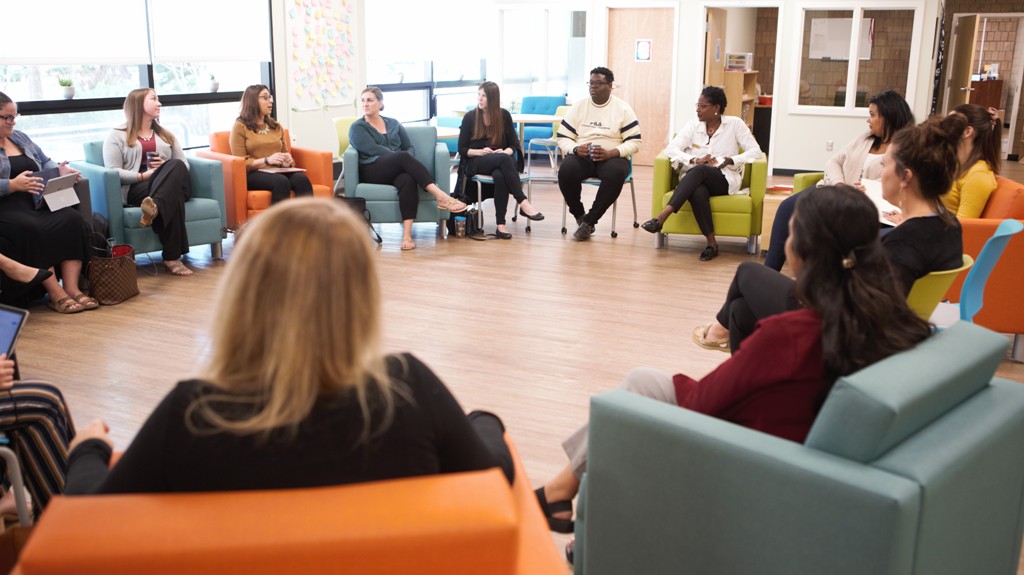 SUNY Plattsburgh has been selected as one of 78 U.S. colleges and universities to participate in the Association of American Colleges & Universities 2021 Institute on Truth, Racial Healing and Transformation Campus Centers.
The virtual institute event will be held June 22-25.
Dr. Michelle Cromwell, vice president for diversity, equity and inclusion, and Brittany Varin, diversity, equity and inclusion project coordinator, submitted the highly competitive application by the March deadline and received word earlier this week of their success.
Cromwell said they felt it was necessary to apply, knowing "it would change the dynamic of our campus and our surrounding community, as some of the biggest challenges our country and communities face are related to an unaddressed racial divide," they said.
In answering one of the essay questions, Cromwell and Varin wrote, "We recognize racial healing requires that we provide experiences that offer community members an opportunity to engage in critical truth telling, to practice active listening, invoke and respond to emotions and to turn to each other."
"We were thrilled and are yet to celebrate achieving this milestone in a frenetic five-hour application turnaround," they said.
Shared Goal
Hosted by individual colleges and universities in partnership with AAC&U, institute campus centers pursue the shared goal of preparing the next generation of leaders and thinkers to break down racial hierarchies, according to the association.
Each center implements its own visionary action plan, based on the institute's framework, to promote racial healing through campus-community engagement. The AAC&U institute is designed both to support the ongoing work of existing centers and to provide an introduction to the institute effort for colleges interested in hosting a new campus center.
The SUNY Plattsburgh team, led by Cromwell, will be mentored by current institute campus center leaders at other institutions, creating an action plan to build the college's own center. They will present this plan to the other 77 campuses and learn from experts how to facilitate a nationally renown model to holding cross-racial dialogue.
'Deep Commitment'
"The annual institute reflects the intentional efforts and deep commitment of leaders from across the United States in addressing racism and eliminating racialized practices, systems and structures," said Tia McNair, AAC&U's vice president for diversity, equity and student success and executive director for the TRHT campus centers. "Without their partnership and collaboration, the progress we have made and need to make in building just and equitable communities wouldn't be possible."
Curriculum is focused on developing and refining transformative action plans to advance the five components of the Truth, Racial Healing and Transformation framework:
Narrative change
Racial healing and relationship building
Separation
Law
Economy
These five areas encompass the individual, communal and systemic structures that perpetuate arbitrary divisions based on race. Leaders from existing campus centers will serve as mentors and work closely with teams during the institute. This will culminate in an opportunity for discussion and feedback from mentors, participants, evaluators and the AAC&U institute team. Concurrent workshops will also be offered as learning opportunities for participants throughout the June institute.
"After attending the virtual institute, SUNY Plattsburgh will be featured on the AAC&U website as a TRHT Campus Center and have the ability to facilitate 'Rx Racial Healing Circles' on our own campus, a centerpiece of institute framework," they said.
The Association of American Colleges & Universities is the leading national association dedicated to advancing the vitality and public standing of liberal education by making quality and equity the foundation for excellence in undergraduate education in service to democracy. Members are committed to extending the advantages of a liberal education to all students, regardless of academic specialization or intended career.
"This is meaningful as we are the only SUNY campus involved in this national initiative," Cromwell said. These campus centers "prepare the next generation of leaders and thinkers to break down racial hierarchies and acknowledge human value. Since each center implements its own action plan, we will have a chance to address some of our unique issues related to racism that have plagued SUNY Plattsburgh for decades with our own tailor-made action plan."
"This model also is known to promote racial healing through campus-community engagement, another need we urgently have," they said.
For more information on the AAC&U Institute on Truth, Racial Healing & Transformation Campus Centers, visit www.aacu.org.