Jump to Footer
SUNY Plattsburgh Honors Veterans with Veterans Day Flag Service, Lighting Hawkins Hall Green
---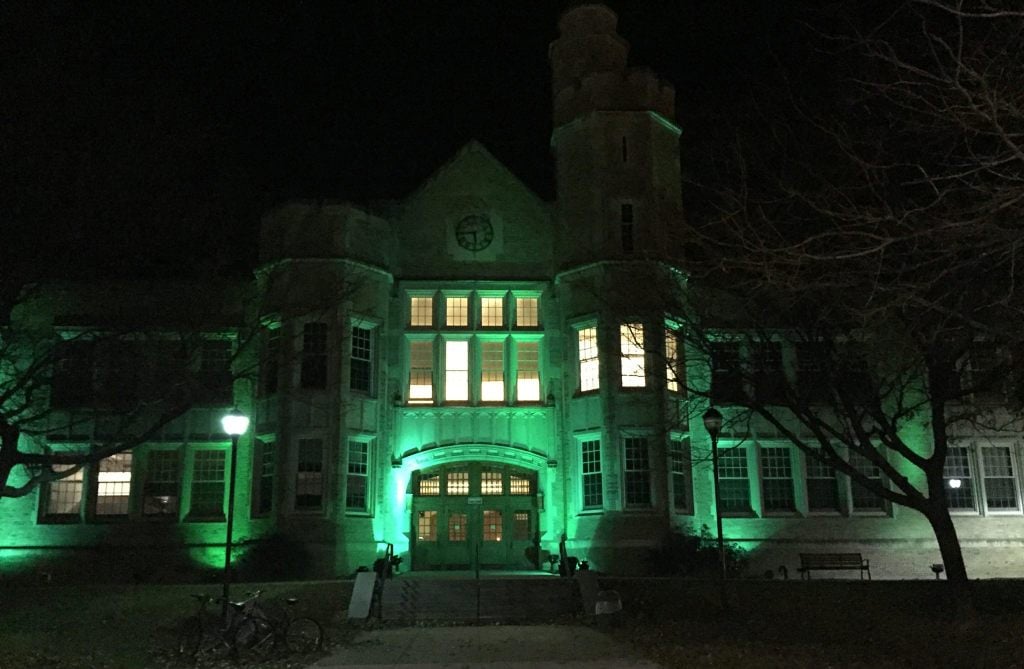 In recognition of Veterans Day, green lights will illuminate Hawkins Hall from Sunday, Nov. 11 through Saturday, Nov. 17.
The "Greenlight a Vet" campaign was established to show visible national support for the nation's veterans.
"I am happy that our campus has chosen to align with the "Greenlight a Vet" campaign," said Larry Allen, director of student conduct and veterans support at SUNY Plattsburgh. "Having green lights illuminating Hawkins Hall is one way in which we can express our support and thanks to all of those who have served in our military.
In addition, a flag-raising ceremony will take place at the pole in front of Kehoe Administration Building Monday, Nov. 12 at noon in honor of Veterans Day. The flag raising will be conducted by the American Legion Post 20.
Christian Balan, coordinator for the Center for Cybersecurity and Technology and retired major from the Vermont Army National Guard, and Jess Falace, president of the Student Association will each say a few words.
Bill Long, from maintenance and operations, and a member of Bugles Across America, will play "Taps."
The event is sponsored by the Veterans Support Office, the Student Association, Maintenance and Operations and the Office of the President.
For more information on the ceremony or on veterans support at SUNY Plattsburgh, contact Allen at 518-564-3282 or email [email protected].