Jump to Footer
SUNY Plattsburgh Announces Fall 2019 Dean's List
---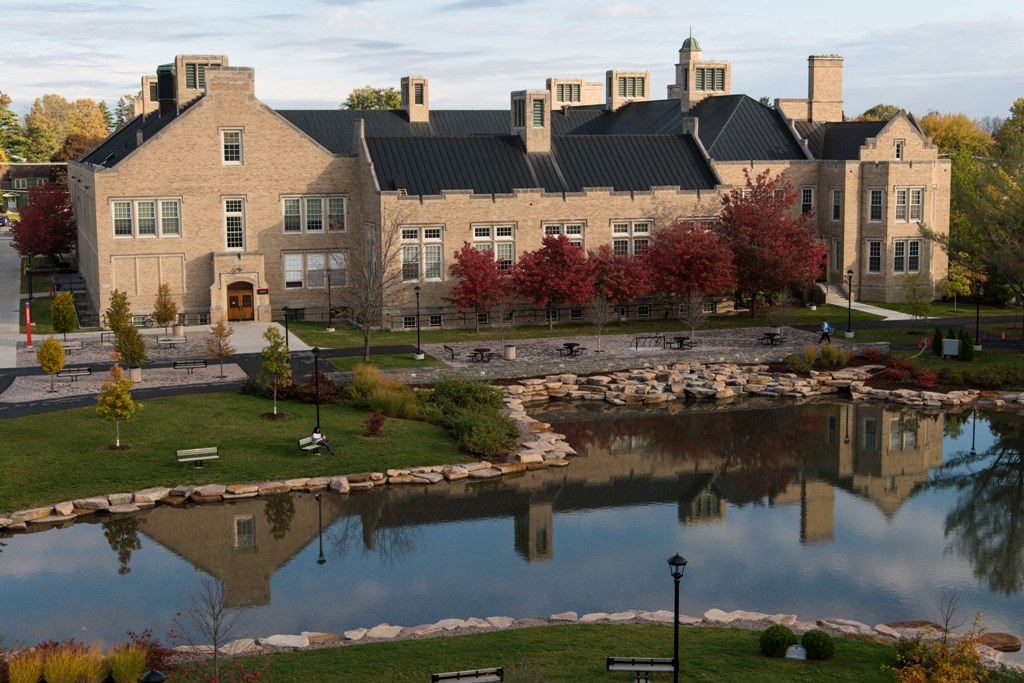 SUNY Plattsburgh has released the names of students who made the college's dean's list for fall 2019.

To be eligible, undergraduate students must achieve a minimum 3.5 semester grade point average with at least 12 credit hours. Part-time, matriculated students are also eligible for the dean's list after accruing 12 credit hours consecutively and achieving a minimum 3.5 grade point average. The credits may be accumulated in more than one semester. Pass/fail credits do not count, nor are graduate students included in the list.

The list includes students from 19 states, the District of Columbia, and 30 other countries. Students are listed in order of hometowns.
Alabama:
Heflin: April Shearer
Arizona:
Mayer: Caroline Nizel
Arkansas:
Rogers: Alyssa Turner
California:
Palmdale: Tatyana Isome-Barlow
Riverside: Michelle Simmons
Rocklin: Ruka Terukina
Connecticut:
Brookfield: Leia Thomas
Stafford Springs: Brianna Reeves
District of Columbia:
Narmin Akbarli, Luna Baalbaki, Hamdi Ben yaflah, Hassene Haddad, Dilnaz Imeramzayeva, Nermine Nejima, Rosiel Valdes
Florida:
Pontevedra: Tabitha Butler
Winter Park: Michael Herring
Illinois:
Aledo: Laman Hanifayeva
Harvard: Grace Dawson
Louisiana:
Covington: Cameron Gonzales
Maine:
Bethel: Suphanat Maneesai
East Machias: Duong Thai Le
Waterville: Morgan Greenwood
Maryland:
Owings Mills: Morayooluwa Okesola
Rockville: Kerri Corcoran
Westminster:Tanner Tobias
Massachusetts:
Boston: Cherlyn Jia Lin Ho, Minh Le, Quan Le, Lan Anh Nguyen, Manh Nguyen
Buzzards Bay: Phil Arcaro
Franklin: Caroline D'Aprile
Norfolk: Jesse Brown
Somerville: Chau Tung Lam Nguyen
Michigan:
Saginaw: Sara Krauseneck
New Jersey:
Blairstown: Tiara Myrie
Bloomfield: Emani Mcdowell
Byram Township: Jesse Pruden
Chatham: Nicholas Puzo
Jersey City: Brittany Sears
Waldwick: William Frederic
Wayne: Lauren Devoe
West Milford: Nicholas Deangelis
New York:
Acra: Ryan McGrew
Adams Center: Sara Busler, Taylor Edgar, Jessie Richardson
Adams: Hannah Austin, Halle Burt
Albany: Rachel Cardiff, Sydney Dethomasis, Kelly Dobrin, Catherine Efstathiou, Gregory Gallup, Luke Geddies, Hasija Glavic, Hsiaoyin Hung, Sierra Mcgivney, David Plumb, Emily Rottingen, Erin Sacks, Caitlin Singh, Maxwell Turner
Altamont: Alexandra Benjamin, Benjamin Rosenblatt
Altona: Kendall Bush, Cameron Coty, Victoria Dragon, Cody Peryea, Mara Ryan
Amawalk: Matthew Senzamici
Amsterdam: Willie Corley
Antwerp: Andrea Richelieu, Zachary Ronas
Ardsley: Charlize Guerra
Astoria: Aysun Akhundlu, Mariam Barghash
Au Sable Forks: Rosja Depo, Bryce Douglass, Rachel Ford, Bailey Haner, Erin Morris, Hannah Rondeau, Spencer Savage, Emmie Zielinski
Averill Park: Aaron Jenner
Babylon: Bailey Dell'Erba
Baiting Hollow: Ryan Keane
Baldwinsville: Jacklynn Martine, Elizabeth Mautz, Kessie Patnode
Ballston Lake: Joseph Braun, Jacob Claypool, Elliot Howard, Brianna Kelley, Kade Lampman, Meghan Lee, Marissa Pierre, Jonathan Sinopoli
Ballston Spa: Alexander Bianca, Milissa Dame, Japhid Moses, William Newsom, Molly Purcell, John Rue, Justin Smith
Bangor: Emery Laramay
Bay Shore: Kate Ferazi
Bayside: Johnny Huang
Bayville: Caroline Rice
Bedford Hills: Jonathan Alvarenga
Bedford: Kaylie Schiltz
Bellmore: Emma Westbay
Bellport: Sabrina Deonarine, Frances Porcaro
Berne: Mustafa Atwi
Binghamton: Derek Grenolds, Coral Lake, Marie Mullins
Bloomingdale: Benjamin Goff, Kayleigh Merrill
Blue Point: Sidney Okray
Bohemia: Robert Loper, Melanie Saidler
Brasher Falls: Alexandra Craft
Brewster: Joshua Herman, Frances Merkel
Bridgeport: Shani Casper
Brier Hill: Rhianna Chapin
Brockport: Anna Fisher
Bronx: Juhaina Abdul-Kadiri, Geneveve Addaewusu, Paola Alba Jimenez, Lily Alvarado, Jessica Amponsaa Nkansah, Mariah Arzu, Samuel Atuahene, Christopher Brown, Almeta Cable, Diana Calle Guzman, Kiesha Charles, Madany Diallo, Natalie Dinuzzo, Henry Figueroa, Vidalis Francisco, Javielys Fuentes, Emily Gaudio, Diana Gonzalez, Tracy-Ann Green, Alexandra Lewis, Meaghan McCormack, Melissa Mendoza, Brenda Mensah, C'Asia Miles, Jose Montilla, Alimatu Musah, Nadia Naim, Nkechi Nwagbara, Ngozichukwuka Okonta, Deliana Ortiz, Brian Perez, Derek Ronda, Rosabel Sanchez, Samantha Sanzaro, Tiemoko Soumano, Aaliyah Stewart, Mykai Sullivan, Mai'eja Williams
Brooklyn: Jocelyn Acosta, Hakima Bachar, Shyanne Belizaire, Felicia Benoit, Jasmine Best, Jadzia Briggs, Brian Chan, Yishan Chen, Destiny Ciliberti, Taisha Dormil, Melissa Forte, Jerry Jean-Baptiste, Hanxi Lin, Jingying Lin, Xiaowei Lin, Kyah Loftin, Jielian Ma, Savannah Mendes, Shayna Neville, Osasumwen Osa, Arianna Payne, Ciarah Richmond, Tyzara Robinson, Amanda Ryba, Natalie Shapiro, Lorraine Tang, Arianna Totaram, Michelle Unigarro, Jahfarie Wisdom
Brushton: Kaylee Adams, Katie Lucas, Kalista Malette, Taylor Showen, Carly Taylor
Buffalo: Edward Baillargeon, Evan Dommer, Jarrett Pietrowski, David Spada, Zoe Suto
Burnt Hills: Monica Jerry, Kristen Langdon
Cadyville: Adriana Bell, Laura Farrell, Faith Haley, Makayla Lafountain, Nicholas Mather, Lydia Miner, Hailey Parker
Calverton: Sean Allen
Cambridge: Abigail Daniels, Rachel Frisch
Camden: Ciera Verschneider
Campbell Hall: Kaitlyn Small
Campbell: Michael Badding
Canton: Isabel Dashnaw
Carmel: Gina Agnano, Rachel Krinsky, Katherine Rodriguez
Carthage: Elizabeth Harrison, Madison Myer
Castleton On Hudson: Alexandra Stuto
Castorland: Michaela Rice
Cazenovia: Kathryn Robbins
Centerport: Raffaella Bevilacqua
Central Bridge: Angela Simone
Central Islip: Kathleen Brown
Central Square: Jamie Keys
Champlain: Owen Babbie, Sarah Babbie, Austin Burke, Brianna Forkey, Rachel Hogle, Steffaney Jabaut, Jason Parent, Jessica Pelkey, Caitlin Torres
Charlton: Stephanie Wawrzyniak
Chateaugay: Hafsa Abid, Patrick Boyea, Annika Campbell, Kylee Decillis, Elara Martin, Karlee Martin, Morgan Thomas, Rachael Young
Chaumont: Meghan Donaldson
Chazy: Hunter Bechard, Kayleigh Bell, Ethan Dominic, Delaney Garrant, Kailey Garrant, Lindsey Gilmore, Abigale Gonyo, Mackenzie Guay, Ely Moak, Jack Pelton, Ali Thibault
Cheektowaga: Mora Sullivan
Chester: Sara Donovan, Jeffrey Koff, Nina Maas, Nicole Palmieri, Jenna Sharp
Chestertown: Frederick Culver, Amber Gillia, Emily Gould, Cortney Swan
Chittenango: Mia Morgillo
Churubusco: Zachary Cowan
Clayton: Connor Jeffers, Shayla Ormsby
Clifton Park: Isabella Anderson, Caitlin Ching, Emily Eriole, Nicholas Evans, Kayleigh Geel, Laura Gibson, Gabrielle Leblanc, Arben (Benny) Nezaj, Alex Prince, Elaine Santos, Erika Snyder
Climax: Nicole Weidel
Clinton: Rebecca Mennig
Clintondale: Cameron Ness
Cohoes: Hayden Galarneau, Billie Jo Rooney, Noah Savastio, Madison Schermerhorn
College Point: Renee Choong, Alexis Larreategui
Colonie: Robert Johnson
Colton: Sarah Buck-Morrill
Commack: Alexis Augugliaro, Emily Avila, Caroline Donohue, Alexa Hill, Kathrina Pastore
Congers: Kurstin Nelson
Conklin: Brianna Maynard
Constable: Alexis Lapage, Denelle Sauve, Erin Tatro, Kylie Tavernia
Constantia: Delaney Childs
Copake: Bliss Rhoads, Legacy Rhoads
Copenhagen: Olivia Carroll, Sydney Greene, Emily Scholler
Copiague: Maynor Morales
Coram: Devon Anzini
Corinth: Regan Clay, Mackenzie Dolan, Thomas Ouimet, Sabia Vander-Heyden
Corning: Alexander Hepburn
Cornwall On Hudson: Alessandra Vangas
Cornwall: Gabriella Ferrara, Alfred Mann, Kaitlyn Preiss
Cortlandt Manor: Julia Torregrossa
Coxsackie: Genevieve DeFrancesco
Craryville: Regan Muller
Cropseyville: Gabriel Constanza
Croton Falls: Michael Keating
Croton On Hudson: Jessica Macci, Mollie Matzkin
Crown Point: Bailey Skinner
Cuddebackville: Zakery Crissinger
Cutchogue: Mikayla Osmer
Dannemora: Lydia Aierle, Nicole Donah, Samantha Finizio, Elizabeth Trudeau
De Ruyter: Mikayla Quigley
Deer Park: Daniela Girani
Delanson: Sarah Apple
Delhi: Adelena Sackett
Delmar: Rebecca Coolidge, Lia Fishbein, Jacob Giacone, Olivia Metchick
Duanesburg: Emily Malone, Diane Stelma
Eagle Bridge: Wyatt Whitman
East Aurora: Madeline Nemec
East Elmhurst: Kelly Mejia
East Greenbush: Rachel Foster, Matthew Hernandez, Kierstyn Higgins, Jacob Kobilca, Natalie Nista, Ryan Nista, Tyler Nolan, Brianna Ogsbury, Kristen Singleman
East Islip: Lindsay Guzzetta, Olivia Parrillo
East Meadow: Jacob Levyns
East Meredith: Kate Davis
East Northport: Steven Binder, Ivelise Carrasquillo, Kaitlyn Litsch, Angelica Louris, Ryan Pedersen, Jack Sullivan, Joyce Zheng
East Patchogue: Charles Olsen
East Rockaway: Gaby Herrera
Eastchester: Chloe Murasso
Eastmeadow: Kristen Kavanagh
Eden: Grace Haier
Edwards: Tanner Laplant
Elizabethtown: Chris Jones, Elsa Koop-Angelicola, Marie MacFarlane, Isabella McLean, Cheyenne Sousie
Elizaville: Suzanne Morris
Ellenburg Center: Meg Atkinson, Daniel Hoff
Ellenburg Depot: Ethan King, James Minckler, Ashton Wright
Endicott: Caleb Stocum
Essex: Renee Bruno, George Hearn, Christopher Lawrence
Evans Mills: Ian Mahoney
Fairport: Sarah Wolf
Far Rockaway: Samantha Giambrone
Farmingdale: Erica Debobes, Danielle Gyedu, Davina Gyedu
Farmingville: Alexa DeAngelis
Fayetteville: Jeffrey Collins, Tyler Middleton
Fishkill: James D'Amato, Zachary Schaub
Floral Park: Lindsay Adomaitis, Timothy Cartmell, Vincent Liu
Flushing: Stanley Yang
Fly Creek: Lauren Lionetti
Fonda: Ashlee Jones
Fort Ann: Brianna Gauthier, Christopher Godfrey, Emily Goodman, Brenda Lewis, Danika Mulcahy
Fort Covington: Jared Bigness, Delaney Morneau, Alyssa Smith, Tianna Smith
Fort Edward: Jenna Leskovec, Mackenzie Mills, Natalie Perras, Elizabeth Richards, Kaicey Sardina, Jordan Suprenant
Fort Plain: Lesly Hazzard
Franklin Square: Amanda Davi
Freeport: Ryan Evans
Gabriels: Andrew James
Galway: Casey Dunleavy
Gansevoort: Tyler DeFoe, Trent Delor, Kristen Donah, Madison Gallup, William Grandy, Connor Hughes, Kennedy Jameson, Dennis Lion Jr., Olivia Mason, Karen Tallon, Margot Tanner, Max Tompkins
Garden City South: Gianna Morfesi
Gardiner: Anna Mcduffie
Garnerville: Julianna Dinh
Geneseo: Camiren Mehlenbacher
Germantown: Elizabeth Krikelis
Gilboa: James Vlahakis
Glen Oaks: Brianna Sierra
Glendale: Alissa Gonzalez, Jessica Graue
Glenmont: Alexander Lang
Glens Falls: Meaghan Cronin, Jonathan Crouch, Ladelle Dautremont, Frank Endieveri, Mary Howk, Jennifer Parker, Micaela Perrelli
Glenville: Megan Benner, Ryan Marhafer, Acadia Pezzolesi
Gloversville: Cameron Biche, Marielle Dador, Olivia Danise, Amaris Diaz, Emily Towne
Goshen: Jillian Dendanto
Gouverneur: Kayla Gladle, Katrina Wells
Grahamsville: Brianna Olsen
Grand Island: Lauren Bargar
Granville: Mackenzie Aldous, Lauren Bucciero, Alexis Carroll, Jennifer DeKalb, Bradley James
Greene: Marissa Pavlovich
Greenfield Center: Thomas Catanzarita, Rebecca Desjardin
Greenlawn: Jordan Annunziata, Christopher James
Greenwich: Grace Lohret, Carson McKinley
Greenwood Lake: Brian Bower
Guilderland: Nickolas Siggia
Hadley: Jonathan Allan, Larissa Skaradosky, Jessica Skelly
Hague: Alexis Sanders, Skylar Withrow-Morales
Halfmoon: Renee Bourgeois, Rebecca Diller, Matthew Garger, Emily Gottung, Erica Ruchlicki
Hammond: Brandy Milsap
Hampton Bays: Frederick Nydegger, Annalise Romagnoli
Harriman: Alexa Rosenholtz
Harrison: Rocio Gomez
Hartsdale: Gabriela Santos
Hauppauge: Katherine Parrett
Haverstraw: Gustav Rugg
Henderson: Conor Dickinson
Henrietta: Deja Richardson
Hicksville: Melissa Agnese, Favian Arenella-Vera, Amy Kacprzycki
Highland: Celeste Considine
Hillburn: Antonia Mattiaccio
Hilton: Shannon O'Brien, Rebecca Strong
Holbrook: Alysia Aponte, Alexa Cariello, Kristin Cariello, Jason Cusa, Jordan Feliciano, Tara McGovern, Hannah Stelmashuk
Holmes: Kyle Christian
Holtsville: Megan Grega, Miranda Lopez, Danielle Sturek
Homer: Tyler Frenia
Honeoye Falls: Kara Oatman
Hoosick Falls: Cheryth Youngmann
Hopewell Junction: Alexandra Cohen, Julianne Ronner, Kathryn Sesselberg, Julia Waterous
Horseheads: Erin Carroll, Hannah Rohan
Hudson Falls: Patricia Babson, Faith Pollock, Garrett Seabury, Zachariah Stipano, Sara York
Huntington Station: Natalie Gonzalez
Huntington: Julianna Richter
Hyde Park: Mary-Kate Sweet
Indian Lake: Sydney Benton
Inwood: Essence Hightower
Islip Terrace: Samantha Morris
Ithaca: Indianna Stratton
Jamaica: Travis Cox, Courtney Hutchinson, Jensine Mattis, Collette McIntosh
Jay: Tyler Light, Katherine McDonald, Alexandra Thomas, Lucy Ward, Mollie Ward
Johnson City: Joshua Walford
Johnsonville: Jacqueline Rodda
Johnstown: William Hoenzsch
Keene: Kari Leclair
Keeseville: Taylor Alexander, Haley Ashline, Jillian Bacon, Sylvia Benatti, Richal Bisht, Elliana Bowlen, Nathan Devins, Danielle Dubay, Liz Feeley, Tressa Loreman, Ali Sikandar, Sydney Snow
Kings Park: Lauren Vellecca
Lake Clear: Danielle Patraw
Lake George: Sydney Russell, Kaylin Scott, Nickole Weatherwax
Lake Grove: Rebecca Block, Owen Mccormick
Lake Luzerne: Trevor Baker
Lake Placid: Morin Bissonette, Nathan Jeffery, Bibiana Pratt
Lake Ronkonkoma: Shannon Hackett
Latham: Michael Demarco Jr., Cameron Kaercher, Jason Lynch
Laurel: Amy Macaluso
Levittown: Mahpharah Khan
Lewis: Emmalee Turner
Liberty: Mary Conway
Lindenhurst: Parker Gill, Oxana Levchenko, Teresa Moran
Little Falls: Austin Green
Little Neck: Rebecca Shaller
Liverpool: Megan Blake, Madison Wheeler
Long Beach: Blake Lewis, Peter Mullen
Loudonville: Ava Cristiano
Lowville: Sarah Farney, Sierra Laribee
Lynbrook: Mikelle Cabral-Martin
Lyon Mountain: Montana Courtney, Taylor Durnin
Madrid: Paige Moulton
Mahopac: Abigail Azadian, Nicholas Careaga, Ryan Mullins, Pierce Steinberg, Andrew Villalobos, Zoe Wolters
Malone: Sara Beck, Jessica Broeker, Katie Dupree, Alexis King, Myah King, Heather Lottie, Alexandra Mckellar-Jones, Dylan O'Connor, Kristyn Penera, Kathleen Recore, Hannah Schack-Sehlmeyer, Kamden Spicer, Kendra Wright
Mamaroneck: Christopher Mendoza, Giuliana Mirabile, Jenner Velasquez
Manlius: Timothy Lansing, Jack Rubacka
Manorville: Hannah Parente
Marcy: Madison Lecher
Marietta: Meghan O'Brien
Marilla: Maria Tibold
Martville: Cynthia Norris
Massapequa Park: Christina Dunn, Matthew Farley, Meghan Farley, Joseph Magrino, Steven Mahan, Grace Pavarini
Massapequa: Michael Barbas, Samantha Blasco, Sydney Cary, Emily Chicoine, Siobhan Flanagan, Gianni Murano, Vincenzo Murano, Jamie-Lynn Pomilio, Nicholas Von Rosk
Massena: Kenna Brown, Katherine Englert, Shaunessy Laclair, Michael Meddings, Olivia Nemier, Gavin Perrine, Meagan Powers, Nicole Revai, Makenzie Thompson, Jeremiah Von Borstel
Mastic Beach: Robert Henn
Mayfield: Jillian Chase
Mc Graw: Kassandra Doran
Medusa: Deanna Ryder
Melville: Amy Pinchiaroli
Menands: Mikayla Rossier
Merrick: Briana Noto
Mexico: Erin Waloven
Middle Grove: Joshua Flint, Gillian Schrader
Middle Island: Christy Noel
Middle Village: Iuliana Radulescu
Middletown: Joseph Falco
Miller Place: Michael Arcidiacono, Zachary Gill, Lauren Lamanque, Emma Sweeney
Millerton: Sebrina Call
Mineola: Michael Buono
Mineville: Janelle Brassard, Jonathan Gibbs
Mohegan Lake: Luke Rapaport
Monroe: Jack Bermingham, Christina Scourlas, Kristina Skowronski
Montgomery: Sarah Hoeffner
Montrose: Christine Burke, Tracy Deady
Mooers Forks: Harleigh Green, Arleigh Lafountain, Courtney Lamberton, Hunter Leduc, Jarrett Mcneil, Jazlyne Pratt, Danielle Rabideau, Peyton Sample
Mooers: Melany Adams, Gabrielle Dumas, Courtney Lapham, Tiana Mangine, Jack Romat
Moravia: Summer MacAdam Gorham
Moriah: Tyler Smith, Tanner Whalen
Moriches: Gabriella Iadanza
Morrisonville: Sydney Adolfo, Jade Bola, Abigail Bone, Danielle Brothers, Jamie Demeter, Ethan Depo, Brooke Dew, Jordan Duquette, Dennis Dwyer, Jori Lagree, Emily Lepage, Brian Menia, Hunter Mossey, Kyra Mossey, Thomas Orzech, Mary Ransom, Edward Rock, Lucas Smith, Nancy St Marie, Alexis Trombley, Josalin Trombley, Samantha Wells, Kimberly White, Haley Williams, Nicholas Wilson
Mount Sinai: Julia Golino, Amanda Marino, Amanda Mersincavage, Tyler Spagnolo
Mount Vernon: Dominique Burke, Domenica Lacouture
Nanuet: Amanda George
Nassau: Angel Velasquez
New City: Alexis Kramer, Ariana Molfetas
New Hartford: Grace Hogan
New Hyde Park: Sara Decarle, Alex Garabedian, Danielle Schwartz
New Paltz: Casey Burke, Alexis Garcia, Madison Giuliani, Alexandra Jacone, Matthew Rose, Ryan Rose
New York: Samantha Alvarez, Henry Amoako, Rosa Belmont, Zachary Burns, Elena Butuzova, Anayce Cody, Andria Cody, Jeremy Eisenman, Andrew Jimenez, Cindy Lam, Jorge Martinez Abad, Rebecca Otero, Gonzalo Reyes, Ewen Ruddy, Joel Tineo, Delilah Villar
Newark: Emily Reinhardt
Newburgh: Andres Carrillo, Alyssa Hennessy
Newcomb: Ericka Demars, Tarryn Gould, Peter O'Donnell
Niskayuna: Allison Burger, Isabelle McDonald
Norfolk: Hillary Lamay, Lily Parmeter, Ashlinn Queor
North Bangor: Rebecca Bonville, Katie Poupore, Taylor-Ann Zagrobelny
North Lawrence: Jacinta Gomes
North Massapequa: Cristina Maher
North River: Nathan Kinblom
Northport: Jennifer Faltings, Heather Smith
Northville: Morgan Fordyce, Alyssa Quillan, Audra St Onge
Norwood: Andrew Hardy, Maisie Voss
Oakdale: Brendan Ohalloran
Oakfield: Mitchell Hale, Alana Puma
Oceanside: Mikaela Bauer, Ashley Strobing, Taylor Torres
Ogdensburg: Mackenzie Baynham, Madison Bresett, Dominic Dinatale, Danielle Guimond, Claire Mallette, Allison Merrill, Ellen Miller, Brionna Prosser, Leah Ward, Andrew Zhang
Old Bethpage: Jamie Ryan
Old Chatham: Connor Case
Old Forge: David Ehrensbeck
Orchard Park: Jenelle Gefaller
Ossining: Eliana Johnston
Oswego: Sophia Griffiths
Palatine Bridge: Francesca Locorini, Jared Paratore
Patchogue: Lisa Filangeri, Hailey Smith
Pawling: Daniella Prades
Peekskill: Jacqueline Martinez, Brittney Schiavo, Jason Uyaguari
Penfield: Katherine Campbell, Abigail Porto
Peru: Ryan Bashaw, Alaina Bazzano, Emily Beaudette, Grace Betrus, James Blaise, Cydney Bond, Jordan Bouyea, Emily Bowen, Bryanna Brown, Amelia Busha, Taylor Canet, Dawson Duprey, Gweneth Eamer, Paige Elder, Taylor Hackett, Shawn Hicks, Lauren Lawliss, Kennedy Mattila, Amanda Meech, Taylor Morse, Morris-Yedid Norelus, Kyle Osborne, Stephanie Pietz, Margaret Pyne, Saleen Ramos, Alex Rine, Jessica Sedgwick, Dena Tedford, Miriam Weinkauf, Hannah Wilson
Phelps: Karalee Brickle
Pine City: Andrew Zimmerlin
Pittsford: Gabriella Cassidy
Plainview: David Knapp, Nicole Massaro, Gregory Soffer, Samantha Unterlack
Plattsburgh: Vienna Ainsworth, Marie Alcis, Cailene Allen, Lucy Allen, Patricia Alling, Leigh Anderson, Jake Anthony, Eugene Ayotte, Ashleigh Barcomb, Stephen Belcher, Hunter Bell, Kayla Bezio, Zachary Bingel, Karissa Boire, Matthew Boivin, Zachariah Boslet, Brandon Bouchard, Kara Bouyea, Sydney Burdo, Brianna Burnham, Sean Casey, Ivy Cerro, Molly Channell, Helen Chen, Devin Clarke, Brianna Coon, Luke Cutter, Scott Deremiah, Brooke Desautels, Lam Dinh, Paul Dinov, Cynthia Ducatte, Mara Dufrain, Trevor Dumas, Annabelle Dupre, Gisselle Edwards, Milka Eshetu, Juliana Flint, Isabella Friedman, Gabriella Furman, Michael Gates, Alandra Gebo, Meghan Germain, Brian Gidman, Christien Gilman, Alyson Giroux, Liliia Godunok, Michael Graves, Dylan Gregware, Kenna Guynup, Madison Hall, Troy Hassinger, Abigail Hearns, Elizabeth Herkalo, Windy Hoag, William Hoffstatter, Lukas Hughes, Sahal Hussain, Yusha Imtiaz, Jennifer Jones, Lidiya Kalarash, Rachel Kampschror, Asiya Kanji, Prabhdeep Kaur, Jonathan Keable, Nicolas Kiroy, Clarice Knelly, Brittany Koehler, Augusta Kramer, Hannah Lafountain, Graelin Larche, Marisa Latinville, Mairead Lawliss, Hannah Leclair, Parker Leclair, Leo Lee, Bezawit Lemma, Lei Liang, Alexandria Lotardo, Kaitlyn Lussier, Bianca Lynch, Shawn Lyons, Connor Madden, Paige Manson, Tierney Mayette, Hannah McCasland, Matthew McGarr, David Miller, Savatina Mitsoglou, Allison Moore, Jenna Murtagh, Taylor Nelson, Rokhiya Ngom, Ha Nguyen, Anna Olechowski, Kyle Pellerin, Joshua Phaneuf, Daniel Piper, Elisabeth Plympton, Morgan Polhemus, Mark Preston, Lindsay Reome, Meghan Roser, Melissa Ruest, Danuta Ryan, Kasey Scors, Taylor Scott, Charlena Scroggins, Jessie Senecal, Ebunoluwa Smith, Samantha Sommers, Brooke Stevens, Matthew Svarplaitis, Marissa Tessier, Elizabeth Thomas, Kimber Thomas, Kenneth Todd, Ian Turner, Aidan Vogl, Ariel Waldron, Eileen Wilson, Katrina Wilson, Sarah Wright
Pleasantville: William McFadden
Port Henry: Faith Johnson
Port Jefferson Station: Julia Carlson, Alexa Murray, Micaela Pearl, Gwendolyn Sagliocca
Port Jervis: Brenden Jung, Desmond Meacham, Justin Yeaple
Port Kent: Mark Anderson
Porter Corners: Brooke Ackerknecht
Potsdam: Kallie Getz, Addison Herrick, Samantha Hinman, Morgan Sabre, Sarah Stone
Pottersville: Elizabeth Bessey
Poughkeepsie: Timothy Bozyczko, Lisa De Luccia, Jordan Kastanis, Rebecca Makara, Shanique Martin, Lauren Mueller, Joely Snead
Poughquag: Olivia Hinchcliffe
Prattsburgh: Ryan Risley
Putnam Valley: Brianne Kennedy
Queensbury: Logan Akins, Brandon DeMarsh, Gillian Dee, Jocelyn Dinsmore, Dianne Donovan, Ruth Durling, Kailey Hill, Warren Hughes, Natashya Hyrny, Whitni Izzo, Nicole Kingsley, Alissa Kuklinski, Megan Lambert, Brooke Matte, Lauren O'Connor, Paige Potter, Julia Przybysz, Victoria Reneau, John Robinson, Brenton Southwick, Monica Stark, Hannah Walden
Ravena: Maxwell Knaust-Wood
Red Hook: Alexandra Piaget, Heather Porter
Redwood: Gabrielle Connor, Stephanie Lopez
Rensselaer: Cassandra Costa, Michala Hendrick
Rhinebeck: Fiona Seabrook
Ridgewood: Mohammad Alam
Riverhead: Nicole Scioscia
Rochester: Kaila Imm, Thomas Romack
Rock Tavern: Harrison Swales
Rockaway Beach: Elaine Vargas
Rockville Centre: William Richter
Rome: Karann Rocco
Rosedale: Kevin James
Roslyn Heights: Claudia Kessler
Rotterdam: Kaitlyn Dunham
Rouses Point: Sydney Barriere, Kastle Birch, Erin Bleau, Heather Chateauneuf, Samantha Disco, Ryley Duffy, Parker Favreau, Joshua Gero, Kelsy Kellison, Paige Letourneau, Kailey Maher, Katie Matott, Aislyn Mcdonough, Almas Purisic, Natalie Rowe, Haley Sheehan
Rush: Joshua Manning
Sag Harbor: Jacob Benbenek
Salem: Fiona Gallagher, Crystal Sherman, Kimberly Taylor
Saranac Lake: Aaron Hesseltine, Taylor Hesseltine, Jaclyn Latourelle, Madelyn Mader, Alexis Valentin
Saranac: Nickolas Bunker, Ciara Collins, Kailah Easton, Karli Easton, Maddalena Hoeth, Jacob Leduc, Eli Moore, Carissa Pellerin, Kelsey Rambach, Jenna Reil, Byron Wing
Saratoga Springs: Elizabeth Berry, Carly Bickley, Caitlyn Burke, Alice Camilletti, Erin Carey, Ariann Ceroalo, Emily Chester, Emma Delaney, Katherine Gryson, Clement Hill, Kasey Levin, Madison Musci, Julia O'Brien, Elizabeth Paul, Brooke Sullivan, Rachael Toussaint, Elizabeth Veitch, Alexa Waldron
Saugerties: Tessa LeGare, Fiona McGregor
Sauquoit: Abigayle Kubik
Sayville: Brenna Marshall, Hunter Selts, Lauren Vahle
Scarsdale: Katherine Chiu
Schenectady: Elizabeth Barker, Tanner Bonanza, Jean Bull, Andrew Horan, Tyler Lawyer, Gabrielle McCullen, Ashley Morris, Keith Mossey, Cara Olsen, Hailee Olsen, Amanda Rice, Jasmine Roberts, Liam Scott, Nina Serafini, Joelle Turek, Payton Verdi
Schoharie: Jennifer Stanton
Schroon Lake: Katie Botterbusch, Harrison Gereau
Schuyler Falls: Mason Barber
Schuylerville: Maggie Cox
Scotia: Daniel Beck, Alexandra Wolfe
Selden: John Carpentiere, Emily Caso, Rachel Mennonna, Brina Platz, Carolina Robayo
Selkirk: Anna Hotaling
Seneca Falls: Cody Barnhart
Shandaken: Warinthinan Chansopha
Sherburne: Curtis Howard
Shirley: Cassandra Hoppe, Allen Lee
Shoreham: Aytac Guler, Sarah Stietzle
Sidney: Alex Hoskins
Smithtown: Melissa Fitting, Cole Kachejian, Brandon Lenberger, Kimberly Quinn
Smyrna: Abigail Cook
South Glens Falls: Helen Chiaravalle, Eric Colvin, Kayla Cooper, Jarret Pidgeon
South Setauket: Kristina Maggiacomo, Mina Weymouth-Little
Spencerport: Anthony Galletto, Brenna Mcgrath
Staatsburg: Cassidy Janso
Stanfordville: Niall Johnson
Staten Island: Michael Caruselle, Cassandra Conigatti, Sean Lawrence, Brianna Malone, Adriana Mjeshtri, Elenamarie O'Connor, Nicole Stabach
Stillwater: Jayme Benoit, Sarah Geertgens, Joseph Yusaitis
Sunnyside: Christopher Morote
Syracuse: Elizabeth Forward, Gulia Gulev, Benjamin Kremenek, Heaven Longo, Hadar Pepperstone
Tarrytown: Emily Slattery
Thendara: Cy Barkauskas
Thornwood: Nga Yu Kwok
Ticonderoga: Karyssa Alkinburgh, Tomas Hendrix, JoAnne Smith
Tillson: Danielle Stockhofer
Tonawanda: James Poreda, Hannah Strassburg
Troy: Sawyer Bergin, Dara Brandenberg, Kayla Doody, James Faraci, Morgan Fitzpatrick, Declan Flynn, Abigail Kacensky, Sean Murphy, Hannah Myers, Leah Nealon, Justine Ortiz, Kennedy Teta, Kaylee Wilkinson
Trumansburg: Michelle Peterson
Tuckahoe: Stella Miller
Tully: Katelyn McNerney
Tupper Lake: Ben Jones, Deanna Lewis, Jay Martin, Dominique Pickering
Unadilla: Marianne Schott
Utica: Charlotte Arcuri, Jennifer Cuda, Juntaro Hirose, Danielle Houck
Valhalla: Kayla Felice
Valley Cottage: Carly De Visser
Valley Stream: Adil Gadit, Christopher Ovalle
Verona: Brooke Cipollone
Verplanck: Danielle Vantassel
Vestal: Saymi Dominguez, Belinda Pelicci
Victor: Faith Rodgers
Voorheesville: Matthew Bernhard, Kathleen Watt
Waddington: Katelyn Kennedy
Wading River: Joseph Chianese, Wayne Pisani, Courtney Wharton
Walden: Brendan O'Connor, Kaylyn Tierney
Wallkill: Darragh Connolly, Shaun McKeever, Marissa Tahboub
Wantagh: Frank Filippazzo, Jake Hynes, Nicole Jaeggli, Ashley Kreib
Wappingers Falls: Mark Heyer, Dominique Lewis, Jessica Matos, Brian Sefcik
Warrensburg: Katelyn Kuklinski, Sarah Loubriel, Angela Miller, Nick Putney
Warwick: Noah Field, Jared Ginley, Daniella Micallef, Jacob Schaechinger
Washingtonville: Kristen Boerke, Hannah Fowler, Liam Gildea, Kristine Mckenzie, Erin Wilson
Waterford: Cole Charrette, Claudia Fountain
Waterloo: Adi Aunkst-Park
Watertown: Matthew Darou, Hannah Gebo, Sandra Hook, Chelsea Shumer
Watervliet: Austin Divinichi, Emily Frodyma, InYong Lee, Courtney Scott
Weedsport: Danielle Maxwell
Wells: Alyssa Lewis
West Babylon: Robert Kruse
West Bloomfield: Rebecca Klein
West Chazy: Molly Carey, Jessica Collins, Justin Collins, Ryan Criss, Jacob Durgan, Emily Fountain, Maggie Jolicoeur, Andrea Lasalle, Dylan Lesniewski, Jillian Magoon, Melinda Meseck, Daryn Nephew, Michael Parent, Carleen Provost, Devin Tromblee, Krista Trombley
West Coxsackie: Lucia Anderson
West Henrietta: Caroline Miner
West Islip: Nicholas Kapaun, Michael Mertens, Alyssa Stoll, Rebecca Welborn
West Nyack: Caroline Noia
West Winfield: Haleigh Johnson
Westbrookville: Breanna Pagan
Westbury: Michelle Giacobello
Westhampton: Courtney Tyson
Westport: Philip Kneller
Whippleville: Jordan Kane, Breanna Sprague
White Plains: Matthew Spanburgh, Tina Wu
Whitehall: Dustin Blanchard
Whitestone: Aja Landolfi, Marisa Micallef
Williamsville: Audrey Mcnamara, Katherine Moscati, Monica Warren
Willsboro: Deanna Mero, Kaitlin Shaw
Wilton: William Defoe
Windsor: Taylor Peet
Wingdale: Thomas Malcolm, Erin Muncey
Winthrop: Marli Thompson, Nichole Thompson-Black
Woodbury: Amanda Mongelli
Woodhaven: Jessica Garcia
Woodside: Kayla Green
Woodstock: Rafael Higuita, Bridget Palmgren
Yonkers: Jacob Ortiz, Jadelyn Valenzuela
Yorktown Heights: Sarah Bonner, Jordan Fein, Carolyn Graber, Kevin Graber, Andrew Guerci, Jasdeep Kaur, Kathryn Keiling
Pennsylvania:
Allentown: Samantha Beck
Havertown: Luke Riethman
Muncy: Taylor Mason
Vermont:
Barre: Cellan Hogan, Ryan Tacey
Brandon: Tamika Davis, Benjamin Lones
Center Rutland: Skyler Bird
Colchester: Sabrina Alessi
Grand Isle: Morgan Mahar
Leicester: Kayleigh De Rosa
Middlebury: Lacey Greenamyre
Milton: Rickell Larose, Holly Yandow
North Bennington: Allie Boudreau
Saint Albans: Harley Reyome, Jackson Walsh
Shelburne: Courtney Moriarty, Vina Nguyen
Underhill: Robin Hier
Waterbury: April Tousignant, Rachel Tousignant
Virginia:
Charlottesville: Hoang Nguyen
Washington:
Bremerton: Hailey Ritchey
West Virginia:
Charles Town: Shrirang Patel
Fairmont: Jalen Marshall
Other Countries
Antigua and Barbuda:
Saint John's: Shaikou Joseph, Akiela Simon
Azerbaijan:
Baku: Kamil Maharramov, Tofig Mehdikhanli
Bangladesh:
Chittagong: Mubtasim Raad Sharar
Dhaka: Archi Arnob
Bhutan:
Thimphu: Tshering Dorji, Deki Namgyal
Canada:
Vancouver, B.C.: Liam Lawson
Nepean, Ont.: Tatem Cheney
Lasalle, P.Q.: Christina Iorio
Ormstown, P.Q.: Gregory Freeman
China:
Hangzhou, Zhejiang: Qingru Ma
Egypt:
Cairo: Yasmina El Gendy
Giza: Ahmed Saad
Ethiopia:
Addis Ababa: Ililan Abebe, Loza Abebe, Hebron Abraham, Tsion Assefa, Ruth Berhe, Tsion Habte, Robel Hagos, Naol Legesse, Bezawit Lemma, Soyam Mamo, Eman Mohmed, Yordanos Negatu, Naomi Tegybelu, Beamlak Tilahun, Kidist Senay Yemerou, Ethiopia Yemiru, Kirubel Zergaw, Beamelak Zewdie
Ghana:
Accra: Dagim Abebe Hailegabriel, Calebphin Nortey
Ashtown-Kumasi: Jeffery Kusi
Cantonments Accra: Kwame Akuffo-Addo
Hong Kong:
Tai Po: Sum Yee Lau
India:
Anand: Aditya Vimal Thakkar
Badlapur: Esha Gupte
Delhi: Saksham Luthra
Hyderabad: Shafik Vadsariya
Mumbai: Taksh Gohel, Pratyush Kapadia, Nishi Khandelwal, Yesha Samir Marfatia, Priyal Tare
Thane: Ayush Khedekar, Natasha Thakur
Jamaica:
Kingston: Shamar Thomas
St Catherine: Annette Pettigrew, Jhada-Ann Walker
Japan:
Machida: Rina Abe
Tokyo: Kanna Hase, Kentaro Mori, Saaya Nagaoka, Hana Nishizawa, Yusuke Tanda
Jordan:
Madaba Manja: Farouq Nusseibeh
Lesotho:
Maseru: Meron Mengistu
Malaysia:
Kuala Lumpur: Le Peng Tee
Petaling Jaya: Michael Richard
Subang Jaya: Faozia Faria
Nepal:
Kathmandu: Saugat Gautam, Johann Silvanus, Sabin Tandukar
Lalitpur: Swornim Barahi
Nigeria:
Abuja: Sabit Muderis Abdulahi
Iyana-Ipaja: Folasewa Salami
Lagos: Adora Asinugo-Ejiogu
Mushin: Balikis Bello
Norway:
Vardoe: Stine Olsen
Peru:
Lima: Michelle Bello Veramendi, Andrea Cuadros
Russian Federation:
Moscow: David Tovmasyan
Saint Lucia:
Castries: Kathleen Gill
Saudi Arabia:
Riyadh: Alaina Asim
Spain:
Las Palmas: Pilar Balader Herrero
Tanzania:
Dar Es Salaam: Erick Yusufu
Trinidad and Tobago:
Arima: Hassan Ali
Barataria: Luke Ali, Miguella Hernandez
Port Of Spain: Tyler Montano
San Fernando: Frances Hudlin
Uganda:
Kampala: Vanshika Patel
United Arab Emirates:
Bur Dubai: Tanay Gehi
Sharjah: Shahidul Islam
Vietnam:
Bien Hoa: Huong Hoang
Da Nang: Thanh Dinh, Khanh Le, Dat Quang Tran
Ha Noi: Khanh Linh Le, Long Nguyen
Hanoi: Hoan Ngo, Quynh Nguyen
Ho Chi Minh City: Nguyen Hoang Thao Le, Ha Nguyen, Hanh Nguyen, Hoang Nguyen, Nguyen Nguyen, Nhu Nguyen, Thanh Truc Nguyen, Uyen Nguyen, Tung Quach, Nghi To, Tuan Tran, Quynh Mai Vu
Ho Chi Minh: Khoa Dinh, Bach Do, Ngoc Le, My Nguyen
Long Khanh: Kiet Vuong
Zambia:
Johannesburg: Rui Ferreira