Jump to Footer
SUNY Fee Waiver Results in Historic Increase in Fall 2023 Applications at SUNY Plattsburgh
---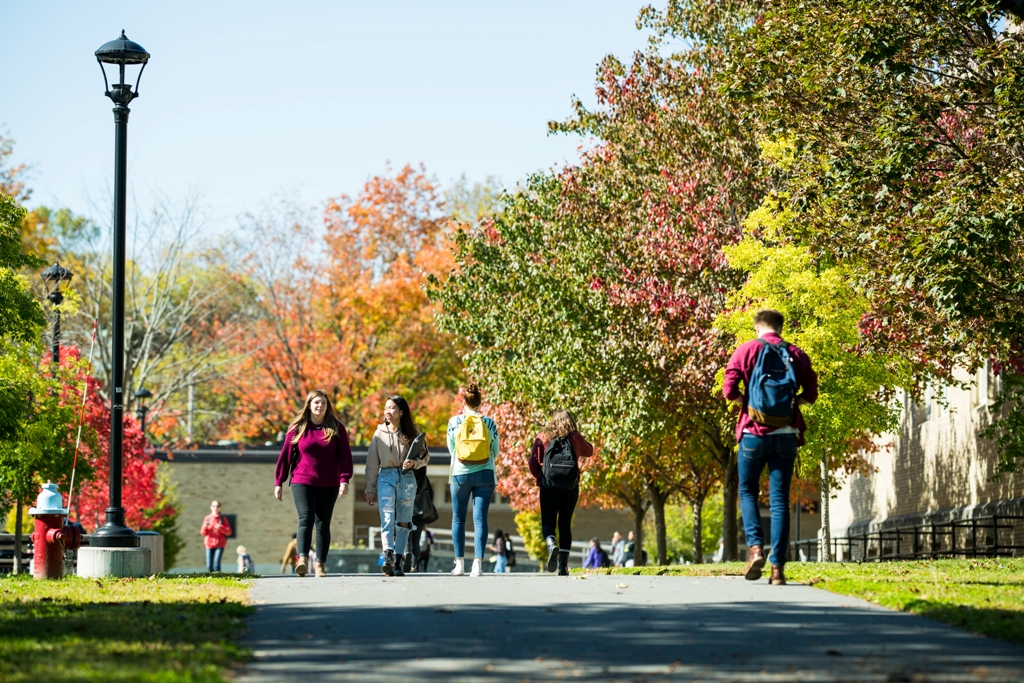 SUNY Plattsburgh has realized a record increase in applications for fall 2023 over the last two years, reflecting strong growth through a state initiative that dropped the $50 fee to apply.
The university has never seen this many applications for the following fall this early. The increase is 114 percent more than this point in either of the past two years and trends slightly above the system as a whole. The high number of early applications provides the opportunity for more early acceptances and better opportunities to grow enrollment.
According to Troy Joseph, interim director, undergraduate admissions, SUNY Plattsburgh, has 4,968 applications to date.
"Our record number of applications at SUNY Plattsburgh is also driven by the remarkable work of our talented and committed faculty and staff, who consistently work to provide the most equitable, inclusive, high quality college experience," said President Alexander Enyedi.
"SUNY's recent two-week fee waiver period provided an incredible opportunity for prospective students to invest in their futures by taking this first, most critical step in applying to college."
During the fee-waiver period, students had the opportunity to apply for free to up to five SUNY campuses for a potential savings of $250. On average, each applicant applied to two SUNY campuses. The two week free fee period, Oct. 24 though Nov. 6, was launched this fall by the State University of New York across its 64 campuses.
Tuition Match Program
Included were applications from out-of-state students who qualify for the new state Tuition Match program. Launched at the same time as the free fee initiative, students who apply from one of eight states where Plattsburgh's out-of-state tuition and fees may be higher than the in-state rate at their flagship colleges, Plattsburgh will add a scholarship to cover the difference for first-year students.
As such, after this scholarship, students can attend SUNY Plattsburgh as an out-of-state student and pay the same tuition and fee rate as if they attend the flagship college in their own state.
Those schools are:
California
Connecticut
Illinois
Massachusetts
New Hampshire
New Jersey
Pennsylvania
Vermont
In addition, SUNY Plattsburgh offers out-of-state students a $7,500 Welcome to New York Grant for room and board for out-of-state students.

Unprecedented Increase

"Similar to most SUNY schools, we have never received this many applications this early in the cycle," Joseph said. Applications for the same time period for fall 2021 were at 2,330; for fall 2022 there were 2,323 this early.

"SUNY's fee waiver has been an incredible success, and we are encouraged by the increase in potential students taking this step to pursue a college education," said SUNY Interim Chancellor Deborah F. Stanley.

Joseph agreed.

"The initiative removed one of the barriers for many students across the state," he said. "This is seen directly in the numbers. Given the economic environment, this was a win for many families."

For more information on SUNY Plattsburgh and applying, call 518-564-2040, 888-673-0012 or email [email protected]. Details are also on the website at www.plattsburgh.edu.

— Story by Associate Director of Communications Gerianne Downs

Unable to retrieve file contents for https://www.plattsburgh.edu/news/news-list.php
Warning: count(): Parameter must be an array or an object that implements Countable in phar:///var/www/staging/_resources/scripts/brei.feedmanager.ext/Filtering/FilteredObject.php on line 126