Jump to Footer
Student Magazine DoNorth Now Available in Digital Format
---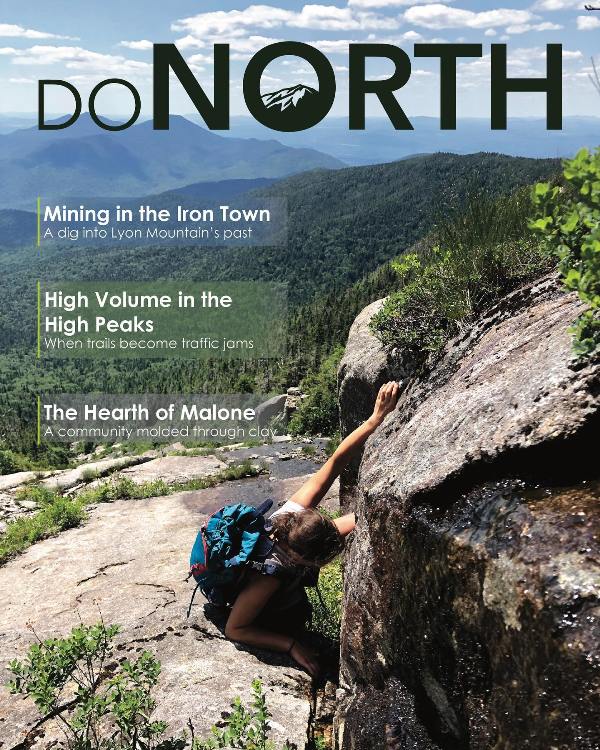 The winter-spring issue of SUNY Plattsburgh's student-produced magazine, Do North, is now live online.
The issue, found at https://donorthmag.com, is the culmination of a major collaboration between the Department of Journalism and Public Relations and Mountain Lake PBS.
The digital issue went live Dec. 3, and while this edition is the second fully digital release of the magazine, it represents a significant departure from previous issues, according to DoNorth's faculty advisor and journalism assistant professor, Catherine Manegold.
Unlike previous releases, which have historically focused on regional tourism, this edition focuses on the small North Country hamlet of Lyon Mountain 30 miles west of Plattsburgh, where a team of researchers from Mountain Lake PBS and student journalists from the college joined forces to develop stories about the rich history of this mining settlement.
With travel and tourism ebbing and printing and distribution becoming problematic because of the pandemic, "the possibility of entering into collaboration with Mountain Lake PBS on the Lyon Mountain project was an opportunity the magazine could not pass up," Manegold said.
With that, the team set out to talk with residents of Lyon Mountain, transcribe those interviews, take photos and collect historical data.
SUNY Plattsburgh senior and DoNorth editor-in-chief Sierra McGivney, said she's proud of her team of students "for rising to the challenge of producing a magazine filled with high quality stories, photo essays and cutting-edge design during a global pandemic."
Senior Heaven Longo, managing editor, also praised the team.
"We were all transitioning from our normal lives to a weird reality with masks, social distancing and constant anxiety about the state of each other's health. We really couldn't have asked for better writers, editors and designers."
Although Lyon Mountain stood as the focal point of the issue, it also includes other stories on the Adirondack North Country, including the frozen valleys of Keene, luscious lavender fields of the Adirondack View Vineyard and small community of Malone, Manegold said.
"DoNorth has stories for a wide range of audiences. Future issues will continue to showcase individual communities in the region."
DoNorth is a student-produced destination magazine, published twice annually, with an editorial office located on the SUNY Plattsburgh campus. The publication features professional-level feature and essay writing, reporting, photography and storytelling designed with a single mission: To draw attention to and build curiosity about destinations and places of interest throughout the North Country. The magazine has been rated an All-American publication by the Associated Collegiate Press.
For more information, contact Manegold at [email protected].