Jump to Footer
Student Leaders, Volunteers Recognized for Service to Campus and Community
---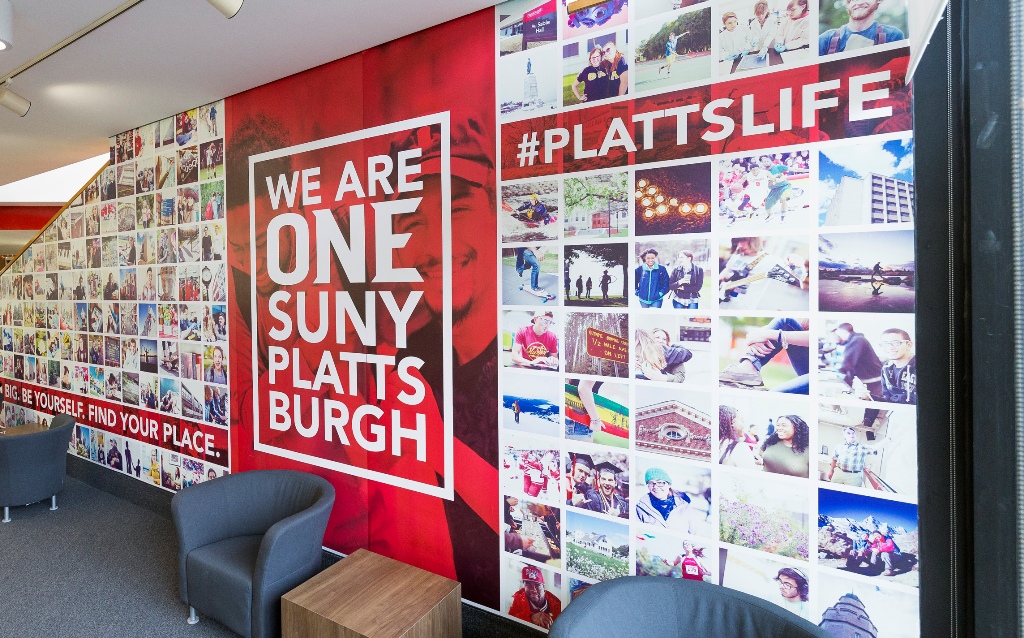 For the past 39 years, SUNY Plattsburgh has shown its appreciation for student leaders and volunteers at a recognition ceremony where they are applauded, receive awards, scholarships and more.
This year, while the delivery method may be different, the feeling of appreciation is the same.
"We didn't want COVID to get in the way of honoring our students this year, so we decided to do it online," said Cori Jackson, assistant vice president for student life and director of the Center for Student Involvement. As such, a web page was created listing all the student honorees along with descriptions of how they volunteer, the offices and campus areas they serve, the programs they enhance and the ways in which they bring service to campus and the community.
In addition, several awards and scholarships that are part of the usual ceremony are listed on the site as well, along with a video greeting by Bryan Hartman, vice president for enrollment and student success.
"It has been my honor to serve as the MC at the annual student recognition ceremony for the last seven years," he says by way of introduction. "This is the 40th year of SUNY Plattsburgh expressing our appreciation for the leadership and service demonstrated by our students. The student life that is created on our campus is created by students stepping forward and assuming leadership roles.
"In a typical year, our students dedicate at least 15,000 hours of service to Project HELP, our community service clearing house, alone," he says. "We estimate that our students spend over 300,000 hours on curricular and co-curricular activities that benefit the local community. The impact of these efforts is immeasurable. Both the college and the community are truly grateful for all the students do."
Among the awards and scholarships given are:
The Vice President for Enrollment and Student Success Community Service Award, given to the Council for Exceptional Children and the Cardinal men's hockey team
The Vice President for Enrollment and Student Success College Service Award, given to the American Marketing Association, recognized for its Marketing Week held each October
The President's Cup, the highest honor that can be bestowed upon a recognized group that demonstrates commitment to the organization, promotion of scholarship, and contributions to the campus and greater community, given this year to Alpha Phi in third place with an award of $200; Delta Sigma Phi, $300 for second place; and the American Marketing Association, in first place with an award of $500 and their name being placed on the President's Cup
The Student Staff Award, which recognizes an outstanding member of a group that carries a great deal of responsibility but seldom receives awards or public recognition, given to Kamille Dawkins, fraternal excellence initiative coordinator in the Office of Fraternity and Sorority Life
Student Unsung Hero Award, recognizing a student who others can count on to carry projects to fruition and get the job done, given this year to Lauryn LaDuke, student staff member in the Global Education Office
The SUNY Plattsburgh Omicron Delta Kappa Honor Society Circle Leader of the Year Award, the highest recognition a student can receive at the local level of ODK, given this year to Leo Lee
SUNY Plattsburgh ODK Senior Achievement Awards, given this year to Alexa Hill and Amanogho Ugbodaga
ODK Sophomore Leader of the Year, given in honor of Cheryl Hogle in recognition of outstanding leadership and academic achievement by a sophomore, given to Kamille Dawkins
Community Service Scholarships, $2,500 given to students who have engaged in a consistent and sustained record of excellence in community service through voluntary efforts, given this year to: Maleek Rasheed Hawkins, the UFirst Federal Credit Union Community Service Scholarship; Brandon Gyawu, the Richard Semmler Community Service Scholarship; Emily Chicoine, the Chartwells Community Service Scholarship; Ivanna Menezes, the David and Susan Zebro Community Service Scholarship; and Hayden McGlauflin, the College Auxiliary Services Community Service Scholarship
The Douglas Skopp Social Justice Scholarship, created to honor the late history professor and college historian, $1,500 awarded to Marlee Bickford-Bushey and Claudia Theagene
The Toni Bloom Student Scholarship, given to recognize and encourage leadership in campus activities, $1,100 given this year to Querida Sidney
Anthony Santandrea Memorial Scholarship, awarded annually to a full-time student entering ecology, adolescent education, environmental science, environmental studies, geology or expeditionary students, $1,500 given this year to Kara Oatman
"We are sorry we are not able to be in person to acknowledge these students efforts and successes, but celebrating your achievements is a strong tradition here, and the team of professionals led by the Center for Student Involvement and Institutional Advancement have created the next best thing," Hartman said.
"We are incredibly proud of all of you who are being recognized this year. SUNY Plattsburgh would simply not be what it is without all the individual and group effort. This collective effort is a significant contribution to what makes our college Cardinal Strong. Thank you for stepping up, thank you for demonstrating leadership and thank you for your service to others."
To see a full listing and descriptions of all awards and honored students, and to watch Hartman's video greeting, visit: https://wwwtest.plattsburgh.edu/plattslife/get-involved/student-awards.html.