Jump to Footer
Staff Attends Conference Devoted to Violence Prevention in LGBTQ+ Community
---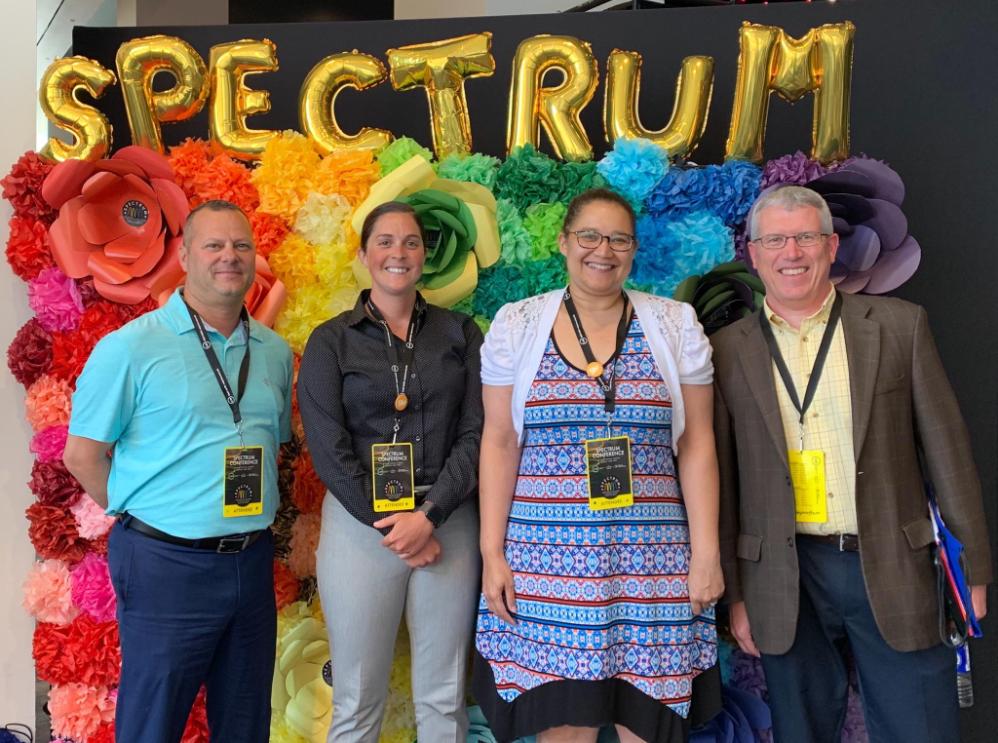 Representatives from SUNY Plattsburgh were in Albany July 9-10 for a conference on combating violence against the LGBTQ+ student community.
Vice President for Student Affairs Bryan Hartman, University Police Investigator Jessica Facteau, University Police Inspector Steven Dube, and Coordinator of Student Activities Rachel Wilcoxson attended workshops and presentations on the future of Title IX, working with LGBTQ+ survivors, creating inclusive and affirming spaces for LGBTQ+ community, addressing sexual and relationship violence in the LGBTQ+ community using a bystander framework, and much more.
Facteau was glad to have been able to attend a conference "that brings together such a diverse group of individuals working toward the same goals that are focused on the support and prevention of sexual assault in the LGBTQ+ community," she said. "It's an awesome opportunity to come together to have conversations and work collectively, educating ourselves so that we can better serve those individuals and marginalized communities."
Wilcoxson, a member of the LGBTQ+ community, said how feeling included during her time as a student was important.
'Can Always Do More'
"Things sometimes move quickly when it comes to social justice; I want to know best practices when possible," she said. "It was also wonderful to meet with professionals on other campuses. We don't always have to reinvent the wheel; we can share ideas and reflect on shared experiences. There are small changes I can make to make students feel included. I came away with some new ideas for programming. I also came away with the impression that my campus is doing a lot surrounding inclusion. We can always do more."
The SPECTRUM conference is designed to enhance skills through training of faculty, staff, law enforcement, medical professionals and community and state agency personnel to prevent and respond to sexual and interpersonal violence against members of the LGBTQ+ community.
Bridges the Gap
Dube said the program "is leading the way for every university, college and community to join in the fight for equality and inclusiveness for all. It was exceptional, motivational, inspirational and hopeful," he said. "It brought every resource to the table in the fight for fairness for all. I'm so glad to have attended."
"It doesn't take a lot to be a welcoming member of campus," Wilcoxson said. "As staff and faculty, we can say 'can you tell me what pronouns you use?' or 'I don't know all the answers, but I'm excited to learn with you.' Can you imagine what a great experience each student would have if they encountered one welcoming staff or faculty member? We can be that person."
"As a person who already works to bridge the gap between the police and the community, this is one way to continue education and awareness on this topic," Facteau said. "An event like this can only serve as a benefit — not to mention that now as an investigator, this just builds into that role."