Jump to Footer
Service, Leadership, Caring At the Essence of SA President Hightower
---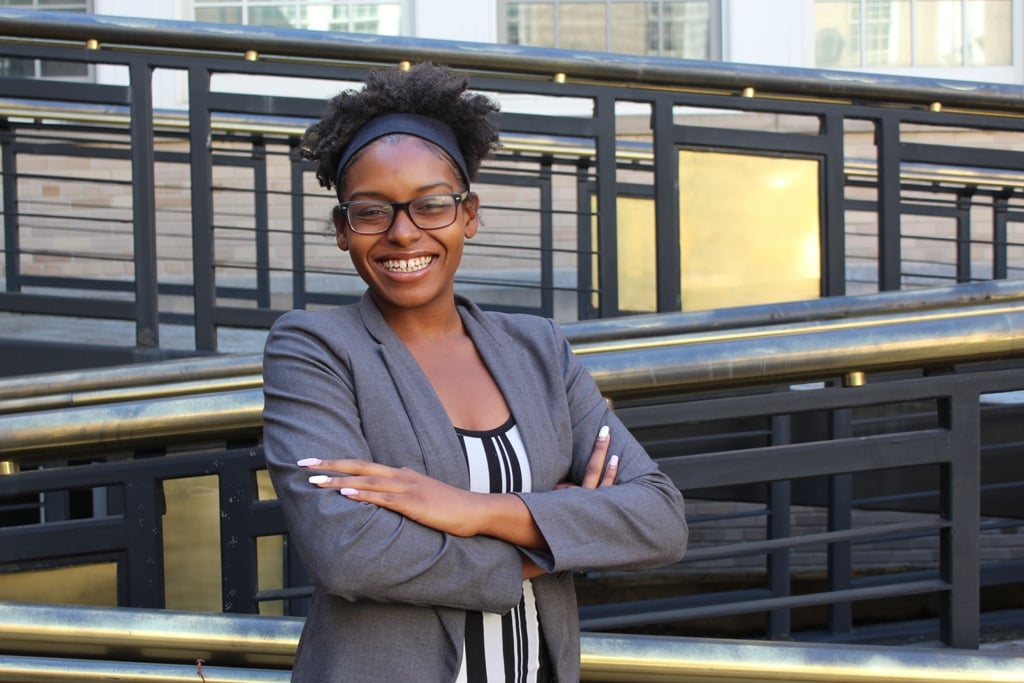 When Essence Hightower chose to attend SUNY Plattsburgh, she never imagined that she'd lead student government, score a coveted Washington, D.C., internship and receive an award from the Girl Scouts as a "Leader of Tomorrow."
But the senior's Plattsburgh experience has led her to all those things, and more.
"I couldn't have imagined that I would be where I am today," Hightower said. "Who would have expected a first-generation, agnostic, pansexual, African-American woman from Long Island to accomplish that?"
A sociology major, Hightower is finishing her term as Student Association president this semester. Last summer, she was one of only 53 college students nationwide selected to participate as an intern on Capitol Hill facilitated through the Congressional Black Caucus Foundation. She was placed with Brooklyn Congresswoman Yvette Clarke.
She almost didn't go.
Many on Campus 'Rooting for Her'
While the foundation provides its interns with a stipend, housing and some D.C.-area transportation costs, it doesn't provide participants with funding for travel to and from Washington or a wardrobe that would be appropriate dress for a congresswoman's office.
"A lot of people have been rooting for me on campus," Hightower said. Anne Hansen, vice president for institutional advancement, and Bryan Hartman, vice president for enrollment and student success, were two of them, she said.
"Anne identified funds for me to purchase business-casual clothing. Bryan Hartman has always had my back. He found funds to pay for my flights. And they took me to the airport and picked me up again when I came home. If it wasn't for these two people supporting in and believing in me, I wouldn't have had one of the most incredible experiences of my life."
"Essence has an incredible story of overcoming adversity and already accomplishing much for both herself and her family," Hartman said. "I am thrilled that she had the opportunity with the Congressional Black Caucus Foundation this past summer. That will continue to be a life-changing experience for her."
Part of the Staff
On Capitol Hill, Hightower was treated as a member of Clarke's congressional staff, attending meetings and briefings, scouring newspapers and social media looking for Clarke's name, writing talking points for the congresswoman and doing anything she could to make herself useful and helpful.
"We were told that we represent the Congressional Black Caucus and need to conduct ourselves appropriately," Hightower said. "They said, 'If you're told to answer the phones, make sure you're the best phone answerer there is.' So I was, and as a result, I got to do other things."
Hightower's experiences at SUNY Plattsburgh began at a campus open house while she was still attending high school on Long Island.
"I came to Plattsburgh because it was the farthest from my town, Freeport, Long Island, while still being within the state and country," she said. "I originally came up and still hadn't really decided on a college just yet. And finances held a lot of weight when determining which college I wanted to attend because I would be paying for myself. SUNY Plattsburgh was the least expensive option."
It was on the visit, however, that she decided she wanted to stay. After the drive back to Long Island, she found her acceptance letter in the mailbox.
"Synchronicity was at work," she said.
Elected President of the SA
As a junior, Hightower decided to run for president of the SA president on a diversity, inclusion and intersectionality platform. She said her hope was to bring the campus together "through understanding different cultures and educating ourselves on social justice issues such as privilege and oppression."
"Essence is an inspiration," said senior Kira Paulemon of Port au Prince, Haiti, who serves with Hightower on the Student Association as vice president for student affairs and diversity. "She's extremely fair and is very interested in hearing different perspectives. She's interested in people, and that fuels her and makes her so charismatic. She has so much to offer, and I'm excited to see where life takes her. She's on a really good path."
Deena Giltz McCullough, president and CEO of Northern Insuring, is so impressed in seeing where life is taking Hightower that she nominated her for the Girl Scouts of North Eastern New York 2019 Women of Distinction, Distinguished Leader of Tomorrow Award, which was presented at a Sept. 18 ceremony. McCullough has come to know Hightower when they both served on the search committee that was filling the position of vice president for diversity, equity and inclusion.
"Essence has presence and self confidence in an unassuming way," McCullough said. "It was clear to me immediately that she is a leader, and I admired her for her strength immediately. Her leadership involvement and commitment demonstrates to others how to make positive changes in our community. She is a role model for younger students within the SUNY Plattsburgh community."
Genuinely Loves to Help
"I know I do a lot of things," Hightower said. "I genuinely love to help people. If I'm in a position to help, I do." One of her personal philosophies is, "When I get, I give."
"Deena saw that I really do care. When she told me I was going to be getting the award, I started to cry. When someone sees you and acknowledges that, it feels great," she said. "I'm reminded of how blessed I am every day, and I'm thankful for the contrast in my life that allows me to recognize the blessings in my life. Life is sweet, and perception is everything. I have never let my current set of circumstances determine what I believe was possible to achieve. And, truthfully, I believe that's why I am where I am today."
"Essence soaks up new information, perspectives and actively seeks opportunities to share her wisdom," Hartman said. "She wants to change the world, and she is already doing it. She cares deeply for all people, especially those from marginalized communities. I deeply respect her confidence to raise difficult but important issues with all of us. It is through these interactions with her peers, faculty, administrators and community members that she is making a real difference. I'm a better person as a result of my exchanges with Essence."