Jump to Footer
Veteran Musician, Educator Rick Davies Shares the Groove With SUNY Plattsburgh Students
---
Dr. Rick Davies' experience is as rich as his sound.
The professor has played trombone with a who's who of American music: Tony Bennett, Tito Puente, Blondie, Bo Diddley and Michael Jackson. He's worked on more than a hundred recordings as a composer, arranger and performer. He's even played for President Clinton and had top 10 hits in Italy, Japan and Colombia.
Yet Davies, who also chairs the music department, says that he's still learning – from his students.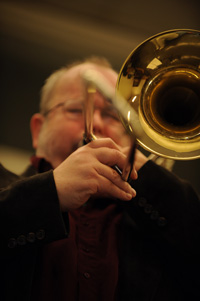 Playing, Working, Learning
Davies leads the college's 18-piece Jazz Ensemble as well as the 10-piece Mambo Combo. The latter explores an eclectic, often-unfamiliar array of sounds and bringing them to life. Jazz is a key element, but so are rhythm and blues and Latin music. It's a working band, and gives students a chance to play with two elements not found in the classroom: an audience and an atmosphere.
"There's nothing like getting the chance to take what you've learned in the classroom and share it with the community," said student Kevin Colon.
Davies is a veteran of New York's music scene. In addition, Davies' studio experience is extensive: He can be heard on more than 100 albums.
Since Davies came to SUNY Plattsburgh in 2000, he's played on another nine recordings, including two of his own: He released "Salsa Strut" in 2001 and "Siempre Salsa" in 2006.
A Musician and a Scholar
Davies' musical knowledge transcends the stage and studio. Several of his articles about Afro-Cuban music and salsa have been published in academic journals. He even wrote a book, "Trompeta: Chappottín, Chocolate, and the Afro-Cuban Trumpet Style," in 2003.
It's this excellence as a musician and scholar, students say, that shines through in the classroom.
"Rick's experience, style and sense of humor have always made it a joy to come to class and continue learning," said student Matt Kasprzak. "His laid-back approach allows us to really take responsibility for our creativity, but he will always offer a helping hand if need be."
For Davies, sharing this wealth of knowledge and experience is about influencing the future.
"You spend your life gathering all this knowledge," he said. "At some point, you gotta give it back."