Jump to Footer
SUNY Plattsburgh Welcomes 400 Alumni and Friends Home for Reunion
---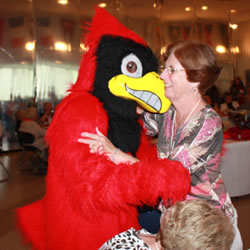 Alumni traveled from as far away as California, Florida and Texas this June, as SUNY Plattsburgh opened its doors for the college's inaugural Summer Reunion celebration.
View Summer Reunion 2010 Photo Galleries
The program, which celebrated alumni from class years ending in '0 and '5, drew 400 alumni and friends who took part in new, warm-weather offerings, like a golf outing, a luxury cruise on Lake Champlain, an outdoor barbecue and a strawberry brunch.
'A Beautiful, Memorable Experience'
"We wanted to provide these classes with a beautiful, memorable experience, during a time when the weather around Lake Champlain and the Adirondacks is at its best," said Director of Alumni Relations Joanne Nelson. " And that's what we did.
"The cruise, for instance, was fully booked and a tremendous hit with the alumni."
'A Proud Past and a Depth of Experience'
Summer Reunion is one of a number of changes to the college's alumni offerings – all designed to increase the involvement of alumni with their alma mater. These include a new, special Cardinal Weekend to celebrate alumni who participated in sports, as well as the reconfiguring of Homecoming in order to highlight special connections among various groups at the college. For instance, this fall's Homecoming will feature unique gatherings for graduates of both the education and honors programs.
"Our alumni bring with them a proud past and a depth of experience. What they bring back to the college enriches our campus and our students," said Nelson.
Contact Information
For more information about alumni events at SUNY Plattsburgh, please contact:
Office of Alumni Relations
Room 113 Hawkins Hall
101 Broad Street
Plattsburgh, N.Y. 12901-2681
Phone: 518-564-2090 or (800) 964-1889
FAX: 518-564-2094
E-mail: [email protected]