Jump to Footer
SUNY Plattsburgh Student Athlete Profile: Alex Read '10 (Baseball)
---
Hometown: Senior, Ottawa, Ontario
Year: Senior
Major: Mathematics
Extracurricular Activities: Co-captain of Baseball team, works in the Learning Center as a math tutor
Awards: 2010 Richard D. Semmler Award winner as the male student-athlete with the highest graduating GPA; Academic All-SUNYAC and SUNYAC Commissioner's List.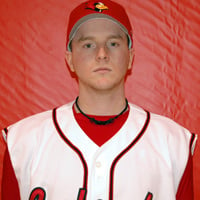 Why SUNY Plattsburgh?
"I like the family-oriented campus and the small-town feel that has big-city amenities."
"When I was playing with my junior college team against Clinton Community College at Chip Cummings Field, I got some time to tour the campus here and just loved the atmosphere. I asked my coach to put in a good word to Kris Doorey (head baseball coach of the Cardinals) because I really wanted to pursue my education at Plattsburgh. There's always things to do and stay occupied on campus and around town."
Academics
"The classes are challenging, and my professors are excellent."
After Graduation
"I want to stay in the U.S. and study actuarial science, which is the calculation of risk to help develop insurance policies."