Jump to Footer
Professional Attire Sought for Student Clothing Closet
---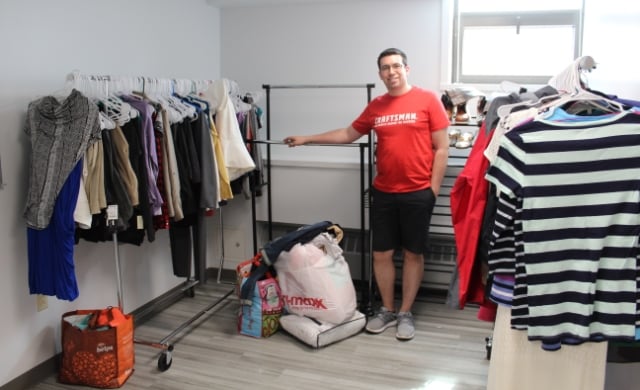 The Career Development Center and Educational Opportunity Program at SUNY Plattsburgh is holding a professional-clothing drive Saturday, June 15 from 10 a.m. to noon at the College Store parking lot, Rugar Street.
Clothing will stock the closet housed in the EOP office space in the bottom floor of Macomb Hall, adjacent to the College Store. Organizers are looking for gently used or new professional clothing that would be made available to students in need of professional attire for interviews, internships and jobs.
Chance to Dress Appropriately
"We have many students who struggle financially. They do not have money to buy new clothes for job or internship interviews," said Tobi Hay, director of the CDC. "By having a closet we are giving them a chance to be dressed appropriately for interviews that they otherwise would have to forgo or risk being underdressed."
Hay said the closet doors were opened this past academic year and although a professional clothing drive was held previously, it was aimed specifically at alumni.
"We have had several students use it this year, and our career clothing inventory is low, so we are looking forward to the drive," she said.
"In the past, EOP students have done clothing drives for students who are part of our program specifically," said Cassie Joseph, EOP director. "Having something like this is important for our students because professional attire — clothes in general — are expensive. We partnered with the Career Development Center as we realized this isn't just a need for EOP students specifically. We have since opened the clothing closetto all of campus."
Free to Keep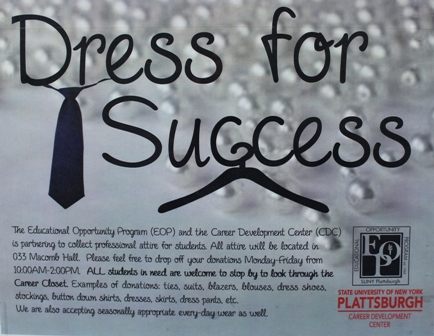 Clothing is free for students' use and is theirs to keep if they so desire, Hay said.
Items needed include suits, jackets, dress shirts, blouses, dress pants, skirts, dresses, belts, ties, dress shoes, scarves, purses and accessories, all in a variety of sizes and in good, clean condition, folded in boxes or bags. Although this drive is aimed at career clothing, the closet also makes everyday clothing available to students. They can access the clothes anytime that the EOP offices are open, Monday through Friday from 8 a.m. to 5 p.m. during the academic year and 8 a.m. to 4 p.m. during the summer, Hay said.
For more information, contact Hay at the Career Development Center, 518-564-2071 or email [email protected], or the Educational Opportunity Program at 518-564-2263 or email [email protected].