Jump to Footer
Plattsburgh State Gospel Choir Sets Spring Finale Concert
---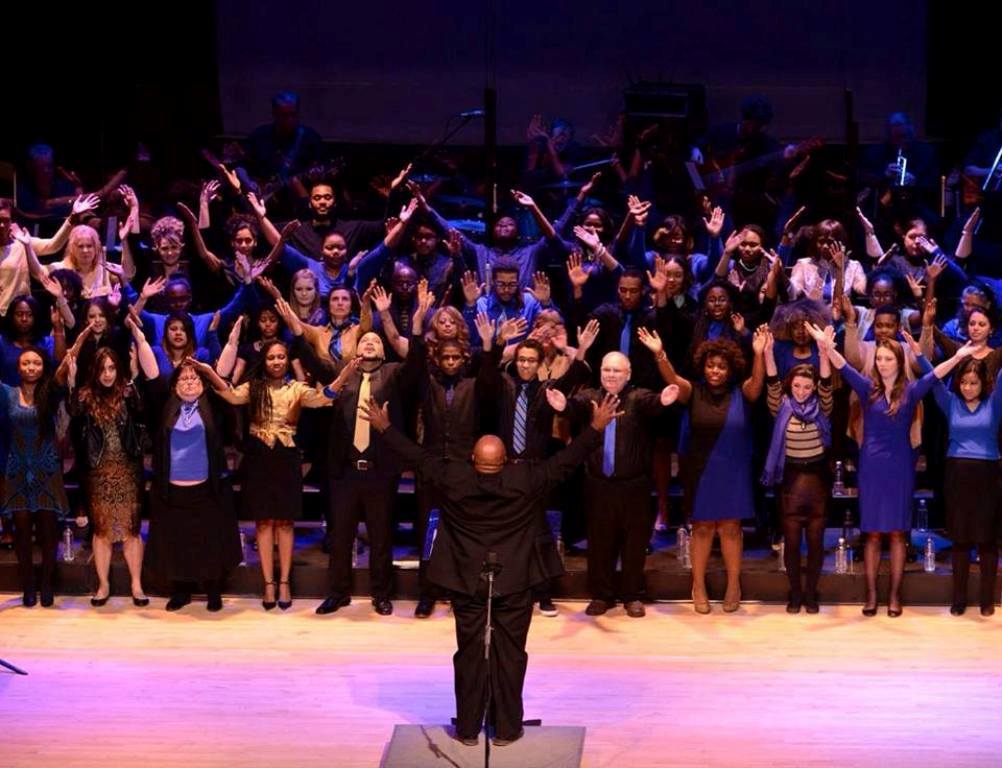 For the first time since the pandemic lockdown, the Plattsburgh State Gospel Choir will be performing its Spring Finale Concert live on the Hartman Stage, Myers Fine Arts Building, Saturday, April 2 at 6 p.m.
The concert features contemporary and traditional gospel music, spirituals of African-American culture, and inspirational ballads. Works by T.D. Jakes, Richard Smallwood, Vincent Bohanan, Luther Barnes, James Cleveland and Hezekiah Walker will be performed as well as an original composition, "Into the House," which the choir performed at the Lincoln Center in New York City in 2017.
The Gospel Choir Praise Dancers, led by SUNY Plattsburgh senior Danielle Criss, will perform a liturgical selection.
The concert, directed by Dr. Dexter Criss, professor of chemistry and choir artistic director, will include several gospel choir alumni, including Annie Lecompte '15, who will sing "So You Would Know" by Al Hobbs. Students Nicole Massaro, Violet Mawere and Jerrique Ortiz will solo along with Brett Carpenter '99 and Gina Lindsey.
The concert will also feature SUNY Plattsburgh's Alumni Band, led by Latin-percussionist Josue De Luna Hilario '20.
Special guests include The Voices of Faith of Plattsburgh, a vocal quartet performing African-American spirituals of the south.
Under Criss' leadership, the Plattsburgh State Gospel Choir has traveled internationally to Japan, St. Martin/Maarten, Toronto, Montreal, and Trinidad and Tobago where they gave a private performance for President Anthony Carmona and staff. Nationally, they have performed in Chicago, Boston, Washington D.C., New Jersey, Pittsburgh, Indiana, Pa., New York City, Memphis, Stuttgart and Little Rock, Ark.
The choir has shared the stage with Darius Brooks, Myra Flynn, Lyle Lovett, Daisy Jopling and Sheila Raye Charles, among others. With up to 20 performances a year, the choir performs on campus, at churches, festival events, workshops, weddings, memorials and community events. Members perform the alma mater and Star Spangled Banner regularly at SUNY Plattsburgh commencement programs.
Andrea Ogle '09 serves as associate artistic director and choreographer; Alexander Malsan '13 serves as the choir's vocal coach; and Rosinda Anthony '08 CAS'11 serves as adviser.
Tickets, available online at www.plattsburghstategospelchoir.org and tickets.plattsburgh.edu, and in advance in person at The Christian Bookstore, 165 Prospect Ave., Plattsburgh, and in the Gospel Choir office, 133 Hawkins Hall, are $15 general admittance and $8 students, $20 general admittance and $10 students at the door. Children five and under are free but must share a seat with an adult.
For more information, contact the Gospel Choir office at 518-564-2704 or email [email protected], or visit www.plattsburghstategospelchoir.org.