Jump to Footer
Peace Corps 'Alumni' Remember Time Spent in Service to Others
---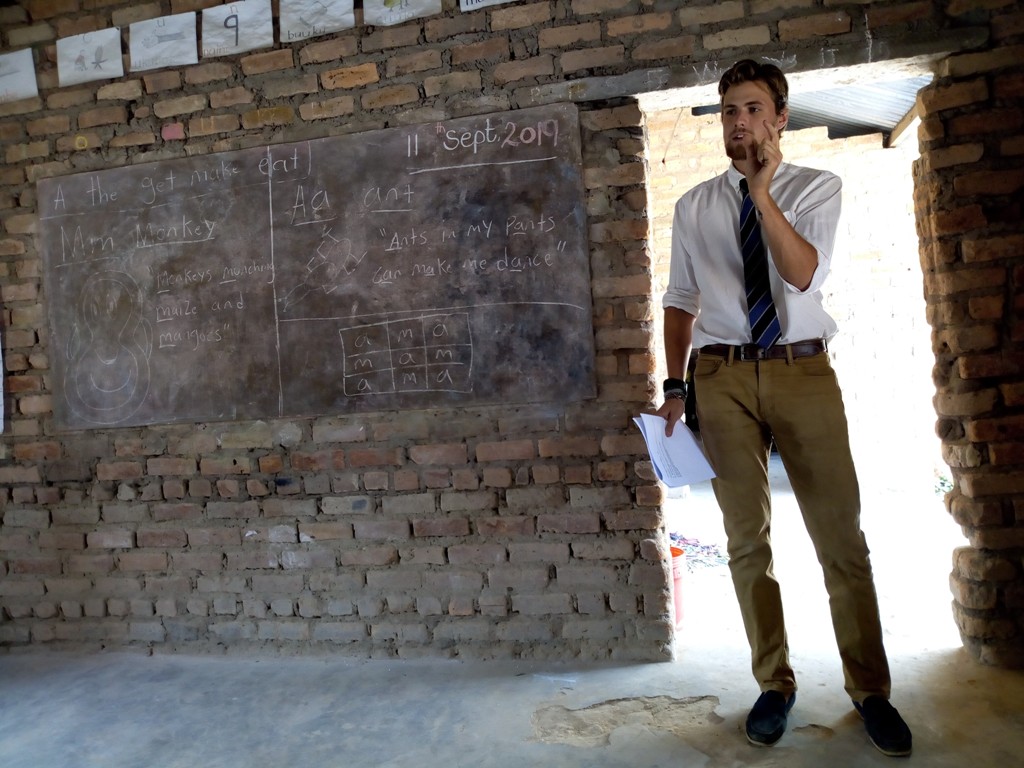 Rob Keever credits his stint in the Peace Corps in the early 1980s with leading him to his position as a professor in the SUNY Plattsburgh math department.
Keever served in the Peace Corps from 1982 to 1984, teaching high school math in Sierra Leone, West Africa, in the town of Sumbuya. That led to his being accepted into a doctoral program at Edinburgh University.
"I found out while I was there that they liked that I was in the Peace Corps, and my Ph.D. from Edinburgh got me my job (at SUNY Plattsburgh) — a pretty important influence on the trajectory of my life," Keever said.
SUNY Plattsburgh has a long connection with volunteers serving in the corps, ranging from Dr. E. Thomas Moran '68, retired former provost and vice president for academic affairs, who served in the late 1960s, through recent graduates like Sean Howard, a 2018 alumnus who found out his senior year here that he was accepted into the program.
The finance major was assigned to serve in January 2018 and started service in September 2018, finding that it provided him an opportunity "to use my skill set to help develop communities in other parts of the world," he said.
"Peace Corps is about development and capacity building through educating others. This empowers communities by providing them with the skills needed to develop and become self-sustainable. I really enjoyed this type of work because it was different from many other organizations that develop communities with just money and resources."
The director of admissions at Abaarso School of Science and Technology in Somaliland also said the experience is "an excellent opportunity for young Americans to step out of their comfort zone and make a difference in international communities."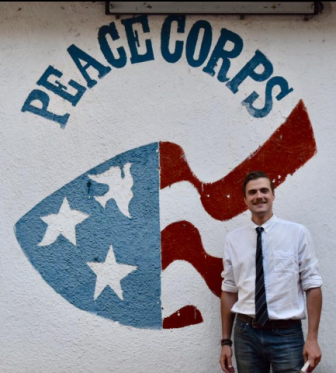 "I've learned so much during my time in the Peace Corps, which led me to a professional career I really enjoy," Howard said. The former Cardinal baseball player and Field House Zamboni driver said the corps "is a great way to experience new cultures and create deep relationships with people from around the world. I'm passionate about education development, so this was a great opportunity for me to help students in rural schools."
Howard thought he'd be spending two years in Zambia as a Peace Corps education development volunteer, but COVID cut his tour short.
For the first time in the 60 years since President Kennedy signed the executive order that created the Peace Corps, operations were suspended and more than 6,000 Americans around the world were called home. In a letter written at the time, Peace Corps Director Jody Olsen said they were able to "safely evacuate each of (their) posts, avoiding a situation where volunteers would have been stranded overseas. This was a tremendous undertaking, and it represents the very best of public service in a time of crisis."
It also resulted in the need to recruit a new corps of volunteers. With March 1 being the 60th anniversary of the establishment of the agency via the executive order, the Peace Corps launched a recruitment campaign as it plans to return to service. Regional recruiter Randi Dermo, who is based in Brattleboro, Vt., has been reaching out to schools with the message that Peace Corps volunteers "work to promote world peace and friendship in communities overseas."
'More Important than Ever Before'
"This mission is more important now than ever before," said Dermo, who served in Ecuador as an English education teacher and said of the corps that it "was the best experience of my life."
"Peace Corps hopes to return volunteers to the field once conditions allow. The health and safety of volunteers, the communities they serve, and overseas staff is the agency's No. One priority," she said. "I am enthusiastic and hopeful that Plattsburgh students will be among the first groups of Peace Corps volunteers to return to the field."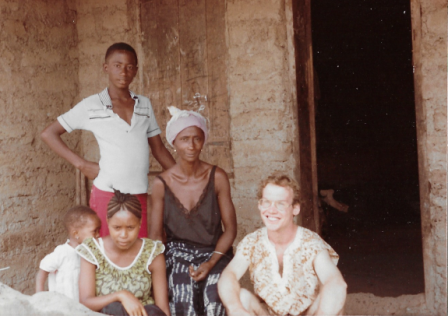 Keever signed up because "I wanted to serve my country, but I'm a Quaker and don't believe in war," Keever said. "I also had an urge to see the world, so I thought that when I graduated from Oneonta with a BA in math I would join the Peace Corps."
The corps serves as a benchmark, dividing Keever's life into three stages: pre- during and post-Peace Corps. It was that important to him.
"I went in a naïve little kid and came out an adult. Sierra Leonians are so different from Americans in so many ways and yet so very much the same in many other ways. I really loved it there and am sorry I lost touch with the good friends I had there."
Life in Sierra Leone wasn't easy, Keever said.
"There are a lot of diseases, nutritious food isn't all that easy to come by; it's one of the poorest countries in the world, and it's stinking hot. But I got used to all that and really valued my time there," he said. "I didn't find Sierra Leoneans to be any less happy than people anywhere else in the world; we did a lot of laughing."
Dr. Richard Gottschall, associate professor, marketing and entrepreneurship, supported small-business development at a financial institute in the former Yugoslav Republic of Macedonia when he served in the Peace Corps from 1997 to 1999.
"We provided loans and coordinated and promoted networking activities," Gottschall said. "The economy and society was in the midst of transition, and it was great to work with people who were taking initiative to start new businesses that would serve their community and support their families."
Looking for a Career Change
Gottschall said he remembered seeing television commercials as a child and even wrote a high school paper about the corps.
"I never really looked further into it until I found myself out of a job and looking for a career change in my late 20s," he said. "I was interested in a change in direction and an adventure, and I got exactly that. I did not know what I was getting myself into, and that was the point."
In addition to his work supporting small-business development, Gottschall also supported the development of the first Model United Nations simulations for high school students.
"The political tensions were so high in the country that I thought giving people the opportunity to discuss important political issues in a controlled and diplomatic environment would be useful," he said. But the main job, he said, may have been "to represent the USA and learn about other countries and cultures. In this respect, we were always working. People that we didn't even know wanted to invite us over to their house. It was very interesting work."
Like his fellow faculty member Keever, Gottschall found his experience in the Peace Corps affected his future immeasurably.
"My Peace Corps experience completely changed my course," he said. "I struggled to focus on school work and had poor grades right through college. In the Peace Corps, I was in such a foreign environment that almost every moment was a learning experience. I learned a new language and read an immense history to better my cultural understanding. I gained confidence in my ability to learn and to enjoy learning and went directly back to school afterward."
And Keever saw the same commercial.
"'Peace Corps: The toughest job you'll ever love.' I would have to agree with that," he said.
For more information on Peace Corps volunteer opportunities, contact Dermo at [email protected] or call 802-829-2950.