Jump to Footer
Major Renovations Slated for Memorial Hall
---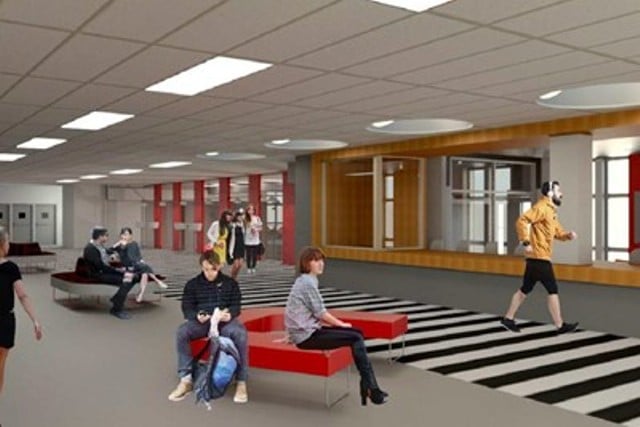 SUNY Plattsburgh's key facility for varsity athletics and student recreation is slated for a multi-million-dollar renovation that will increase its size, upgrade equipment and transform training and fitness options for athletes, students and the community at large.
Memorial Hall, home to the Cardinal basketball and volleyball teams, the Department of Sport and Wellness, the Fitness Center, and athletics administrative and recreational clubs and intramural offices, will undergo a multi-year renovation beginning in fall 2019.
The project is expected to include:
Renovations to the Fitness Center that will increase the space to more than 12,000 square feet
A strength and conditioning facility for varsity student-athletes
Renovations to the varsity gymnasium
A new recreation gymnasium and climbing wall
New locker rooms and team room space
New offices for athletics staff
A sports medicine suite for varsity athletics that will include a new treatment and rehab space
A new doctor's office and hydro room
Multipurpose and group activity areas
Expanded academic offices and classrooms for the Sport and Wellness program
A remodeled entrance and lobby area
"This is a game-changing project for all of our programs and comes at an exciting time here in Cardinal Country," said Mike Howard, SUNY Plattsburgh's director of intercollegiate athletics and recreation. "The scope of this project is comprehensive and transforming.

"The new Memorial Hall will play a critical role in allowing us to continue the momentum we have built over the past few years, which has included a major rebranding effort, the addition of women's lacrosse, increased fitness and recreation programming, greater sponsorship funding and continued athletic excellence on both the conference and national levels."

The complete renovation of the existing Memorial Hall will maximize the use of space within the building's current footprint.

With the renovations, the Memorial Hall pool, closed this summer for repairs but reopening in August, will permanently close in May 2019. Taking the pool offline during the first phase of renovation will provide space to use and operate building functions as wider renovations begin and continue.

Renovations must be within the current building footprint due to state guidelines covering funding, and a modern, competitive pool cannot be constructed in the current space. Additionally, alternate use of the former pool space as a recreation gym will offset the loss of open recreation space in Sibley Hall, now occupied by the Center for Neurobehavioral Health.

HOLT Architects, a firm based in Ithaca, N.Y., is serving as the principal architect for the project, which is financed by the New York State University Construction Fund.