Jump to Footer
First Generation College Students, Graduates Honored on Campus
---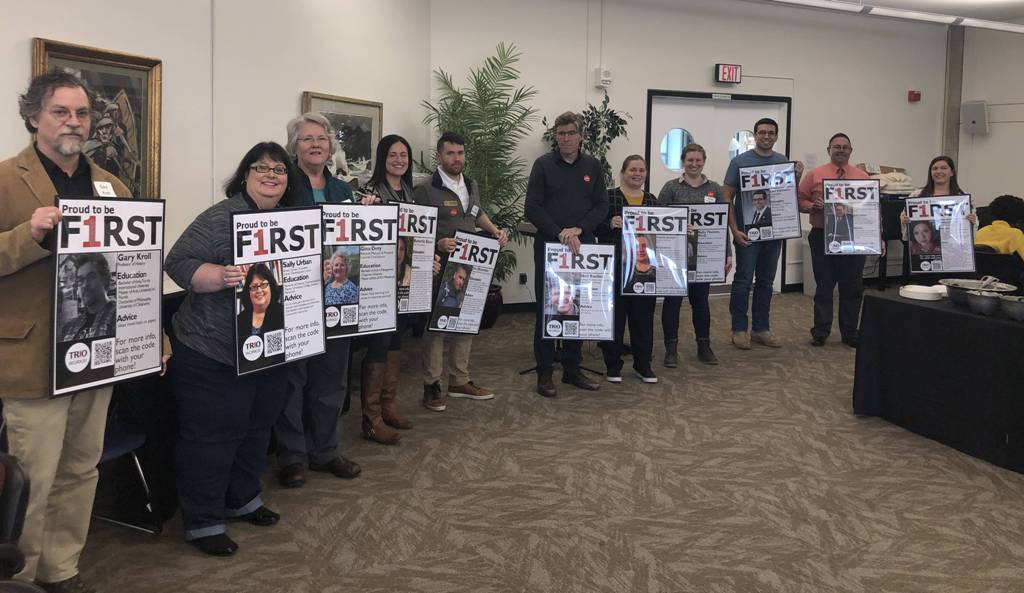 SUNY Plattsburgh highlighted first-generation college students during a week-long series of events in November, a celebration that included a recognition of faculty, staff and students who are first-generation college graduates at a luncheon held Nov. 8 in the Cardinal Lounge,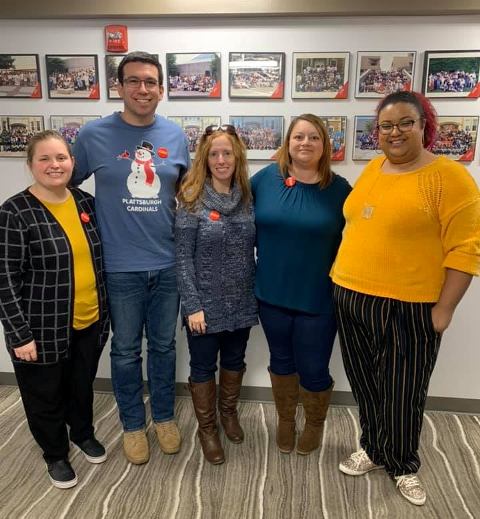 "To me, being the first in my family to go to college means giving my son a mom who is educated with a successful career and stability," said Christine Landry, EOP administrative assistant. "To our students, I think us celebrating them means that we recognize their hard work, sacrifices and commitment to being here. We confirm and support their decision to be an educated individual, no matter what it takes for them to achieve their goals."
A Week to Celebrate
The week highlighted the 54th anniversary of the Higher Education Act of 1965, which was designed to level the playing field for low-income and underrepresented populations in the United States.
The federal definition cites first generation as students who come from families where their biological parents did not complete a four-year college degree.
Among those organizing the week-long series of events was Ashley Durocher, associate director of Student Support Services, who initiated the week of celebration.
The week began with noon-hour tabling events in the Angell College Center, where a variety of activities occurred each day. It included the distribution of "Proud to be 1st" buttons worn by students, faculty and staff who identify as first-generation college students. More than 50 faculty and staff members volunteered to wear the pins for a week to show their solidarity with current first generation students.
More than 20 faculty and staff also volunteered for a poster campaign where their pictures and best advice were displayed. Their stories were reproduced on posters that were handed out during the luncheon.
The posters were designed by graduating senior Cameron Gonzalez and distributed throughout the campus. Each person who volunteered for the poster campaign was given a framed copy of their individual poster to be displayed in their offices.
The week concluded with a recognition ceremony at the women's ice hockey game on Nov. 8 where a first generation student, Michelle Peterson, sang the National Anthem. All first generation students were asked to stand and be recognized.
Dr. Michele Carpentier, assistant vice president for enrollment and student success and director of special programs, gave remarks at the luncheon "that were about what a difference education made in my own family history," she said. "I talked about how important my mother's education was as the only one of her siblings to earn a four-year degree and how it changed the entire family."
Although unable to attend the luncheon, first-generation graduate Amy Daniels, counselor, EOP, said she is appreciative of the recognition.
"I was so thankful and excited that the college had a celebration like this," Daniels said. "It shines a light on a group of people who have faced challenges and allows students to look at the faculty and staff in a less intimidating way.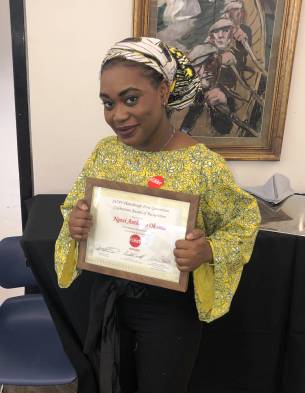 "I think that often times, our first-generation students feel like they're the only ones here. A luncheon like this speaks volumes to those students; it says, 'You are not alone, and you do belong here.' That's a powerful message we can give our students," she said. "I appreciate so much that it was on campus and look forward to being a part of it next year."
Dr. Michelle Cromwell, vice president for diversity, equity and inclusion and chief diversity officer, spoke about how first-generation students often have to navigate the tangled web of college policies, procedures, jargon and expectations that can become a challenge.
"Institutions have the opportunity and responsibility to provide additional support for these students so they may be as competitive and successful as their peers and feel they belong."
Levi Martinez, EOP counselor, said his experience in being the first to go to college was "nerve-wracking."
Inspiring to Up-and-Coming
"All I knew of college came from pop culture," he said. "I didn't have to try hard to do well in high school, which some may see as a confidence-booster, but what it translated to was this: If I struggled in college, would I have the capacity to be successful? I did not have an answer to that."
He said he hoped the luncheon "was inspiring to the up-and-coming first-generation students. So many of us committed ourselves to a years-long experience at universities for which we did not know what to expect. It takes a certain kind of bravery that I think goes largely unacknowledged, but it's a bravery that each person has inside of them."
To the first-generation students at SUNY Plattsburgh, Martinez said, "You can do it; you are visible. Your pursuit and struggle is real, but they can be overcome with persistence and an open mind."
The college intends this to be the first of many annual campus-wide celebrations of first generation students.