Jump to Footer
Long-time SUNY Plattsburgh Assistant to Dean, Union Stalwart Al Mihalek Passes Away
---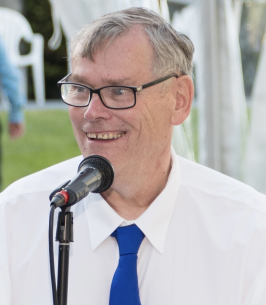 Retired Executive Assistant to the Dean of Arts and Science Albert Mihalek died Sunday, Feb. 14, 2021, at his Plattsburgh home.
He was 69.
Al, a member of the SUNY Plattsburgh Class of 1975, having earned his degree here in English, joined the professional staff that fall as assistant to the dean of arts and science, a position he held 22 years before being promoted to the executive assistant post September 1997. He retired January 2018, having spent almost 43 years at the institution he served.
While in the dean's office, his duties included resource management and overall program administration, but he also provided administrative services to some two-thirds of the college's faculty, oversaw the greater percentage of the college's academic programs, managed the budgets of several departments while being responsible for facilities that ranged from science labs to art studios during his long tenure.
"Al was a master of getting things done in order to help people," said Dr. Stephen Light, professor of sociology and co-associate dean of arts and science. "Even though he projected a gruff demeanor, we knew that he was one of the kindest people on Earth. At the same time, he was greatly amused at the absurdity of life, and he kept us laughing."
"Al was funny and irreverent and he loved a bad joke," said Dr. Kathleen Lavoie, professor emeritus of biology and retired dean of arts and sciences. "Al always worked hard for everyone on campus. He was very ethical and kind."
In his 40-plus years on campus, the recipient of the Chancellor's Award for Professional Service oversaw academic convocations, was actively involved in the athletic program and served as academic adviser for student-athletes and student recruits. He had previously served as a member of the college's Intercollegiate Athletic Board. Additionally, he was a mentor to many and an unofficial ombudsman for his institutional memory.
But Al didn't devote all his time there. As his friend, colleague and fellow unionist with United University Professions, retired librarian Patty Bentley, said, "Al was the go-to guy for all committees and commissions on campus because he knew the campus so well and because he was a pleasure to work with and because he contributed in real, concrete and effective ways to whatever he took on."
Lavoie agreed.
"He had an amazing institutional memory and knew everyone," she said. "He was the guy you went to when you needed something to be done. He did not believe that something could not be done, only that you had not thought of how to get it done."
"It was not unusual to find him in the dean's office late at night and almost any weekend," Bentley said. "Some might have called him a workaholic; it was clear to me, though, that he was simply doing what he thought was needed."
It is nearly impossible to list all the committees, organizations and work above and beyond that Al was involved in, but among the committees he served were electronic records management, capital planning, campus safety, Affirmative Action, Chancellor's Award selection, emergency response and many others.
Additionally, he served on the board of the Plattsburgh State Child Care Center and was a member of the Plattsburgh Lions Club.
"Then there was the union work," said Bentley, who served alongside Al for many years in United University Professions where he assumed many roles, including treasurer, vice president for professionals, and president for the local UUP chapter and on the state negotiations team, where, Bentley said, Al was "one of the few people in the state, and particularly on his campus, who knew and understood the state contract and labor law.
"Al was essential to the work of the chapter as well as the state level," said Bentley, who served in many capacities as well, including chapter president. "He was a long-time delegate to UUP, and was instrumental in developing the campus-wide procedures for the evaluation of professional employees, a procedure later adopted by many other campuses."
Bentley credited Al with helping her to succeed, as a mentor and friend, both on campus and through UUP.
"I am just devastated to lose him, but the memories of his generosity, wise counsel and delightful sense of humor will sustain me and many more in our grief. He was a good man."
There will be no public calling hours; a celebration of Al's life will be held at a later date. Care has been entrusted to the Brown Funeral Home, 29 Broad St., Plattsburgh, 518-561-3980, www.brownfuneralhomeinc.com.
A full obituary may be found here: https://www.brownfuneralhomeinc.com/memorials/albert-mihalek/4535481/index.php.
Our condolences to all who knew and loved him.