Jump to Footer
Local Professor, Students Participate in National Exhibit on Incarceration
---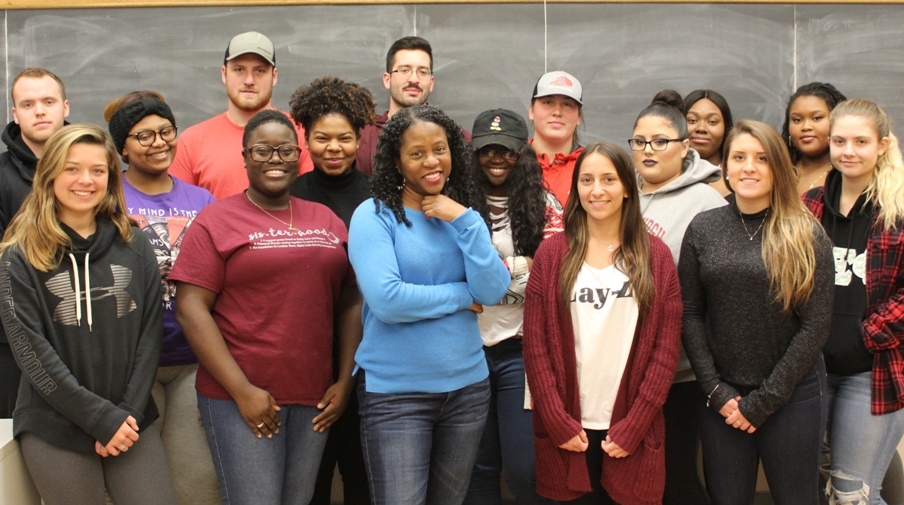 What started as a criminal justice class project a year ago comes to fruition Jan. 27 in the Burke Gallery with "States of Incarceration," a traveling exhibit that looks at mass incarceration in our communities.
The goal of the national "States of Incarceration" is to shine a light on incarceration and to open a national dialogue on what should happen next. More than 800 people in nearly 20 states have participated. And now, so too has SUNY Plattsburgh.
For its part, the college was named in 2018 as one of 10 partners to receive Mellon Foundation funding to participate. As part of this partnership, Dr. Breea Willingham, associate professor of criminal justice, taught a special-topics course in the fall of 2018 where students examined what role education has and why higher education should be included in all prisons.
Their findings are now included in the national "States of Incarceration," an offshoot of the Humanities Action Lab, a coalition of universities that work with organizations and public spaces to create traveling public projects on pressing social issues.
They titled their contribution to the exhibit "Cuffs to Classroom: College in Prison." Willingham, an expert on the impact of incarceration on families and women in the criminal justice system who has lectured and written about her own family's experiences, said that education for the incarceration is an answer to lowering recidivism and violence behind the walls and hopes the exhibit will help show campus and community how a prison education can redefine incarceration in New York.
Willingham's research examines the intersections of race, gender and the criminal justice system, particularly how it relates to women's pathways to incarceration, their experiences in and after prison.
In 2019, she served as the project coordinator of the Mellon-grant-funded partnership between SUNY and CUNY, exploring ways to increase higher education opportunities for incarcerated and formerly incarcerated people in New York state.
In addition to the exhibit, which runs through March 13, several events will be held in conjunction:
Panel discussion, Feb. 5 from 5 to 6:30 p.m., Cardinal Lounge, Angell College Center: Willingham will moderate "Cuffs to Classroom: How Higher Education in Prison Can Redefine Mass Incarceration in New York State," featuring Dr. Erin Corbett, founder of the Second Chance Educational Alliance and director of policy at the Katal Center for Health, Equity and Justice, Klarisse Torriente, prison education coordinator for the State University of New York system, Tyrrell Muhammad, project associate at the Correctional Association of New York, and Class of 2018 graduate Gabrielle Elsbree who participated in Willingham's special-topics class and current corrections health specialist with the Alliance for Positive Health
Film screening and discussion, Feb. 20 from 6 to 7 p.m., Yokum Hall: "College Behind Bars," directed by award-winning filmmaker Lynn Novick and executive produced by Ken Burns, tells the story of a small group of incarcerated men and women struggling to earn college degrees and turn their lives around in one of the most rigorous and effective prison education programs in the United States — the Bard Prison Initiative. Through personal stories of the students and their families, the film reveals the transformative power of higher education and puts a human face on America's criminal justice crisis. The series originally aired on PBS Nov. 25 and 26.
Lecture, March 5 from 7 to 8 p.m., Alumni Conference Room, Angell College Center: "Environments and Incarceration in New York's North Country Since 1845" with Dr. Clarence Jefferson Hall Jr., assistant professor in the Department of History, Queensborough Community College, CUNY. Hall's research focuses on the intersection of environmental politics and the carceral state in 19th- and 20-century New York. He has presented his research at academic conferences and colloquia hosted by the state Historical Association, Organization of American Historians, American Society for Environmental History, Binghamton University Department of History, Stony Brook University Department of History and at venues large and small across the state. His work has also been featured in major media outlets including the New York Times, the Associated Press, National Public Radio, NBC Nightly News, Canadian Television, CNN and MSNBC among others.
The SUNY Plattsburgh exhibit is supported in whole by the SUNY Plattsburgh College Foundation and runs through March 13. An opening reception will be held Thursday, Jan. 30 from 4 to 7 p.m. in the Burke Gallery. For more information on the national "States of Incarceration" and Willingham's class participation, visit https://statesofincarceration.org. For more information on the Burke Gallery exhibit, contact the Plattsburgh State Art Museum at 518-564-2474 or email [email protected].