Jump to Footer
Translator, English Professor Alexis Levitian Earns Distinguished Honors from SUNY
---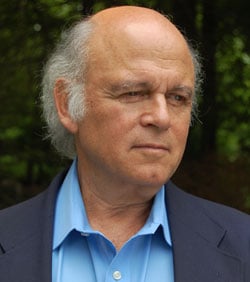 Dr. Alexis Levitin has spent years translating the music of Portuguese poetry into the English language – work that has brought him international recognition.
And now it has brought him the highest tribute conferred upon faculty by the State University of New York system – a SUNY distinguished professorship. It is an honor he shares with SUNY Plattsburgh's Professor of Anthropology Mark Cohen, who is credited for changing the way scientists think about the history of civilization.
Elevating the Standards of Scholarship
The distinguished professorship is awarded to SUNY faculty who have achieved national or international prominence and a distinguished reputation within their chosen field.
In Levitin's case, his translations have appeared in 33 anthologies and more than 200 literary magazines. They have also resulted in 30 books. Meanwhile, Levitin himself has earned more than two dozen awards and fellowships, including the Fulbright Senior Lecturer Award, a Columbia University President's Fellowship and two National Endowment for the Arts Translation Fellowship grants. In addition, he has read from his books in lecture halls around the world, including cities like Paris, Prague, Toronto and Montreal as well as throughout Brazil, Portugal and the United States.
"Through his many publications and speaking engagements in so many cities and countries, Dr. Levitin has already contributed to the renown and prestige of SUNY," said SUNY Plattsburgh President John Ettling in his nomination letter. "As a SUNY distinguished professor, he will continue to do so."
Bringing It into the Classroom
Read more about Dr. Alexis Levitin and listen to audio of his reading.
From being able to pick out the music of the language to understanding how translation works, Levitin's scholarship has influenced his teaching.
In his western world literature classes, for instance, where most of the pieces taught are translations, Levitin is able to bring in several translations and show them how they differ.
"They're able to see how translation matters," he said.
And that understanding makes a difference. In fact, this past year, after a unit featuring 12 translations of Baudelaire's "L'Albatros" ("The Albatross"), one ambitious student created her own version.
"And I have to say, her translation was better than most of the ones we read – maybe even better than all of the ones we read," Levitin said.