Jump to Footer
'Late Night' Comedy Show Tackles Serious Topics
---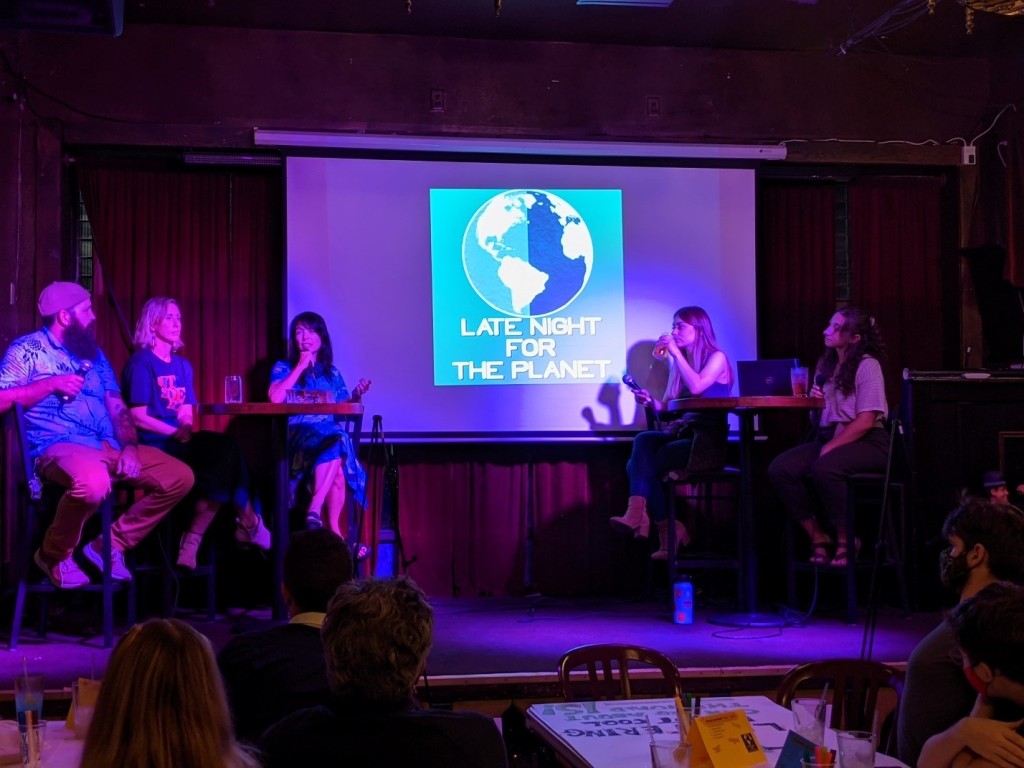 Part "The Tonight Show with Jimmy Fallon" part community awareness, SUNY Plattsburgh's "Late Night for the Planet" serves up a comedy talk show with an environmental twist.
The brainchild of Dr. Curt Gervich, associate professor of environmental science, and former students Charlie Olsen and Michala Hendrick, "Late Night" was launched fall 2019 because the trio wanted to do something more engaging than just a lecture series, Gervich said. The idea was to incorporate audience participation games to break up the interview portions of a two-hour show.
After a successful first season and start to Season Two, production was halted after the February 2020 show, which delved into the role of the media in environmental advocacy, sustainability and environmental justice when COVID-19 forced the nation to shut down.
The college's return to face-to-face classes and a lifting of many of the COVID restrictions this fall gave Gervich the signal that it was OK to gear up for the third season.
Oct. 20 Show on Climate Change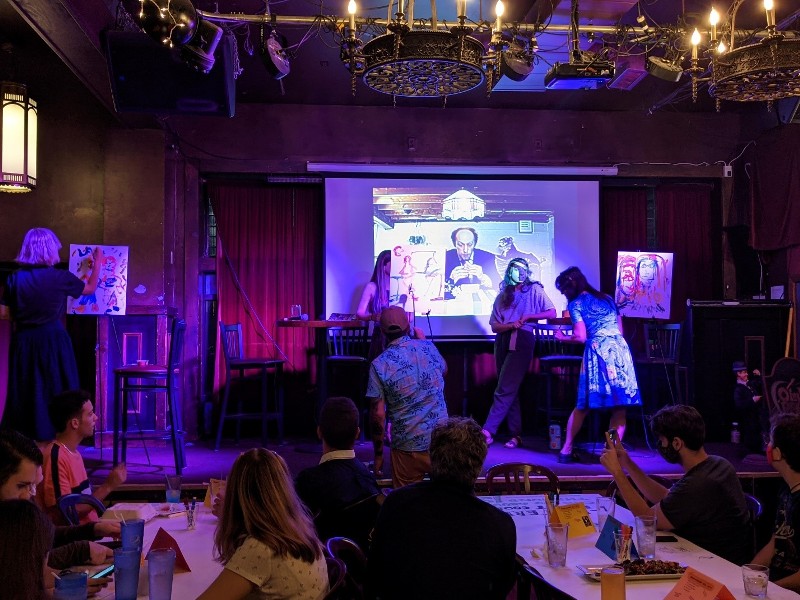 This year, current students Mia Morgillo, Clarice Knelly and Hadar Pepperstone are at the helm and with one post-lockdown show under their belt — September's "Paint the Town with Outside Art" — are readying for the Oct. 20 show, "Drought, Storms and Fire, Oh My!," which will feature local climate activist and writer, Ray Johnson, along with Dr. Richard Gottschall, associate professor, marketing and entrepreneurship, and UVM sustainability specialist, Dr. Emma Spett, among other guests.
The panel will discuss the United Nation's most recent climate report, which offers dire warnings for humanity and the planet. Pretty heavy for a program that bills itself as a comedy talk show.
"Our goal is to foster conversation and learning by bringing a light-hearted touch to serious topics," Gervich said. "We've covered a wide variety of issues, including the housing crisis, climate change, environmental politics under the Trump administration.
"We've had a number of 'heavy hitters,' including housing lawyer and poet Brian Gilmore, Olympic bobsledder John Napier, who now helps Wounded Warriors find fitness through outdoor recreation, and Green Party presidential candidate Howie Hawkins," Gervich said.
"We even held a candidate forum for candidates for mayor and common counsel in the City of Plattsburgh's 2020 election. This is not another venue in the area for serious conversations with local and national thought leaders on important topics — alongside our serious and hard-hitting interviews and conversations are audience participation games, funny monologues and non-sequitur questions."
For "Paint the Town," guests Julia Devine and Amy Guglielmo, co-directors of Outside Art, and Andrew McGill, a local teacher and artist, discussed the community initiative to get more art and murals in the Plattsburgh community.
"It takes a village to paint the town," Guglielmo said in regard to the red tape and difficulty encountered in getting approvals for outside art.
Community Issues Intersecting with Environment
From outside art to the U.N. climate report, Knelly, a senior English writing arts major, said it's all relative.
"It takes community issues and shows the intersection between that and the environment," she said.
"Our community is full of local heroes who are working on major problems and succeeding," Gervich said. "We intentionally bring in a mix or local and national guests and place them on stage together. Bu doing this, we show that Plattsburgh is a microcosm of the country; we face the same challenges as cities everywhere and that in some cases, we're ahead of the curve."
For example, "Late Night" put Mark Hamilton, director of the Plattsburgh Housing Authority, on stage with Gilmore, a national housing advocate.
"These two experts are fighting the same fights," Gervich said.
'OK to Laugh at Ourselves'
But at the same time, "it's OK to laugh at ourselves and the challenges we face," he said. "We've been serious about climate change for 50 years, and it hasn't gotten us very far; humor is humanizing and our hope is that by humanizing these problems, we can move them from intractable to tractable, from impossible to possible. Laughter is equalizing; it makes us vulnerable, and it builds relationships. Science is complicated and politics are failing us. Humor offers a chance."
For their part, student hosts are required to determine and research themes, identify and invite national and local guests, write the scrip, create a PowerPoint, create audience participation games and create table tents with resources for further learning all while keeping it fun and funny.
"Late Night for the Planet" returns to the Olive Ridley stage Wednesday, Oct. 20 beginning at 8 p.m. A Nov. 17 show is in the works, along with three more shows for the spring 2022 semester.
For more information on "Late Night for the Planet," contact Gervich at 518-564-4030 or email [email protected].