Jump to Footer
Biology Program Leads Brothers Julius '03 and Tobi '11 Oni to Medical Careers
---
To Tobi Oni '11, SUNY Plattsburgh is home.
"It's a place where it didn't matter where you came from and it didn't matter what your background was, everyone wanted to help you, everyone cared," Oni said. "It's an inclusive community."
Tobi, 27, is a doctoral candidate in cellular and molecular biology at SUNY Stony Brook. He conducts pancreatic cancer research at Cold Spring Harbor Laboratory, which is funded by the National Cancer Institute.
He and his brother Julius Oni '03, both Nigerian natives, each graduated with degrees in biology from SUNY Plattsburgh.
Online Admissions Info Session
You can learn more about the biology program as well as the other STEM (science, technology, engineering and math) majors offered at SUNY Plattsburgh at an online information session, presented by the Office of Admissions, on Tuesday, Sept. 13 at 7 p.m.

In September 2016, Julius, 34, who graduated from Howard University College of Medicine, will move to Baltimore to begin work as an assistant professor of orthopedic surgery at Johns Hopkins Medical School and also as a hip and knee reconstructive surgeon at Johns Hopkins Hospital. For the past three years, he worked as an orthopedic surgeon and in Philadelphia spending this past year also as an assistant clinical professor at Thomas Jefferson University's medical college.
"I was more than adequately prepared by the time I started medical school and that was one of the reasons why I recommended Plattsburgh to Tobi," he said. "I felt very strongly that Plattsburgh was equipped to prepare us for whatever life was going to bring post college."
'Opportunities for Everyone'
For Julius and Tobi, SUNY Plattsburgh was a place where they could develop their own natural talents in a supportive environment.
"It didn't matter who you were, you had the opportunities that were available for everyone. You just have to take them," Tobi said.
And they did.
They both held leadership roles in campus clubs and student government, served on faculty senate committees, presented original research on campus and at national conferences, worked as resident assistants and admissions ambassadors all while keenly focused on their studies.
Tobi arranged for well-known author and New York Times science writer Carl Zimmer to come to campus to give a presentation. Tobi presented research on campus at a regional meeting and nationally at an American Institute of Biological Sciences conference.
Julius had two research internships while at SUNY Plattsburgh, one at the University of Iowa and the other at the National Institutes of Health in Bethesda, Md. He said those experiences cemented his ambition to work in clinical medicine.
Julius made a lasting impact on future international students at SUNY Plattsburgh in his founding of African Unity, a student club. The organization continues to bring international students together and educate others about African culture.
'Extraordinary Students'
So many touched the Oni brothers' lives during their undergraduate careers. Among those who Julius and Tobi say they helped guide them along the way are Janice Marchut Conrad, biological sciences faculty emeritus, and her husband, Dr. Peter Conrad, professor of biological sciences.
"I can never forget Janice and Peter," Julius said. "They were invaluable to my development as a student, as a person."
"I still look up to them," Tobi said.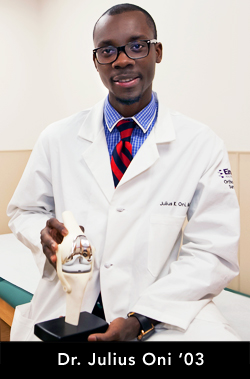 Janice and Peter said it was clear early on that both young men would go on to be successful.
"They were both extraordinary students and I'm so happy they came to SUNY Plattsburgh," Peter said. "They made our lives fun and memorable."
Thinking about Julius and Tobi, Peter was reminded of something now retired professor of biological sciences Dr. Vladimir Munk told him when Peter first came to teach at SUNY Plattsburgh in 1986. Munk told him it's the students who have that spark of intellectual curiosity, that willingness to accomplish their dreams that make the profession truly worthwhile.
"They are the reason you keep going," Peter said.
Tobi worked with the Conrads in Biology 490, an intensive 15-credit course unique within the SUNY system. It requires students to do 27 hours of course and independent research each week.
He measured the diameter of tens of thousands of cells to see how they responded to different stimuli, Peter said.
"Much of this stuff is extremely monotonous and tedious and he would just stick with it and I don't know how he did it because he was taking so many other courses at the same time," Peter said.
A few years ago, Tobi returned to SUNY Plattsburgh to speak to students in the class.
"The people who have defined where I am now are still there. The people who have contributed the most to my intellectual and personal development are still there," he said. "When I visit SUNY Plattsburgh, it really feels like coming home."
Janice said both men came to campus with everything they needed to go on to do the great things they have and will do in the future—SUNY Plattsburgh just provided the right vehicle for them to learn and grow with guidance from faculty and staff..
For both brothers, Plattsburgh was more than an institution of higher learning.
For Julius, it was a time of self-discovery and exploration. He also met some of his dearest friends while in college.
"Some of my best friends came from every possible background you can think of and Plattsburgh had a lot to do with that," he said.
For Tobi, the things he accomplished at Plattsburgh, the people he met, the things he learned—they changed who he was.
"I look at myself now and I look at the things that have defined what I am … I realized most of those things were contributed by people at SUNY Plattsburgh," Tobi said.
"There's this feeling of deep connection I have with the school and I feel that when I become something more than this, I can give back in a great way to the school just to show what it means to me."