Jump to Footer
International Students Warmed by Welcome Dinner
---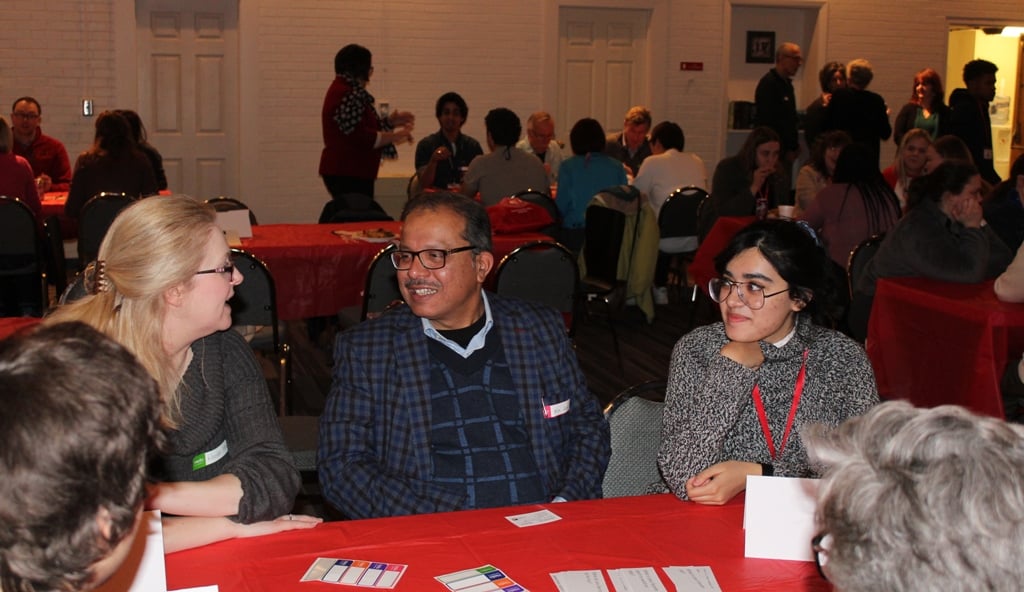 SUNY Plattsburgh's Global Education Office hosted a dinner to give new international students a warm welcome to campus — even with temperatures in the single digits — Friday, Jan. 25 at the Plattsburgh House of Prayer.
Nearly 25 students hailing from 14 countries arrived on campus early so GEO staffers could help acclimate them during nearly a week of orientation. The dinner is the capstone experience for the week, according to Associate Vice President for Global Education Jackie Vogl.
"The students have been invited to dinner by various faith communities all week, and this time it's for faculty and staff to become acquainted," Vogl said. "It's nice, and I think it shows the true spirit of Plattsburgh — it's the kind of thing that wouldn't necessarily happen at a larger school or even at a school abroad. It's unheard of for faculty and staff abroad to mingle with students."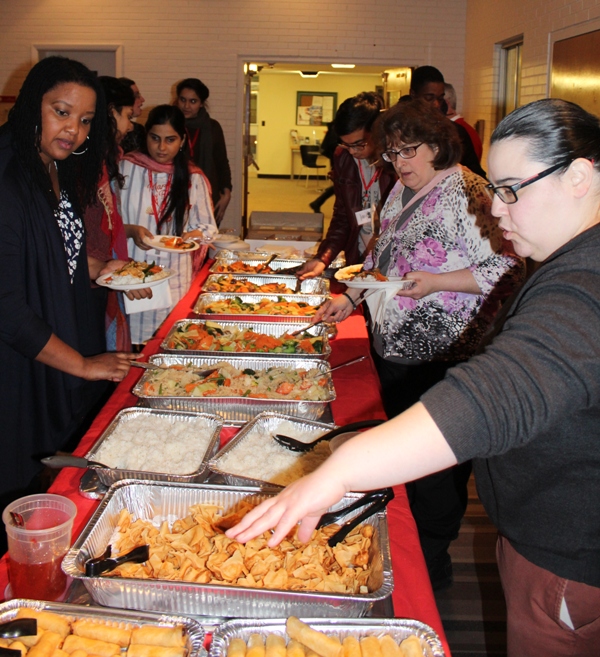 The international buffet featured a meal catered by local Thai restaurant, Sawatdee, and desserts were provided by faculty and staff, Vogl said. After dinner, students were going to be treated to a Cardinal women's hockey game.
Vogl said many of the students have never experienced the type of weather Plattsburgh experiences in January.
"In Karachi, Pakistan, for example, the average low temperature is 55 degrees. Students arriving this year experienced snow, frozen rain, more snow and below-zero temperatures," she said.
Pakistani freshman, Alaina Asim, and her father, Saifi, arrived during the snowstorm the weekend of Jan. 19-20, Vogl said.
"The office had a whole array of donated winter clothing that the students were able to take," she said.
"It was very cold, but quite pretty," Asim said. It was her first time seeing the kind of weather Plattsburgh gets. She'll have to get used to it. The biomedical science major plans to earn her degree from SUNY Plattsburgh.
"I wanted to go to a small liberal arts school," she said. With enough credits from high school, she plans to be finished in three years.
Now in its second year, Vogl said they held the first dinner last year "because there was a perception that the United States as a country would be less than welcoming. We had to dispel that at the grass-roots level."
Mann Dedhia, a sophomore computer science major from India, said the dinner last year helped him "open up with people over here" and helped him understand the people and culture of the area.
Vogl said that was the intent.
"Last year's dinner was among the highlights of the week for new students, orientation staff members and the staff of the Global Education Office." The same held true this year, she said.