Jump to Footer
Theatre Program Stages Production of "An Inspector Calls"
---
The SUNY Plattsburgh Theatre Department presents J.B. Priestley's "An Inspector Calls," Wednesday, November 5th through Saturday, November 8th at 8:00 p.m. in the Hartman Theatre of the Myers Fine Arts Building.
A Dark Study In Morality Set In WWI England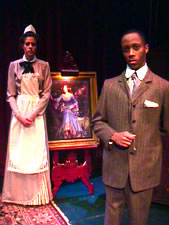 Written by J.B. Priestly (1894-1984) during the final years of the Second World War, "An Inspector Calls" is a brilliantly compelling and haunting thriller.
A perennial favorite in Britain, Plattsburgh State professor, and director, Dr. John Shout describes the play this way:
"'An Inspector Calls' is a kind of thriller, but of a particularly disturbing sort. The Birling family seems ordinary enough as they enjoy a family celebration on a March evening in 1912: but that is before a menacing police inspector begins to delve into their family secrets. It would seem that they are all guilty - but of precisely what crime? And just who is this inspector? The play looks realistic, but as it unwinds, it becomes increasingly problematic. And we have added a few surrealistic touches of our own to tease the brain a bit further."
Thursday's performance will include an informal chat session immediately following the show during which audience members can ask the cast and director any questions they'd like.
Showtime and Tickets
Dates: Wednesday, November 5th - Saturday, November 8th
Time: 8:00 p.m.
Location: Hartman Theatre of the Myers Fine Arts Building
Tickets are available in advance at the Angell College Center Desk or at the Hartman Theatre Box Office the evenings of the performances from 7:15 p.m. until show time.
General Admission = $10
Faculty/Staff/Senior Citizens/non-PSU students = $7
Plattsburgh State Students (with ID) = $2
Questions, Comments, Suggestions?
If you would like to learn more about the Theatre Program at SUNY Plattsburgh, please contact:
Dr. John Shout, Chairman
Theatre Program
Phone: 518-564-2480
E-mail: [email protected]