Jump to Footer
SUNY Plattsburgh Student Profiles: Roxana Idu & Yangyi Shan
---
Roxana Idu of Bucharest Romania and Yangyi Shan of Quing Tain, China originally and Budapest, Hungary recently are taking their Plattsburgh State School of Business and Economics educations to another level.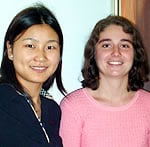 Each has been accepted in a Ph.D. program in Economics with fellowships and grants that will cover her tuition and fees.
Ms. Idu has decided to attend SUNY Buffalo (she was accepted at Georgetown University as well), while Ms. Shan will be going to SUNY Albany (she was accepted at West Virginia University too).
They may have chosen different SUNY graduate schools, but both agree that it is the nurturing of their interests by the faculty of this SUNY school that has made the difference.
Ms. Idu said, "it may sound like a cliche, but it is the faculty support and guidance that was so important to me."
Ms. Shan added, "I like that the dean has an open-door policy; his door is always open; I can go in to ask him a question at any time."
Mentors That Made A Difference
Both Ms. Idu and Ms. Shan credit Drs. Ellen Fitzpatrick and Walter Page in the Economics and Finance program for the direction their educations took.
These professors, both students agree, stimulated their interest in and heightened their understanding of the field that they will both now pursue at the graduate level. Both students noted how important it was to each of them that Dr. Fitzpatrick (a 2003 Fulbright recipient) has always been available and interested in their careers - and a mentor to so many students in economics.
While both students have taken many of the same classes with many of the same professors, their programs have enabled each to pursue individual interests. Ms. Shan may do her graduate work in economic theory; Ms. Idu will study public policy and economic development.
Other Recent Plattsburgh State Grads Doing Graduate Work
They join recent graduates like John Comeau, who is now doing his Ph.D. in Economics at Cornell, and Farrah Barrios, who is doing her Ph.D. in International Economics at Johns Hopkins University.
Questions?
For more information about the Plattsburgh State School of Business and Economics, please contact:
Dr. Siamack Shojai, Dean
Phone: 518-564-3184
Email: [email protected]