Jump to Footer
Hundreds of SUNY Plattsburgh Alumni Return for Homecoming 2019
---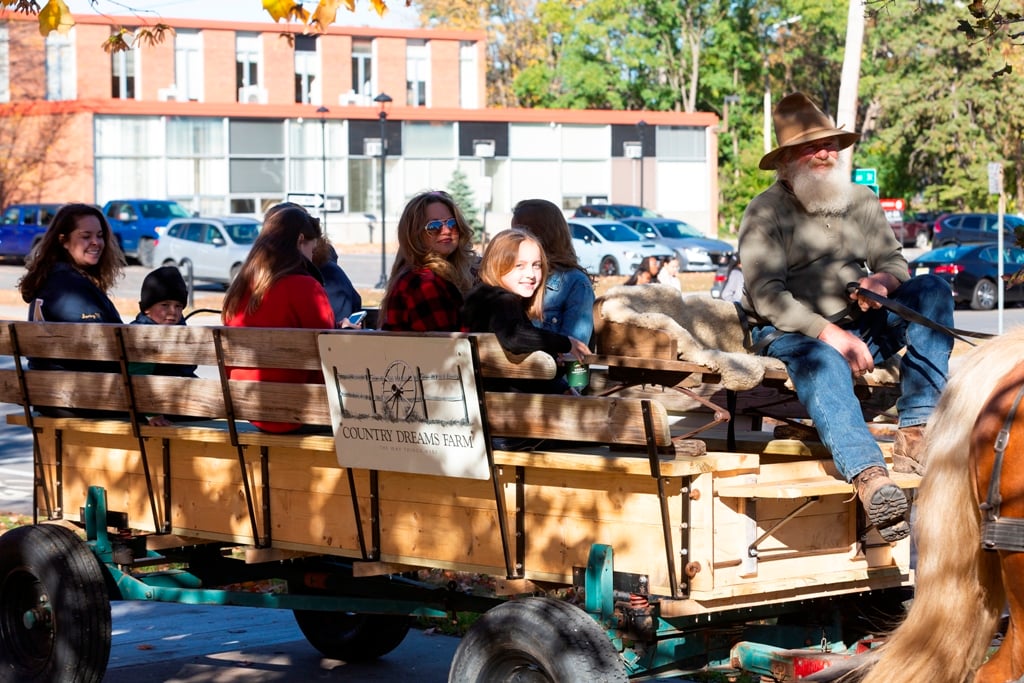 More than 900 alumni, faculty, staff, students and community members participated in some 25 events at SUNY Plattsburgh's annual Homecoming event Oct. 18 and 19.
"No matter what event alumni attended, I know they enjoyed returning home to connect with faculty and staff, see old friends and enjoy the Plattsburgh spirit," said Director of Alumni Relations Kerry Chapin-Lavigne.
Along with sporting events and annual favorites, like the Homecoming Bonfire and Welcome-Back Social at the Monopole, the weekend featured celebrations marking the 50th anniversary of the Educational Opportunity Program, 20th anniversary of the Institute for Ethics in Public Life and an event recognizing Professor Rick Mikkelson's 50th year teaching art.
Cardinal Athletic Hall of Fame Induction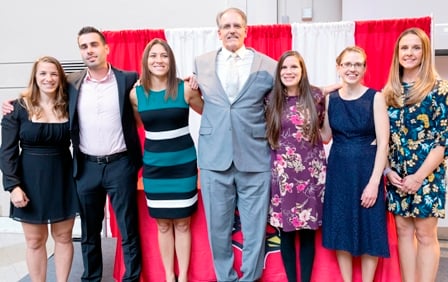 In addition, the college inducted seven former Cardinal athletes into the Cardinal Athletic Hall of Fame during a ceremony and dinner Friday evening. Members of the Hall of Fame Class of 2019 are Randi (Johnson) Bennett '03, softball; Danielle Blanchard '09, ice hockey; Allison (Busby) Deshane '08, cross country/track and field; Toni (Wiszowaty) Lynch '08 G'11, cross country/track and field; John MacMenamin '80, track and field; Jason Sousa '06, soccer; and Gena (Rosenbaum) Trombley '06, soccer.
New to the Homecoming lineup this year were the Homecoming 5K race, held Saturday morning along the Saranac River, and the Fall Festival on the Pond.
"The Homecoming 5K was a huge success," said Assistant Director of Alumni Relations Katie Murray. "The Cardinal pride and energy was contagious, and everyone was beaming with excitement."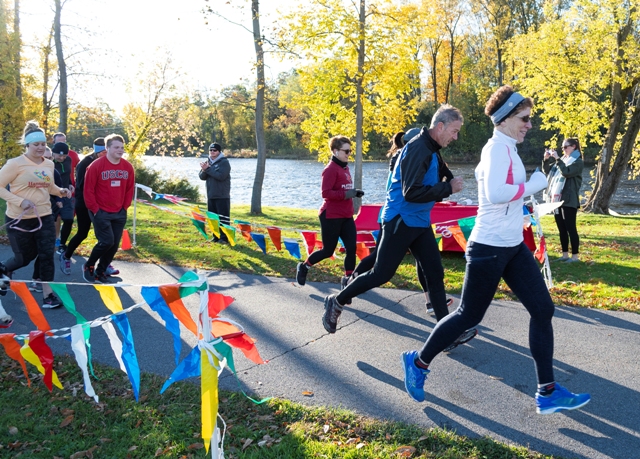 Former track and field athlete Robert Stockslager '79 finished in first place, while Kristen Chapin-Lavigne '08 had the best women's time, finishing second overall.
Hawkins Pond Fall Festival
Held Saturday afternoon at Hawkins Pond, the Fall Festival included live music by Nina's Brew, featuring alumna Giovanina Bucci G'15; horse-drawn carriage rides, provided by Country Dreams Farm; pumpkin painting; an inflatable obstacle course; lawn games; a photo booth; and a variety of fall-themed snacks.
"The Fall Festival on the Pond seemed to be a new favorite for alumni and friends, as we had more than 200 people in attendance on the crisp and sunny Saturday afternoon," Murray said. "It was a beautiful North Country fall day."
Cheryl Hogle Honored
On Saturday evening, the former Campus Life, Dean of Students and Student Affairs offices, along with friends and colleagues of the late Cheryl Hogle '68, gathered at Valcour Inn and Boathouse for a reception in memory of the retired associate dean of students, who passed away on April 19, 2019.
In addition, several gatherings were held throughout the weekend for alumni of various college departments and organizations, including the Student-Led Publications Reunion; Communications Studies Breakfast; Gender and Women's Studies Department Brunch; Theta Alpha Lambda Alumnae Tea; Diversity, Equity and Inclusion Alumni Reception; and Omicron Delta Kappa Breakfast.
"While each graduate's experience is unique, we all connect as one alumni family with celebrations such as Homecoming," Kerry Chapin-Lavigne said. "That's the Plattsburgh pride, and while our alumni leave campus to pursue great paths, that pride never leaves them."