Jump to Footer
Plattsburgh State Cardinals Women Ice Hockey Team Repeats as National Champions
---
Women's Hockey Wins Second-Straight Title
Plattsburgh State captured its second-straight NCAA Division III Women's Ice Hockey Championship on March 22 with a 3-2 victory over 10th-ranked Manhattanville on home ice at Stafford Arena.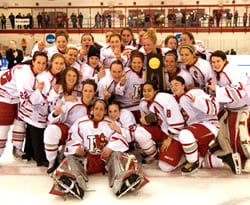 The Cardinals join Elmira (2002-03) and Middlebury (2004-06) as the only programs with multiple national titles.
This season, Plattsburgh recorded a 25-3-1 overall record, 14-1-1 league mark for the team's fifth-consecutive Eastern College Athletic Conference West Division regular-season crown and ended as the No. 1-ranked team in the USCHO.com poll for the third year in a row.
The 2008 national champions also dominated the NCAA All-Tournament Team, with forwards junior Danielle Blanchard, sophomore Stephanie Moberg, senior defensemen Julie Devereux and Sharis Smith and junior goaltender Danielle Beattie grabbing five of the six slots.

On the eve of the national tournament, during the NCAA Championship Banquet, the American Hockey Coaches Association announced its All-America Team for NCAA Division III.
Blanchard and Devereux both were named to the AHCA All-America First Team. Blanchard, a three-time All-American, also earned the 2008 Laura Hurd Award given to the nation's top player, scoring a career-high 28 goals as part of a 48-point season.
Coach Kevin Houle completed his fifth season at the helm as the winningest active women's coach in NCAA all-divisions with an .846 percentage, going 120-19-7 since the 2003-04 campaign.
Men's Hockey Almost Completes Sweep
On Easter Sunday, second-ranked Plattsburgh lost a hard-fought 2-0 game to No. 1 Saint Norbert for the 2008 NCAA Division III Men's Ice Hockey Championship at 1980 Rink Herb Brooks Arena in Lake Placid, N.Y.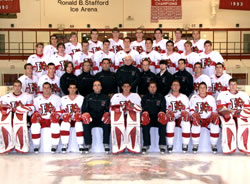 That marked just the second time that the team was shut out in NCAA Tournament play during Bob Emery's 19-year coaching tenure and was only the third loss in the last 17 games since December. The Cardinals ended their season with a 25-5 record - third in the nation with 25 victories.
Plattsburgh, a two-time NCAA champion in 1992 and 2001, was making its first Finals appearance since winning their last national title with Coach Emery behind the bench.
The Cardinals have qualified for the NCAA Division III Tournament 16 times, which is more than any other school, and reached the Frozen Four semifinals 10 times, which is second all-time.
The Cardinals captured their all-time best 18th State University of New York Athletic Conference crown with victories over Potsdam and 2007 NCAA champion Oswego after also taking the No. 1 position during the regular season with a 14-2 league slate.
Graduating only three senior - Mike Baccaro, T.J. Cooper and C.J. Tozzo - from this year's squad, Plattsburgh is in prime position to be a national contender in 2008-09 and beyond.
Contact Information
For more information about Athletics at SUNY Plattsburgh, please contact:
Sports Information
Patrick Stewart
Phone: 518-564-4148
E-mail: [email protected]