Jump to Footer
Hockey Club Teammates' Quick Thinking Saves Life of Fellow Skater
---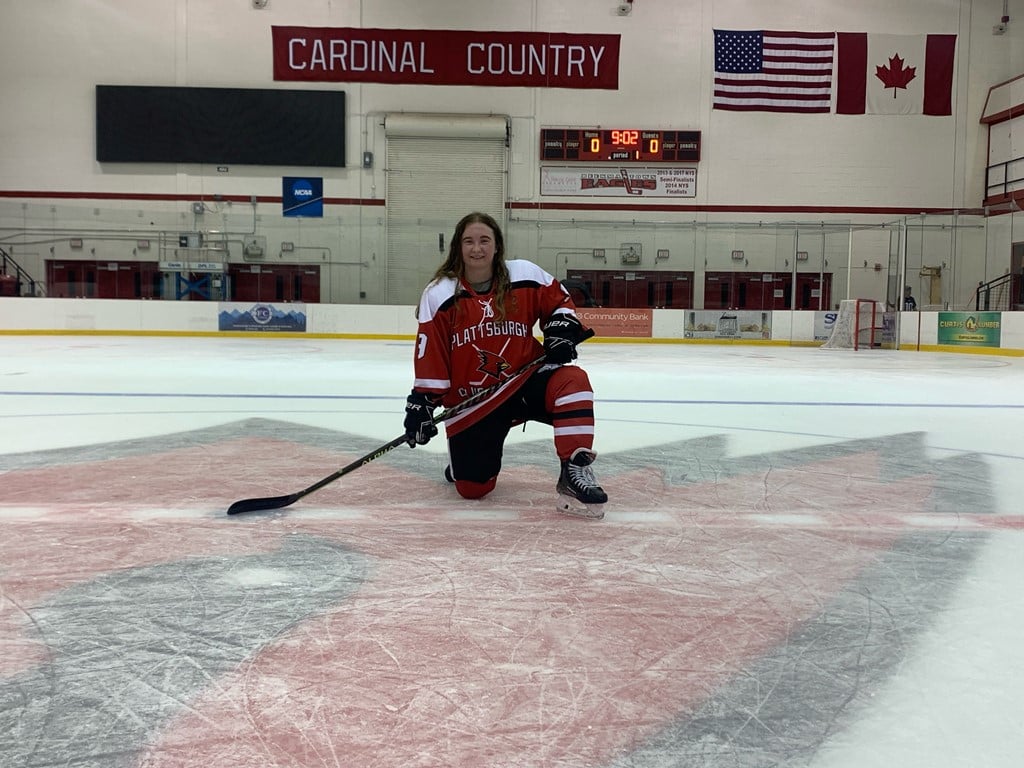 Photo Provided
An otherwise normal night of SUNY Plattsburgh club hockey practice turned into a potentially fatal scrimmage when a first-year student dropped to the ice, unconscious and non-responsive.
Jenna Fireovid, an undeclared major who came up to the university from Clemson, S.C., to skate in a non-competitive club, owes her life to her club teammates whose quick thinking and skill literally saved her life at Stafford Ice Arena Sunday, Sept. 24.
"It was a normal club hockey practice, and we were just messing around and doing a scrimmage," Fireovid said a week after the incident. "I noticed that I was more winded than usual. I figured it was just my asthma acting up."
Fireovid skated a bit longer and headed for the bench, unable to catch her breath. That was the last thing she remembered with clarity.
'Collapsed Backwards'
It was then, her suitemate told her later, that she threw her stick down and collapsed backwards.
"I was lying on the ice motionless and not breathing; my face turned purple, spectators told me," she said.
It's not like Fireovid is a stranger to skating and playing hard. The undeclared first-year student previously played for the Greenville (S.C.) Warriors JV high school team, the Atlanta Thrashers and the South Carolina Lady Warriors in the Southern Girls Hockey League and the Carolina Girls Hockey League, as well as the Junior Greenville Swamp Rabbits.
Her buddy and Plattsburgh club teammate, Zach Coventry, a first-year criminal justice major from Queensbury, said they were all wrapping up for the night — the club skates every Sunday from 7:30 to 9 p.m. — "when all of the sudden, Jenna collapsed," Coventry said.
"At first, I had the impression she was having a seizure," he said. Thinking fast, Coventry got to her and turned her over onto her side. Teammate Luke Zarko, a senior computer science major from Northport, Long Island, had pulled her helmet off and made sure there was something supporting her head.
"She was going purple; I checked her pulse at her wrist — nothing; checked her neck, nothing," Coventry said. Zarko verified by checking her pulse at her neck and found nothing.
Started Chest Compressions
"Zach started chest compressions — we had no idea where the AED was located," Zarko said. A third teammate, senior history education major Noah Lewis from Auburn, N.Y., jumped in to start counting compressions. "Noah would count; we'd check for a pulse and then continue compressions."
Zarko said that in the compression process, Fireovid started vomiting on the ice.
"(I was told) Zach did compressions until I started to breathe on my own," Fireovid said. "I did not even begin to wake up until the paramedics were working on me. I was passed out for what was probably seven minutes or so."
University Police arrived first on the scene, followed by EMTs, the young men said. Throughout the ordeal, Fireovid was having "dreamlike sensations until I noticed a blur/vision of paramedics talking loudly and moving me around," she said. "I had to shift my focus entirely from the dream I was having to trying to wake up.
"I couldn't move my body at all; I had no feeling in my fingers, legs, arms, feet, etc.," she said. "My suitemate said that I was in distress with how much pain I was in; I could barely breathe. I had to focus and calm myself down."
'Drifting In and Out of Consciousness'
Fireovid said she felt herself "drifting in and out of consciousness."
"My body wanted to fall asleep, but I knew if I let myself do that, then I would die."
She said she fought for what seemed like forever.
"Trying to move my fingers to help myself wake up, I remember it being very loud and very bright. I was extremely uncomfortable, and I was really struggling to breathe," she said.
Paramedics lifted the young woman onto the stretcher.
"I was so nauseous," she said. "At some point, I was able to come completely out of the dreamlike state. It was in the ambulance when I really started to wake up more."
Coventry, who has taken multiple classes in CPR in high school prior to coming to Plattsburgh, said knowing the life-saving technique "is one of the best things you could ever do."
"I worked at Six Flags in Lake George and got a lot of training as well," he said. "You never know when you're going to need it. You could be working your job and your coworker could need help."
"I was certified six years ago; I was an Eagle Scout," Zarko said. Lewis has worked summers at a summer camp and has had to be certified every year.
Calm and Focused
Given the circumstances, all three young men remained calm and focused, Lewis said. Other teammates assisted in calling 911, watching for the paramedics and otherwise giving moral support.
Zarko said they handled it "as best we could."
"We did what was needed to be done and would do it again," Coventry said.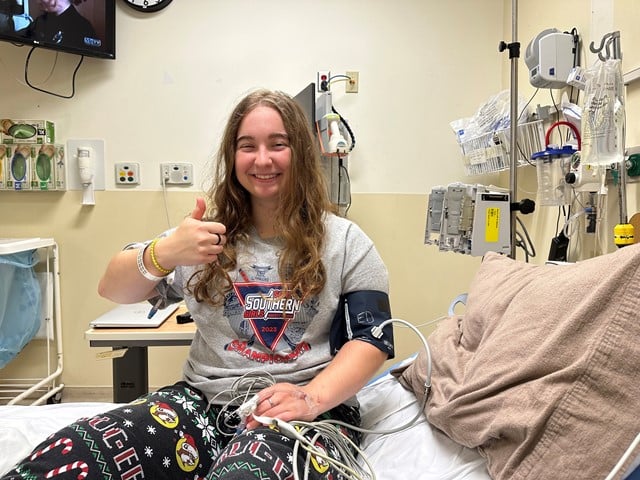 Fireovid was taken to CVPH Medical Center in Plattsburgh where they determined it may have been caused by long QT syndrome, a heart-signaling disorder that can cause fast, chaotic heartbeats or arrhythmias. The condition, which can be hereditary or the result of certain drug or mineral imbalances, can cause sudden fainting and seizures. Young people with LQTS syndrome have an increased risk of sudden death. Fireovid remained in CVPH through Tuesday evening, Sept. 26 and returned to classes the next day.
Coventry said he was grateful his teammates were with him.
"I may have started chest compressions, but without Noah's help counting and Zach being able to turn her over, I wouldn't have been able to do it on my own," he said.
Thanks Teammates
"Though I'm not entirely sure what went on that night, I know that my teammates were there for me and supported me when I needed them," Fireovid said. "I'd like to thank them for all that they did for me that night and continue to do for me."
"I wish to express my heartfelt gratitude to Zach Coventry, Noah Lewis, and Luke Zarko for demonstrating exceptional courage and quick thinking during this incident," said SUNY Plattsburgh President Alexander Enyedi. "Their immediate, lifesaving response is nothing short of heroic. I also extend my best wishes Jenna Fireovid as she continues to recover and return to her classes.
"I wish her continued improvements in her health, and thank her for her willingness to share her story and celebrate these young men — her friends and teammates — for all they did. While unfortunate and incredibly scary, this experience highlights some of our most remarkable students whose maturity, compassion, and team work led to such a positive outcome."
To learn the life-saving technique of CPR at SUNY Plattsburgh, contact Dr. Cody Dulaney, assistant professor in exercise and nutrition sciences, who teaches a one-credit, eight-week course that although required for exercise science majors is open to anyone on campus. Call Dulaney at 518-564-4157 or email [email protected].
Additionally, Kelci Henn, head women's tennis coach, will be coordinating a series of CPR classes through athletics and recreation in the tennis off-season. For more information, contact Henn at [email protected].
To familiarize yourself with locations of the more than 80 campus AEDs, look at the list here. For more information, contact Environmental Health and Safety Officer Catherine Kaleita at 518-564-3920 or email [email protected].
— By Associate Director of Communications Gerianne Downs