Jump to Footer
SUNY Distinguished Service Professor Bryan Higgins Finds Plattsburgh a Perfect Place to Study Human Geography
---
When Dr. Bryan Higgins decided to pursue a teaching career in human geography, he could think of no better place than SUNY Plattsburgh.
"I realized SUNY Plattsburgh is really on the edge of different human geographic regions," he said.
He saw the natural beauty of the lake; the vibrancy of the college; the proximity of Montreal, Quebec; Burlington, Vt.; and New York City.
"There are all the human sides and geographic concepts," he said. "Very few places have that."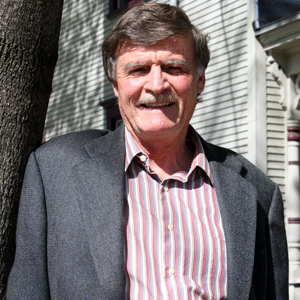 Higgins came with an array of degrees, having taken courses in oceanography from University of Washington; received a B.S. in biology from the University of Minnesota; taken graduate courses in psychology from Johns Hopkins University; and received a master's and Ph. D. in geography and planning from the University of Minnesota.
He started his career at SUNY Plattsburgh in 1981 as an assistant professor. Today, he is the coordinator for the planning and the international studies minors; the director for international education; and a SUNY distinguished service professor.
The distinguished service professorship recognizes his service to SUNY Plattsburgh, the community, the state of New York and the nation through his research interests and issues of public concern.
'You Get to Meet Fascinating People'
Some of those service projects ranged from studies on tourism and business in the Adirondacks; to ecotourism in Belize.
"I'm really interested in human geography," he said. "You get to meet all kinds of fascinating people in different social economic situations. To have that be your job is great."
Outside the classroom, Higgins served as a board member of the Clinton County Solid Waste Planning Advisory Committee and the Clinton County Planning Commission. He was a member of several planning commissions and boards in Grand Isle, Vt., a member of the Lake Champlain Recreation Working Group, the Clinton County Lake Champlain Scenic Byways Local Advisory Committee and the Burlington, Vt., 6th Ward Neighborhood Planning Assembly.
Interpreting Conflicts and Finding Solutions
Higgins has worked under more than 40 grants totaling more than $1.3 million to study housing strategies, analyze slum and squatter settlements in Nicaragua, research joint ventures in the Soviet Union and more.
Higgins brings that research to his classrooms.
"When I'm teaching, it's about combining the presentation of the concepts with the stories of human interaction," he said. "We look at the situations, interpret them as, 'OK, here are conflicts, and here are solutions'."